Start of Main Content
A Veteran's Non-Traditional Path to Kellogg's Full-Time Program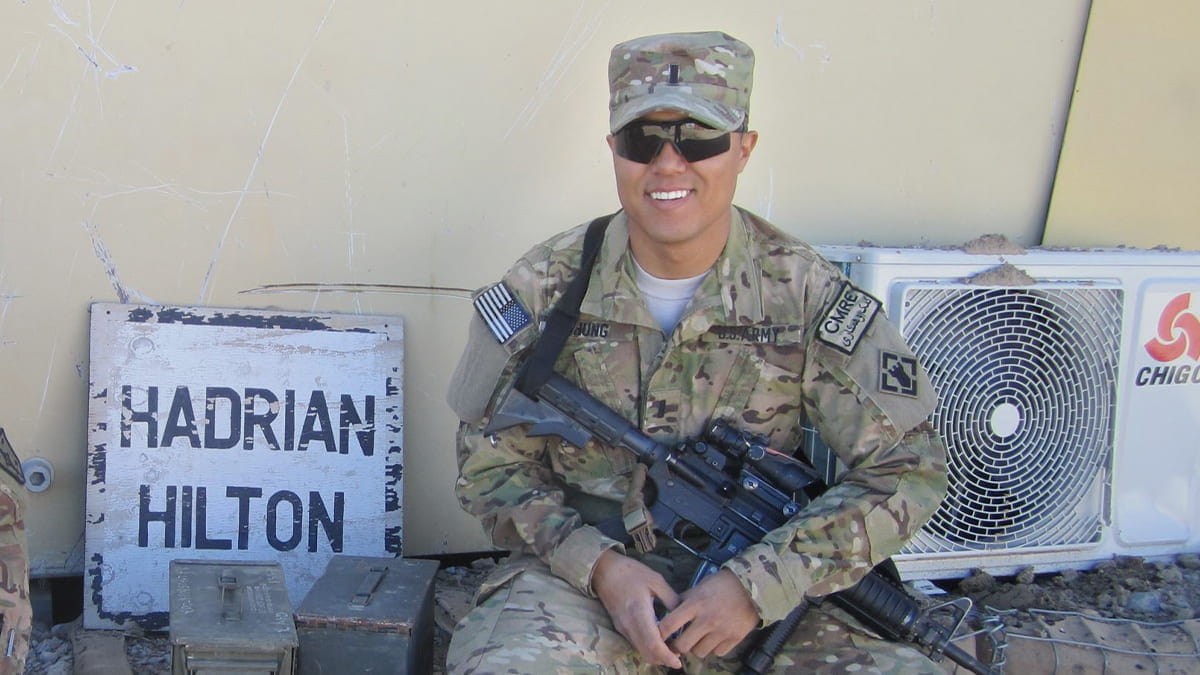 To commemorate Veterans Day this year, we will be amplifying the diverse voices and experiences of the Veterans within our community. 
By Peter Chung (2Y, 2022)
It was the fall of 2014. With my five-year service obligation concluding in May of 2015, I was at a decision point in my Army career. Do I continue my service or transition out? As I reflected on my experience since graduating from West Point in 2010, my time in the Army was certainly an adventure and something that I was extremely proud of. I had progressed to multiple leadership positions and had deployed to Afghanistan in 2013. After much deliberation, it became clear that I wanted to pursue opportunities outside of the military.
After that decision was made, I had to tackle the more daunting task of what exactly my next move was going to be. I thought about pursuing an MBA immediately after the military, but I also had a desire to challenge myself in the corporate sector. Ultimately, I went with the latter and ended up gaining some of the best experiences I could have ever asked for. Five years later, I had been exposed to sales, consulting, and operations in both mature and startup environments, and I found my way into a leadership role for a sports analytics startup.
I was three months into this leadership role when the COVID-19 pandemic hit. When the country went into the initial lockdown/"pause" in March of 2020, all of my professional travel was suspended, and I finally had an opportunity to take a step back and reflect. Since leaving the military, I married the love of my life in 2018 and became a father in 2019. Things had become pretty hectic, and self-reflection was low on my priority list. The silver lining of the pandemic however, was that it slowed things down for me, so that I had an opportunity to reflect about my past and contemplate my future. What did I want to do for the rest of my life? What skills do I need to get there? It was during this time that I determined that I wanted to pursue a career in general management and to do so, I needed to refresh my tool kit by shoring up my weak points. This took me back to my decision point in 2015 where the MBA was now the best way forward.
Choosing Kellogg's Evening Program
After looking at a few programs within the Chicago area, I decided that Kellogg was the best fit. From the team-based learning approach to the collaborative culture, there was a natural draw to that type of environment at Kellogg. As for the program, I decided to move ahead with the Evening & Weekend MBA Program since it allowed me to pursue an MBA while maintaining my role as the regional leader for my company.
Starting classes during the summer of 2020 was a shock for a few reasons. First off, I was amazed by the caliber of my classmates that came from a diverse set of backgrounds both professionally and personally. Second, I had been out of school for 10 years and found myself to be a bit rusty. Third, getting back up to speed while balancing a family life and professional obligations was certainly a challenge. Despite all this, I was able to "adapt and overcome," and I made some fantastic friends along the way. One thing that I think is unique about the evening program is the level of understanding among my classmates. We're all in different seasons of life and balancing professional, personal and academic obligations. Through this mutual understanding, the level of collaboration and support was phenomenal.
Shortly after starting the academic year in 2020, my wife and I were fortunate enough to be expecting our second child in May of 2021. The balancing of priorities with one child was challenging enough and the prospect of doing so with a toddler and an infant was intimidating to say the least. As the due date got closer, it became clear that I had to pause my MBA progress in order support my family and maintain my professional obligations until we could get a routine down. In December 2020 however, Dean Krueger sent out a notice that there was an opportunity for part-time students to transfer into the Full-Time MBA Program under certain circumstances and invited students to apply. I was not aware that this was even a remote possibility and given my Kellogg experience thus far, my wife and I felt it would be best if we could continue our Kellogg journey in the full-time program.
Transitioning to the Full-Time Program
Fast forward a few months and I was fortunate to get accepted into the full-time program as an internal transfer. I could not be more appreciative of the support that Kellogg provides. They truly care about all their students regardless of the program, and I think that is a unique differentiator among all the MBA programs out there. From allowing part time students to participate in the same on-campus recruiting as the full-time students to assisting with unique situations like mine, Kellogg makes a concerted effort to limit the boundaries, and I think that is a tremendous advantage. From a transfer perspective, I could not be happier. Not only do I have the relationships built from my time in the evening program, but I'm also building relationships with my fellow classmates in the full-time program, and they have been tremendously supportive.
The verdict
As I look back, should I have transitioned straight into an MBA program immediately after the military? I'm not sure. At this point, I wouldn't change any of my past experiences. However, one thing is for certain: It's never too late to pursue your MBA after your transition out of the military, and Kellogg is a fantastic place to look. They have welcomed me with open arms, and I wouldn't change any part of my "road less travelled" military to corporate to Kellogg transformational experience.