Start of Main Content
Reflections on Veterans Day & Who I Want to Be as a Leader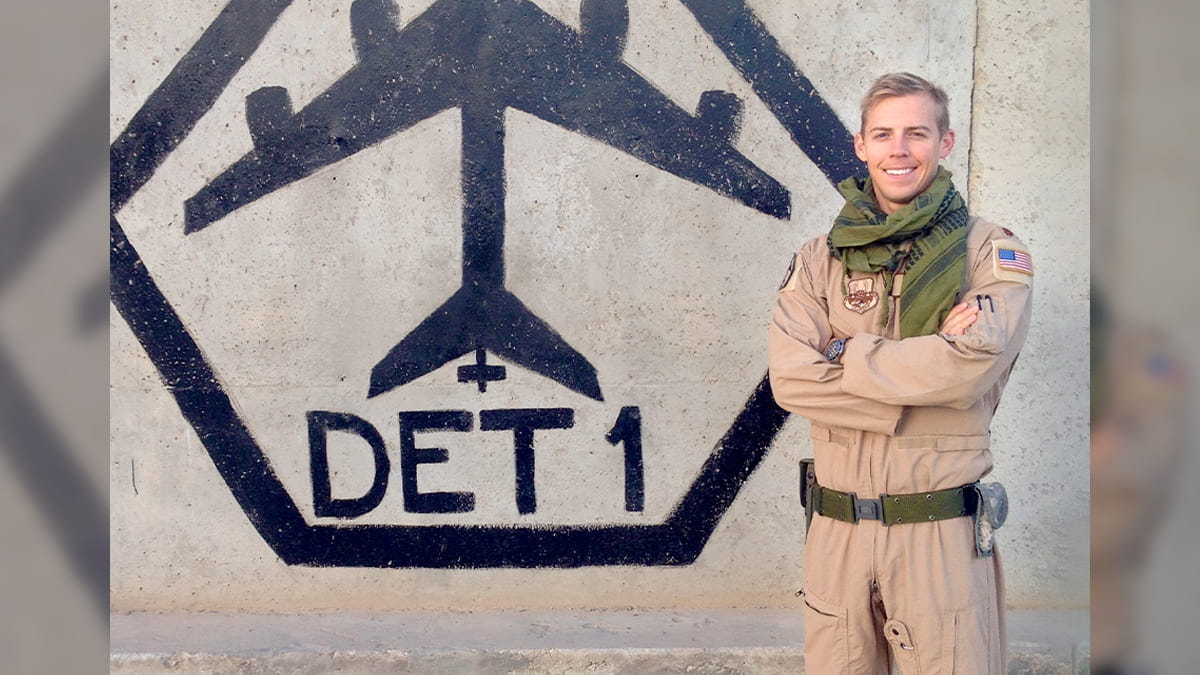 To commemorate Veterans Day this year, we will be amplifying the diverse voices and experiences of the Veterans within our community. 
By Rick Adams (EMBA, 2022)
This Veteran's Day is particularly poignant for me because of the disastrous conclusion to the United States' involvement in Afghanistan. I was already in the Air Force as a cadet when our 20-year campaign began, and I continue to serve in the Air National Guard. In the past two decades, I served as a pilot and officer with numerous deployments overseas, many to the very same locations that we just abandoned. Of course, I knew the outcome was never certain — and most assuredly that the mission would not last forever — but I share a somber feeling with many Veterans and current service members as we mark this milestone. I write this so that you understand the particular significance that this upcoming holiday holds for me and many of my friends.
That being said, I remain hopeful that I can use my experiences to help shape the world around me for the better. Having internalized the Air Force core values, which include "Service Before Self," I believe we all find purpose and meaning in our lives when we act in service to something outside of ourselves. The very act of selflessness is what I believe makes the world better. It makes us better as individuals, and it makes those around us better.
Choosing an MBA
My decision to pursue an MBA was born out of the realization that my current full-time job as an airline pilot simply did not give me the same fulfillment that I experienced in the military. I missed the camaraderie, the collaboration on teams working toward a mission objective, the successes and failures of leadership, and the sense of selflessness for a greater cause. I realized that there are many parallels to the military in the business world, which also centers around competition, strategy and tactics, meeting a need, etc., but that I would need to fill in some educational gaps before I could make the transition to a leadership role in business.
More importantly is why I chose Kellogg specifically. Indeed, Kellogg is the only school to which I applied. I recognized something special about this school in that it promotes selfless values. I love that the guiding principles of the Executive MBA Program (EMBA) are "Lead with Purpose, Achieve More through Collaboration, Deliver High Impact with Low Ego, and Promote Community Success."
My leadership development at Kellogg
In my experience as an officer, having seen both good and bad leaders at various ranks and levels, I have come to the conclusion that the very essence of good leadership is selflessness.  A good leader thinks only of those being led, and only of the greater mission, but never of him or herself.  A good leader gives credit to the team, yet accepts accountability for the result, whether it's good or bad. A good leader takes on ownership of the job and the outcome. A good leader articulates the vision and helps guide his or her people to that end. This is leading with purpose.
As I alluded to, I missed the camaraderie of my units, and I understand that tough tasks are best completed by teams who can collaborate and deliver effectively. Kellogg stood out among the other elite business schools through its principle of achieving more through collaboration. Nearly half-way through my EMBA experience, I can certainly vouch for this emphasis. The diverse and talented group of people in my cohort, particularly on my study team, have succeeded far more than we would have individually, as we are encouraged to collaborate on almost everything. There is no animosity or deep-seated competition because the guiding principle to achieve more through collaboration is paramount. My team has been especially successful, and that is because we are more effective as a whole than the sum of our parts. This is precisely the lesson I learned in the military, and exactly why Kellogg is the place for me.
Similarly, the principle of High Impact with Low Ego speaks to a selfless ethic, where one literally takes their own ego (self) out of the calculous in order to be more effective. The worst of the bad leaders I saw in the military were the ones who obviously prioritized their ego above anything else.  Whether they achieved high impact or not (or whether their people did it for them), they were quick to accept praise and quick to blame others for failures because their egos were more important than accountability or inspiring those they led. I want very much to be a leader who makes a positive impact, but I also understand the dangerous temptation to tie success to my own identity, my ego.  Kellogg stands out here, again, by encouraging leaders to be selfless in their pursuits. The school not only preaches this principle, but also seems to have actively selected leaders who naturally embody it. I cannot speak higher of my classmates who are some of the most talented and accomplished, yet humble people I have ever met.
The final guiding principle, "Promote Community Success," brings us back to where I began this essay. I am ever grateful for the opportunity serve my country and to serve a larger mission overseas. Regardless of the outcome, I will always appreciate the experiences gained and lessons learned. My ultimate identity is not in any one battle, won or lost, but in the striving towards selflessness and improvement. As I finish out my last year at Kellogg, I know that the faculty and my fellow classmates will continue to help me learn how to better promote community success, however I define that community. Whether it's my family, my neighborhood, or my company, I remain encouraged and steadfast in the pursuit of improving the world around me.
This Veteran's Day, if you thank a Veteran for their service, please also know that some may be discouraged. They may appreciate a reminder that their sacrifices were worthwhile, and a reminder that there are countless ways to make an impact and find fulfillment in serving a larger cause.