Start of Main Content
An Austin Scholar Makes His Impact Through Consulting & VC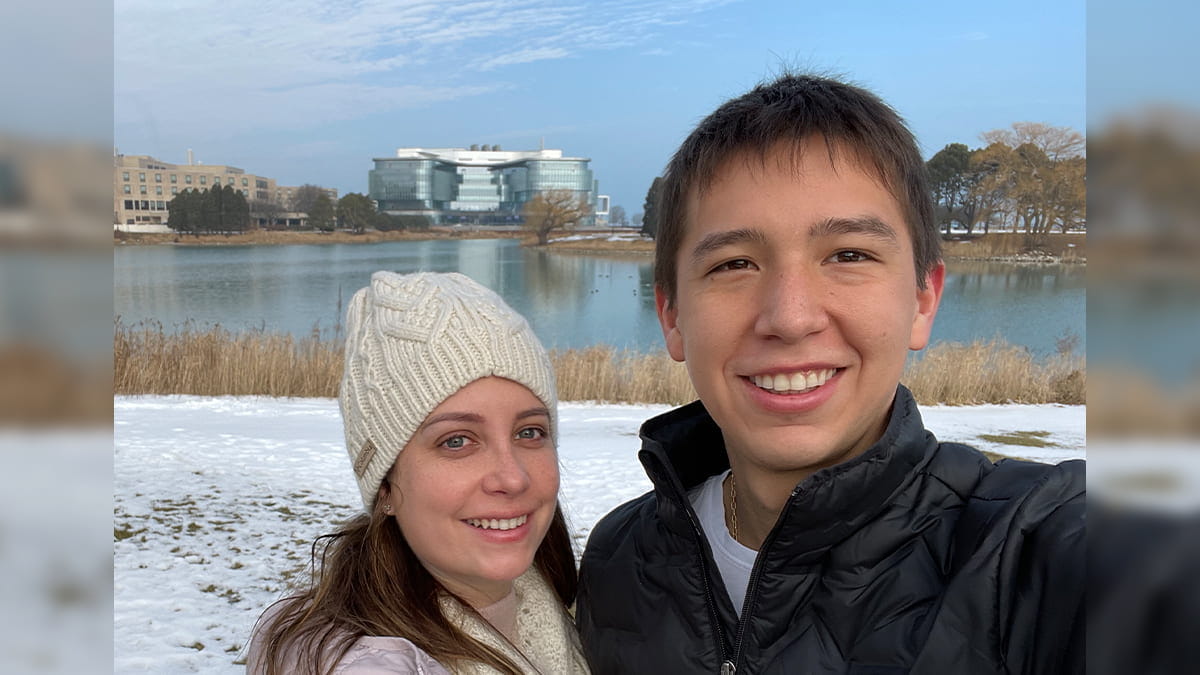 The Austin Scholarship is awarded to a select cohort of high-potential students who have demonstrated exceptional leadership in academic and professional endeavors and show promise of outsized impact at Kellogg, and beyond. We connected with Austin Scholar Stefano Ratto Schol (2Y 2022) on his growth as a leader and the impact he hopes to make.
Can you tell us about your leadership journey prior to Kellogg? How has that journey developed during your time at Kellogg?
Before Kellogg, I worked at a major bank in Lima, Peru, called Banco de Crédito del Perú. I started there as a senior analyst and, eventually, was promoted to product owner. Throughout this journey, I was able to go through several leadership experiences. As an analyst, one can be in charge of several initiatives, and it's up to each one to take ownership and be a leader. I worked with a really diverse group of people where I focused on bringing consensus to the meetings. Later, as product owner, I was in charge of the short- and long-term vision of a product; as product owner, I needed to show and tell my vision to the team and the stakeholders while also building an environment of belonging where everyone embraced feedback.
At Kellogg, I've been able to meet, learn and work with incredible kinds of people from different industries, cultures and countries. I have learned to deal with difficult situations and crises from the experiences of my classmates and the faculty. Besides, there are tons of leadership positions at Kellogg, from social clubs to professional ones. Currently, I'm the VP of knowledge management of the Impact Consulting Club and co-president of the Austin Scholars.
Tell us about what you did over the summer – how did this experience inform your career and leadership trajectory?
I worked at M13, an early-stage consumer technology venture capital firm based in LA that provides strategic counsel and operational expertise to help founders grow their companies. Previously, at Banco de Credito del Peru, I worked in the innovation and product management practices and loved the fact that we all had this 'wanting-to-positively-change-the-world' mentality. That's why I wanted to get into venture capital.
At M13, I worked closely with partners and founders in ways that positively impacted their businesses and, therefore, their clients. It was such a fast-changing environment, and the experience showed me how to react to solve complex problems quickly. Everyone at M13 was great at what they did and I was able to enjoy its culture since day one during all my meetings and projects. It was such a great experience!
As I think about my future post-Kellogg, I want to help individuals and businesses solve their most difficult challenges in efficient ways.
What does impact mean to you?
Impact to me means positively influencing outcomes. One can make an impact on businesses, projects or almost anything. But making an impact on individuals is what I find most fulfilling. Both, me and my wife Ana Lucia (she's a MD), have been involved with different non-profit organizations throughout our lives back in Peru.
Therefore, after Kellogg, I hope to make more meaningful impacts on every aspect of my life; work, family, and social. Following my learnings about tools and frameworks at Kellogg, I want to apply those learnings to support positive changes in my family, my work and the communities I'm part of, such as the diabetes community.
Check out Kellogg's full list of scholarship opportunities >
Learn more about social impact at Kellogg >