Start of Main Content
A 2Y Veteran Expands Extensive Leadership Experience at Kellogg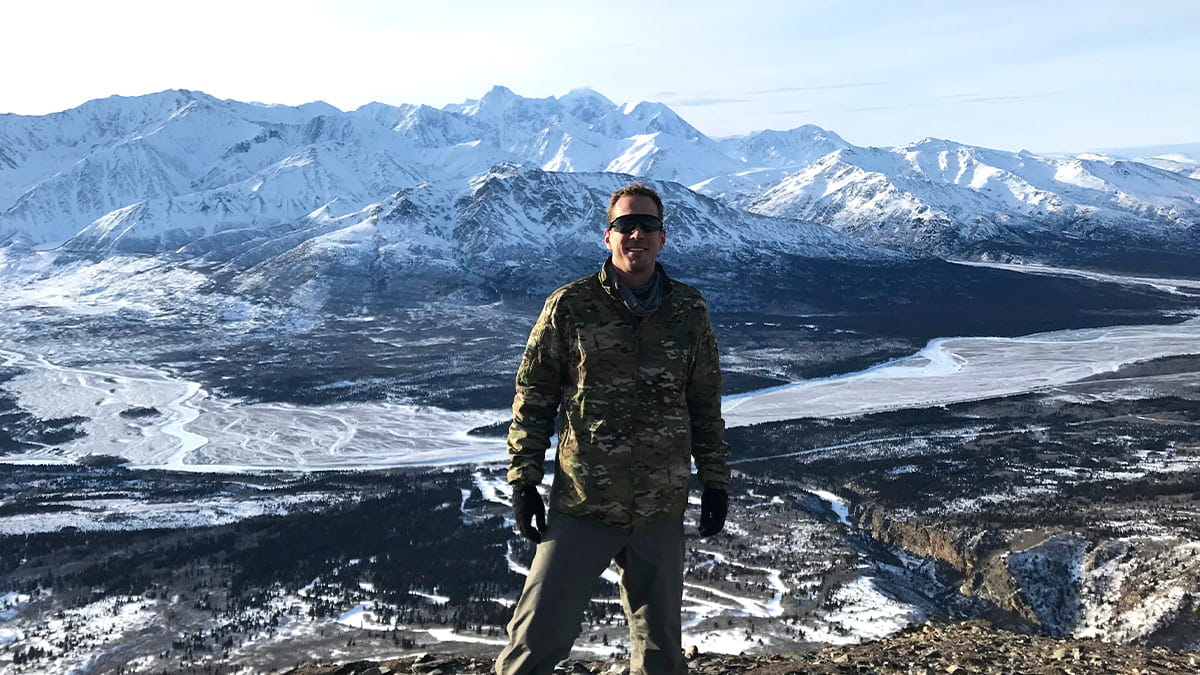 Jason Borchik (2Y 2022), co-president of Kellogg's Veterans Association (KVA), shares his experience as a Special Forces officer in the U.S. Military and his transition to Kellogg.
Tell us about your professional experience prior to coming to Kellogg.
I served in the US Army for almost 10 years.  The same day I graduated from the US Military Academy at West Point, I was commissioned as an officer in the Army.  I spent the first three years of my career as an engineer before I tried out for Special Forces. For the second half of my career, I served as a Special Forces officer, where my job was to lead teams of Green Berets as we trained, advised and assisted our allies around the world.
What made you want to go to business school? Kellogg?
Although I loved my time in the Army, particularly the close bonds I formed with my teammates and partner forces, I knew I was at the right moment to transition. I had extensive experience leading and managing teams and what I loved most was when I had chances to bring diverse (multicultural, cross-functional, multinational, etc.) groups together to achieve difficult goals. I knew that business school was the optimal path for me to supplement my leadership and management skills with an academic foundation of knowledge that could launch me into the next phase of life.
While I considered other top business schools, Kellogg was always the clear choice. Kellogg invented the team-based MBA learning model, so I was excited about the opportunity to work with small groups for most of my assignments which replicated what I was used to from my previous career. As I've found throughout my internship with Nike this summer, the business world functions in a similar fashion with building consensus amongst a group of stakeholders as the best way to get things done.
My wife and I visited for Day at Kellogg (DAK), the admitted students' weekend, in February 2020, right before COVID shut the world down. After spending one day in the Global Hub, we knew that Kellogg was the right fit. I paid my deposit on the first day of DAK.
Tell us about your Kellogg experience so far. Have you leveraged specific resources/clubs? Any specific to being a Veteran?
Coming from a "non-traditional" background, the best part of Kellogg has been not only learning from the world-class faculty, but also learning from my brilliant classmates with extremely diverse backgrounds. While I certainly have a lot to learn from my classmates, I often find myself sharing just as much about my previous career with friends who genuinely want to learn from my experiences.  The KVA is always there as a "home base" of friends who can relate to the unique challenges of transitioning from service into a completely new career. But we are a small percentage of the class, and we all have our own communities outside of the KVA, too.
I'm a proud member of the Moose section and have found a great group of friends through the section experience. We went undefeated and brought home the Section Intramural Softball Championship and we'll be defending that title next spring! We also rented a Wrigley Rooftop to watch a Cubs game right before finals in the spring and we have had a bunch of small group dinners and social gatherings.
Finally, I must mention that I love how supportive Kellogg is for JVs (short for Joint Ventures, Kellogg's term for significant others). My wife feels like she's as much a part of the class of 2022 as I am. Like me, she's an active member of the Moose section, she participates in as much Kellogg programming as she wants, and she even audited one of the most popular classes in the spring, Biomedical Marketing with Professor Tim Calkins.
How have you grown in the last year?
The past year has been all about growth. I've had to reinvent myself. For all my adult life, my identity was wrapped around wearing the uniform and serving my country. The time at school has given me the chance to reflect on what matters most to me.  My core values of empathy, integrity, and perseverance will not change, but this year gave me a chance to explore ways to continue to serve others and bring diverse groups together to achieve big goals.
One of my favorite events that helped me to learn and grow at Kellogg is Hear My Story, which is a storytelling event held throughout the school year during which students share their personal stories to build awareness, empathy, and create connection around the diverse, lived experience that exists in the Kellogg community. I'm constantly in awe of the remarkable people I get to interact with daily.
I've also had a chance to explore potential career paths in industries I'm passionate about. With the help of classmates, Zohere Tabrez and Adam Scott, I organized a Sports Business Career Trek in the spring. We arranged for the following impressive group of Kellogg alumni to speak to students interested in pursuing a career in the sports industry:
Julie Suderman'06, Associate Commissioner, CFO, Big Ten Conference
Chris Petersen '09, Vice President, Team Marketing & Business Operations, NBA
Andrew Miller '07, Chief Operating Officer, Minnesota Vikings
Mark Zarthar '14, Senior VP, Marketing, Philadelphia Flyers
These were the first four people we invited to speak and they each emphatically said yes without hesitation as they would be excited to give back to Kellogg. The fact that four, high-level executives took time from their busy schedules is an excellent example of the type of people who are part of the Kellogg community.
For more information about the Veteran experience at Kellogg: