Start of Main Content
Part Three: The New Talent in Kellogg's EMBA Program, Winter 2021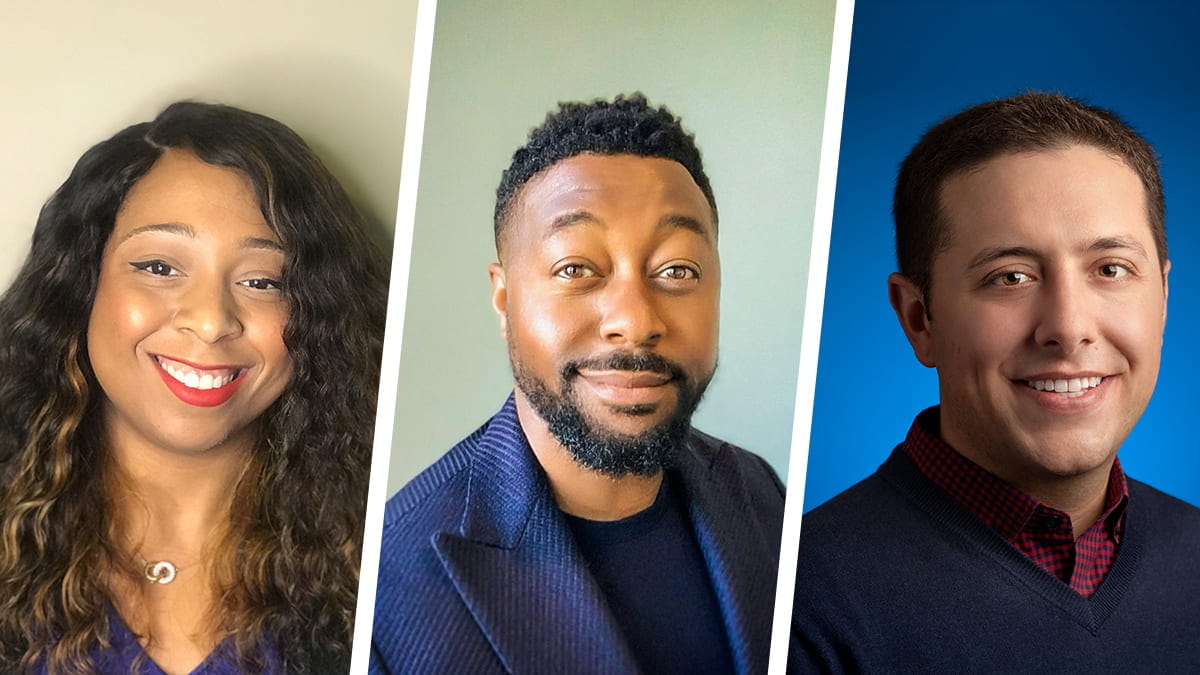 In this series, we celebrate the truly impressive leaders who recently joined Kellogg's Executive MBA Program. Today, we're excited to introduce (from left): Danielle Neveles (Director of Racial Justice and Equity Social Impact Initiatives, Eli Lilly and Company), Chris Hardeman (Regional Operations Director, DaVita Kidney Care) and Matt Rogers (Head of Industry, Travel, Google).
What are you most proud of in your professional journey? How did it shape who you are as a leader?
DANIELLE: As a leader, my greatest achievements have been my ability to develop other leaders, inspire and motivate teams to achieve what seems impossible.
Before my current role, I oversaw internal and external communications for all of our commercial operations outside of the United States. I led a team of communicators across 10 geographic regions, and in 2020, like the rest of the world, we were faced with a communications crisis unlike any we had ever experienced. My team did not know how they would maintain employee engagement in their local countries with sales team who could no longer do in-person selling, my team did not know how to help the leaders they support communicate effectively virtually, and many other things were a first for me and my team. However, I focused our team on our purpose, worked with each team member to assess and develop a plan for their country and also checked in with each person individually on how the pandemic was impacting them and their families. I believe leadership is an esteemed privilege and responsibility to serve the people we are responsible for. Throughout my career, I continue to learn time and time again that serving those you lead and knowing what motivates them is essential.
CHRIS: I'm most proud of the people I've been fortunate to lead and work with. Serving in the U.S. Army and working with Soldiers that were willing to give so much of themselves in service of the Nation and each other is one of the greatest honors of my life. Similarly, now that I'm working with frontline healthcare workers, I see the same proclivity to put so many others before themselves. Leading teams like that is a truly humbling and rewarding experience that I feel immensely grateful for.
MATT: I have always felt empowered to pursue my interests as innovation is at the core of our company culture. It was the alignment between curiosity and professional opportunity that enabled me to pursue a project in the aftermath of The Great Recession. I suppose I am most proud of this experience because it taught me about the outsized impact our business can have when we place our users at the center of everything we do.
At the time, circa 2010, more than half of all small businesses in the U.S. did not have a website. As a result, our marketing department ambitiously launched America Get Your Business Online (today known as Grow with Google). The goal was ambitious, but straightforward. We wanted to support getting a new wave of SMBs on the web, and change the perception that getting online is hard, expensive and time-consuming.
After testing the content at some small business centers across California, the project became something else entirely in our launch city of Austin, Texas. We brought the best of Google and aligned with external partners to provide the tools and resources that made it fast, easy and free for any business to get online.
Before I knew it, I was leading sessions in Kansas City, Burlington, Richmond, San Diego, Honolulu, etc., but the reason this was special was because of how incredibly appreciative these business owners were for our work. In between talks, I would wander nearby the event where folks would stop me to ask questions and express their appreciation. A bakery owner in Detroit came to a session on day one, and returned on day two with these huge bags of beignets she wanted me to have as a thank you. She was emotional and said thanks to my help, she was launching her bakery website. I left that experience knowing that we were making a positive impact across many of the communities that needed it most.
As an incredibly accomplished and very busy professional, why was now the right time to get your MBA? Why was Kellogg the right school?
DANIELLE: I have contemplated pursuing an MBA for the last few years. With everything that happened in 2020, I took time to pray and reflect on the type of leader I wanted to be, the type of impact I wanted to have and how I wanted to contribute to society. Having this vision in mind, I knew I needed to take action. I was reminded in 2020 that life is short, so I decided to apply to Kellogg.
From the admissions staff to the alumni at Kellogg I connected with, I related to their values, character and collaborative mindset and I knew I wanted to be in an environment with leaders like them. Kellogg offered the rigor and versality I was looking for in an MBA program. Lastly, I wanted to be in a program that fostered collaboration and teamwork, which Kellogg exceeds at.
CHRIS: This was the right time for me to get my MBA because I felt that I had earned enough social capital at work to feel comfortable asking my boss to support me. I couldn't be happier with the encouragement and support I've gotten from my leadership team.  I also spent a lot of time developing and investing in my team so that I could confidently take time away from work, knowing that they could handle their own responsibilities and occasionally step up to take on things that I would normally do.
MATT: Professionally, my career has been life changing. I feel incredibly lucky to be part of an organization that encourages me to keep learning, both personally and professionally. I am not sure there is ever a "right time," but as the world continues to rapidly change, it is critical that I identify opportunities to develop and improve for both my teams and myself. Kellogg provides that. Alumni of Kellogg have underscored that Kellogg will expose me to business challenges and a global network that will push me to think differently, especially as someone that has grown up within the walls of a single organization.
If you've made a recent pivot in your career, can you share what drove you to make this pivot? Any advice for those looking to make a pivot or significant change in their career?
DANIELLE: I recently made a pivot in my career, which I had been seeking an opportunity for and thinking about for quite some time. My pivot was driven by my desire to do purpose-driven work that aligned with my personal values. Now, in my new role, I have the privilege of managing a $25M budget for a corporate foundation and leading racial justice and equity philanthropy initiatives in the areas of social mobility, criminal justice, health and education.
I would encourage others who are contemplating pivoting or making a bold change to identify what change they want to make, either by working with a coach, speaking to a trusted friend/family member or simply reflecting on it, then take the leap. We have to be brave in the pursuit of what we want. It is important to develop an action plan of how you intend to get there, and I do find having an accountability partner is a strong motivator of making the pivot.
COVID-19 has changed how we learn, engage and grow. What have you learned or gained – that you might not have otherwise – during this time?
DANIELLE: COVID-19 has taught me how to really slow down to speed up. Before the pandemic, I often ran from one thing to the next with little time to reflect and think, and I took more time last year to think and build strategy , address business challenges and connect with my team. I became more intentional about connecting with the people I love who are not physically near me. Lastly, I learned to take more time for my own growth and well-being. I became more conscious about my daily activity and health.
Additionally, the racial injustice throughout the United States last year made me pause and reflect on what role I wanted to have in this movement in history, which also influenced my career pivot.
CHRIS: I've learned that in times of crisis and sustained discomfort it is important that we periodically take an honest assessment of how well we're managing our four main sources of energy (physical, mental, emotional, and spiritual). Once we take the time to conduct that assessment, we're likely to identify deficiencies or things that are depleting our energy and we can then work to develop plans to improve them and in turn increase our resiliency and ability to handle stress in this environment. Lately, I've been focused on taking care of my physical health, showing gratitude as often as possible, achieving clarity about my top priorities at work, and staying connected to my sense of purpose in life.
Why did you choose your campus?
DANIELLE: I was very tempted by the beautiful sunshine and beaches that Miami offers; however, what truly convinced me to choose the Miami program was the average amount of international students in the Miami cohorts and the class schedule. Working full-time in NYC, the Miami schedule offered the most flexibility
CHRIS: This was a hard decision for me, but I chose the Miami Campus because I was really drawn to the vibrant culture and diversity of Miami. I think our cohort absolutely reflects that diversity and I'm excited to see how the city, and all that it has to offer, shapes our experience. I also really appreciated the schedule that the Miami campus offered. We generally have class one long weekend each month and that really seems to work well with my other work and personal commitments. Fortunately, we have the same great Kellogg professors and faculty no matter which campus you choose.
What is your #1 application advice for students looking to apply to Kellogg?
DANIELLE: Take the time before you apply to figure out what you aspire to in your career and what you need from Kellogg to help you. Be authentic in your application and find a network of people to hold you accountable to completing your goals.
CHRIS: My advice to anyone thinking about applying to Kellogg's EMBA Program is to take the sponsorship conversation with your employer seriously. This program is still a significant time commitment and you'll really want to be sure that your employer understands and fully supports that. I'd also recommend having a similar conversation with your close friends and family so that they understand what you're getting into as well. This an amazing experience and you'll want to be able to fully invest in it without feeling like you have to go back and renegotiate your other responsibilities after you've started this journey.
MATT: First and foremost, I needed to be honest with myself about my motivations. For me, this quote from John Wooden (UCLA) was something I kept coming back to: "Success comes from knowing that you did your best to become the best that you are capable of being." Kellogg's team-oriented approach and focus on developing self confident, but humble leaders is something that really resonated with me personally. For me it is important that I keep moving forward. Part of that process requires being honest with yourself about the things you do well, as well as, the areas where you can continue to improve. My approach in applying was to be transparent about that assessment and how I saw Kellogg and the corresponding coursework fitting into that plan.