Start of Main Content
Kellogg's 2Y MBA Employment Outcomes: A Diverse Range of Industries, Functions and Geographies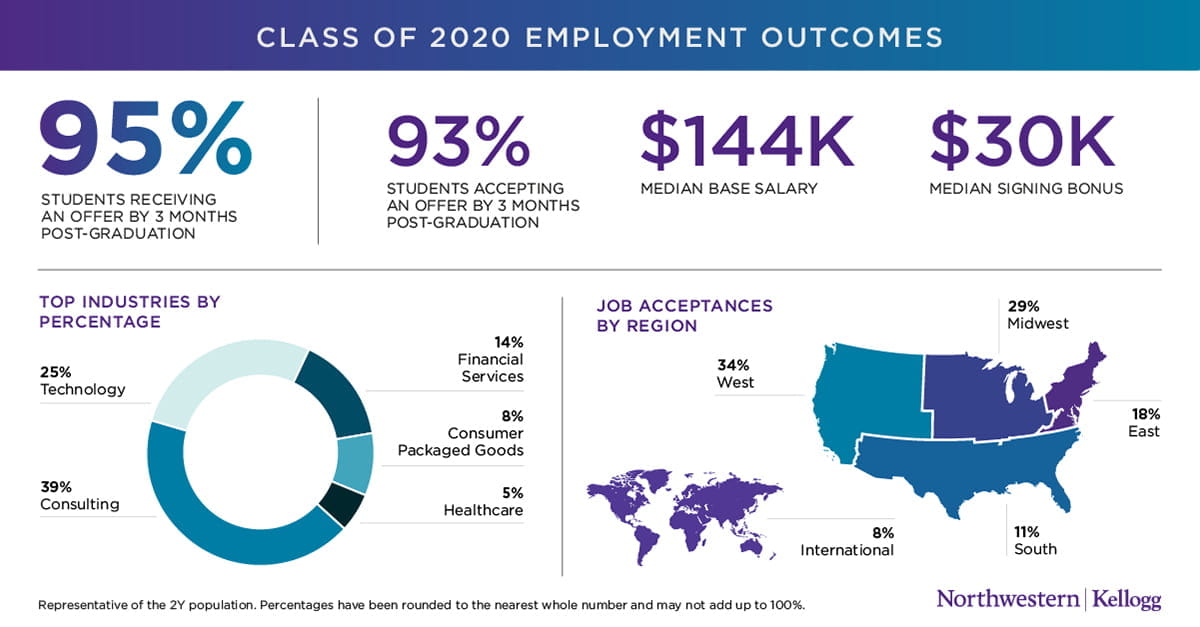 By Liza Kirkpatrick, Managing Director of the Career Management Center for Full-Time Programs
As I reflect on the employment outcomes for our 2Y MBA Class of 2020, one thing is indisputable — this past year was an incredible display of resilience, collaboration and creativity. Despite significant disruption to virtually every industry, including a complete pivot to how companies recruit and interview, I'm incredibly proud to say that 95% of Kellogg's 2Y MBA class received job offers and 93% of the class accepted job offers within three months of graduating. Among our international 2Y MBA grads in particular, 96% received job offers and 93% accepted job offers within three months of graduating. Our grads also received a record-high median base salary of $144,000 and median signing bonus of $30,000. To see this success during such a disruptive year is an incredible testament to the strength of the Kellogg network, our longstanding and diverse relationships with employers, and the resiliency of our students.
The West Coast was an especially strong choice for our 2Y grads this year, with 34% choosing roles in that region — the highest in Kellogg's history. This shift also reflects widespread demand from our employers — more than half of our companies this year hired for West Coast roles in industries ranging from tech to finance to consulting. For example, one of our '20 grads, Katie, pivoted from a management role in the hospitality industry to a program management role at Apple in Silicon Valley. Meanwhile, Alex accepted a role with Bain in Los Angeles after serving as a senior account manager for Class Pass prior to Kellogg. And Sean accepted a role in Seattle as a senior associate with Arable Capital Partners, a private equity firm focused on food and agriculture, after serving as a finance manager at Kraft Heinz prior to Kellogg. Kellogg's San Francisco Immersion Winter Quarter continues to be a key part of the recruiting process for some of the students accepting West Coast roles — allowing students to intern with high-growth ventures, private equity firms and venture capital firms, while earning course credit and networking with prominent Bay Area alumni.
Consulting continues to be our most popular industry, comprising 39% of accepted roles among 2Y MBA grads this year. Amidst significant disruption and change in the world, the need for agile, collaborative leaders with creative problem-solving skills is stronger than ever — particularly in the consulting realm, which is focused on tackling challenges across all industries and functions. Kellogg has long been known for developing leaders with strong general management skills and the rare ability to understand and influence people — leaders who demonstrate great empathy. Our grads accepted roles at consulting firms of all specializations, sizes and locations, ranging from boutique firms to roles at Boston Consulting Group, McKinsey and Bain.
Tech was our second most popular industry, with one-quarter of our grads accepting roles across a range of functions — such as product management, finance, marketing and strategy — at tech companies ranging from Postmates to Qualtrics to Apple. Finance (14%), consumer products (8%) and healthcare (5%) round out our top five industries, reflecting the diversity of our grads' career goals and the breadth of employers seeking Kellogg talent.
The Kellogg alumni network played an especially crucial role in our hiring success this year. To offset the significant changes to the hiring landscape brought by the pandemic, our Career Management Center launched an aggressive HireKellogg campaign beginning in March. We called on our global alumni community of more than 65,000 to leverage their networks and uncover employment opportunities for the Kellogg community. This led to a total of 251 alumni-sourced job opportunities on our Kellogg Job Board for full-time students.
Our students were also hard at work networking with Kellogg alumni, securing the right post-MBA roles to launch the next chapter of their careers. One of our grads, Lauren, landed an internship and ultimately a full-time role at the early-stage health tech startup Kalderos — building on her prior experience in healthcare product management. The opportunity surfaced through proactive networking with the company's president and COO, a Kellogg alum. Another grad, Eric, wanted to pivot to impact-focused work after a career in aerospace engineering. He networked with fellow alumni working with The Church of Jesus Christ Latter-day Saints and landed a management consulting role with the organization, leveraging the skills he developed during his summer internship experience at Bain.
I've heard time and time again from our students: though it has been unpredictable and at times stressful, this past year of disruption has given them unique first-hand experience in navigating change and creatively adapting. Ultimately, this experience makes our grads more agile, resilient and empathetic leaders — qualities they will leverage well into their post-MBA careers.