Start of Main Content
Part One: The New Talent in Kellogg's EMBA Program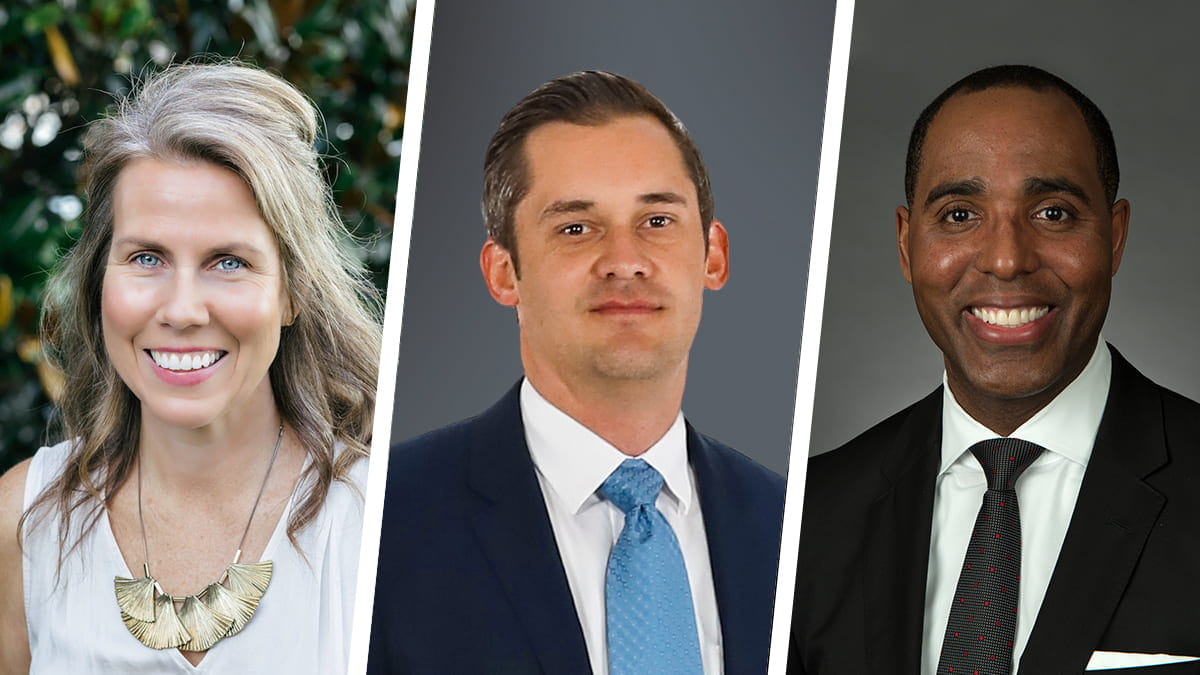 In this series, we celebrate some of the truly impressive leaders who recently joined Kellogg's Executive MBA Program. Today, we're excited to introduce members of our recent Miami cohort (from left): Megan Wenrich (Director, Philanthropy Enrichment Team, The Nature Conservancy); Brandon Standifird (Chief Financial Officer, U.S. Energy Development); and Bruce Plummer (President, Northern Trust Services, Inc./Corporate and Trust Insurance, Northern Trust Corporation). 
What are you most proud of in your professional journey? How did it shape who you are as a leader?
Megan Wenrich: I'm most proud of the teams I've built where everything just clicked. Where we accomplished things we weren't sure we could. Where the work was a blast. I did a lot of backcountry wilderness expeditions in my youth in places like Alaska, Wyoming, Idaho, and Kenya. Working towards a common goal in challenging conditions when your livelihood is quite literally dependent on the effectiveness of the team provides an unparalleled education on teamwork and leadership. Even though every goal I've been hired to achieve was unique – from my early days in government relations when the goal was to pass a legislative initiative to the bulk of my career leading multiyear philanthropy campaigns where the goal is to raise capital – they were all achieved by high performing teams. I've learned through success and failure that how teams work is the linchpin to what teams are able to accomplish – and that's shaped every aspect of my leadership journey.
Brandon Standifird: I think the answer to the question relates to where I am at this moment in my career and profession.  We're currently facing a very challenging and difficult time both domestically and globally. As a young CFO, I've worked very closely with the CEO and we've been able to navigate this difficult time through a conservative approach to leverage the investments we make and the relationships we have developed. As COVID-19 struck and economies started bracing for a pull-back, we immediately got on the phone with vendors, customers, employees and other stakeholders. Throughout the span of one week, we were able to successfully communicate and implement a plan to keep the balance sheet strong and turn a profit despite historic lows in commodity pricing. It's been extremely humbling to see so many stakeholders work together for the greater good.  It's not easy to ask people to change the way they live as you implement cost-cutting measures. The response has been overwhelming and positive; to see our people and our vendors step up during this difficult time has been nothing short of amazing. Leaders need to have the difficult conversations. Leaders need to have the ability to adapt to obstacles in their paths, and this trying time has enhanced these specific principles of leadership within me.
Bruce Plummer: I am most proud of the personal and professional relationships that I've formed over the years. These relationships have had a profound impact on my career and development. Through the relationships I've cultivated, I've learned to become an effective leader. As a leader, it's essential to approach every new challenge with an open mind and a willingness to consider multiple perspectives. While that doesn't guarantee that everyone gets what they want, it can help to ensure an equitable and sustainable solution.
As an incredibly accomplished and very busy professional, why was now the right time to get your MBA? Why was Kellogg the right school?
MW: I'm at the midpoint of my career. Last year, I did a lot of deep thinking about what I wanted to contribute and get out of my next twenty years. I realized that I'm most energized when I take on new challenges that stretch me, and that the more experience I gain, the hungrier I get to make tangible impact on the world. I participated in a program at Cambridge's b-school in 2019 and realized an MBA would prepare me for new challenges. I never questioned moving forward despite the challenges and uncertainty of the pandemic. I chose Kellogg because it's built on the power of diversity and collaboration.
BS: I'm not sure any time is the right time to get an MBA as the tremendous investment of time has always been the hurdle in a busy career. I have a great CEO – who is both a mentor and coach – who has helped to prod me along as I worked towards acceptance and admittance into Kellogg. Between my professional career and my home life, I've had folks lend support and embrace the decision to receive an MBA. Kellogg was never that difficult of a decision as the reputation that this institution has developed over the course of many years is truly unparalleled. The quality of staff, the caliber of the student body, the access to a diverse and broad alumni network are all factors that made Kellogg the right choice for me.
BP: I have long desired to earn my MBA, but I focused on advancing my career through new opportunities, several of which required relocating to new cities. Acclimating to new surroundings became my focus rather than continuing my education. While I have had success without the MBA, it remained an unfulfilled goal. Recent life events and the pandemic made me realize that I no longer wanted to wait to pursue the MBA. I considered other institutions, but decided on Northwestern because of the flexibility offered by the EMBA program, the caliber of the faculty and because the program's structure includes forming deep connections with members of my cohort, which feeds into my core value of forming and maintaining relationships. In this case, I get to work with people outside my industry and profession.
If you've made a recent pivot in your career, can you share what drove you to make this pivot? Any advice for those looking to make a pivot or significant change in their career?
MW: In 2017, I left a philanthropic consulting firm I helped build to take a staff position at The Nature Conservancy. I loved my consulting firm. My partners were some of the most inspiring people I've ever worked with. The work was new and interesting, and I was really energized by the entrepreneurial aspects of starting a firm from scratch. I gave up those things I loved because I wanted to work for a global organization. I want future generations to have a healthy planet they can explore and I felt I could effectuate change on that issue more rapidly at TNC. My advice to anyone exploring a pivot is to be brave and focus on what you think you will gain rather than what you might give up.
BS: Recently, I was promoted to CFO of U.S. Energy, a firm that specializes in investments in and supporting the energy space.  This role was a pivot in my career into executive management.  Initially, I was overwhelmed with the idea of having to know everything. However, I quickly learned that surrounding yourself with the right people in the right position and giving them the tools to succeed enhances greatly the abilities of the CFO. A good leader is only as successful as those that they surround themselves with. I've tried diligently to make key hires and empower those hires to do the same. The best advice I have for anyone looking to make a pivot or a change in their career is to take a pro-active approach. Don't wait for opportunities to come to you, communicate with those around you, reach out to professionals in the space, build relationships, network and be diligent about your next step(s).
BP: While I have not had to make any recent career changes, I implore anyone that is considering changing paths to conduct a self-assessment. It's important to understand your goals, strengths and passions, and how they align with business needs and demands. It's also important to have industry mentors. Mentors can offer perspective and serve as great sounding boards
COVID-19 has changed how we learn, engage and grow. What have you learned or gained –that you might not have otherwise – during this time?
MW: I've learned that some of the radical changes thrust upon us by the pandemic will have silver linings. I'm pretty excited about what the disruption of higher education might do to expand the number of women in b-schools, business and board rooms. Pre-COVID, I travelled around ten days/month for work. I have a young family and when I started my MBA research, I was looking for a hybrid program at a top ten school. That didn't exist. I wanted some virtual and some in person. The pandemic gave me that. I'm hoping new models will emerge. On a more personal level, I've learned that I really love jigsaw puzzles and a good dance party with my daughters and husband is the ultimate stress reliever.
BS: More than anything I think it's the ability of people to learn, to adapt, and to create new ways of doing something. When we closed our office at the end of March of this year, we were a bit hesitant that things would be dropped and we were unsure how our employees would handle the distractions in their home office space. We were quickly reassured as our team managers set up processes to communicate and report updates on a regular basis. A great thing happened: people got their jobs done, they worked hard, and they created solutions that came from working in a virtual environment. I've learned that good employees (that come from great hiring) will find a way to get things done. They want those opportunities to be trusted and they delivered. It was a great testament to the ability of our employees to learn, adapt and develop new ways of working.
BP: Covid-19 has forced me to adopt and develop new skills and approaches to communicate with my team, colleagues and clients. In an environment where most communication occurs remotely, I've had to refine my listening skills and modify how I connect with people in order to remain effective. Zoom and Web-Ex are great tools to stay connected but it can be difficult to detect and react to nuance, subtleties and non-verbal cues.  Now – perhaps more than ever – attention to detail and the need to be present in all interactions is especially critical.