Start of Main Content
Part Two: The New Talent in Kellogg's E&W Program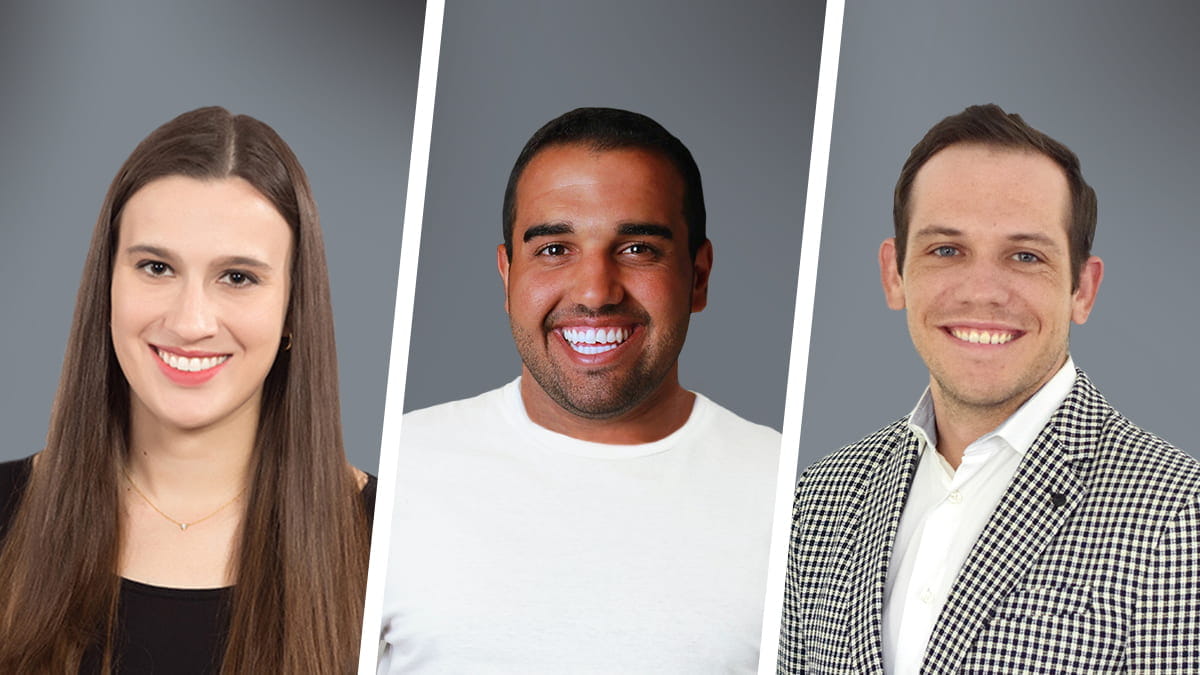 In this series, we celebrate the truly impressive and diverse students who recently joined Kellogg's Evening & Weekend Program. Today, we're excited to introduce (from left): Gabrielle Bunney (Resident, NMH Department of Emergency Medicine); Malik Elarbi (Analytics, Google); and Frank Gossage (Manager, Global Real Estate, Boston Consulting Group). 
What are you most proud of in your professional journey? How did it shape who you are as a leader? 
Gabrielle Bunney: My most significant career accomplishment was contributing to the Global Strategy for Women's, Children's, and Adolescents' Health at the World Health Organization. It was an incredible experience to be a part of an international healthcare policy team, to work on the project, and to learn how these policies are created and enacted. Those in charge of the division were wonderful examples of leaders dedicated to improving healthcare. They were able to deftly balance the goals of the Global Strategy with the differing priorities of each of the stakeholders. Their negotiation and decision making abilities are skills that I try to implement in my work.
Malik Elarbi: I am proudest of my perseverance. I remember applying and interviewing to over 60 internships during undergrad and striking out every time. Finally, one company took a chance on me, which led to three total internships, one of which converted into a full-time role with my previous company. Without the internships, I would not have gotten my last role. Without my last role, I would not have gotten my current role. And without my current role, I am confident my Kellogg application would not have been as compelling. I take that same drive to the workplace and implement it in my leadership style; my goal is to inspire in others the same drive.
Frank Gossage: The leg of my professional journey that I'm most proud of is the process and culmination of becoming a licensed architect, which included years of individual work coupled with learning lifelong abilities from amazingly talented people. The unique problem-solving and interpersonal skills that are imbued within the process of becoming an architect left a heavy imprint on how I approach challenges and inspire growth by leading bravely. Although my current focus of work has broadened from architecture to larger themes on real estate, I'll always attribute my foundation of being able to creatively lead collaborative teams to an education in architecture.
As an incredibly accomplished and very busy professional, why was now the right time to get your MBA? Why was Kellogg the right school? 
GB: I am an emergency medicine resident physician and I have reached the halfway point of my residency training. In tandem with developing my clinical acumen, I am working towards building a career that expands from the individual patient needs to systems of care, specifically looking to focus on the business side of healthcare. I was drawn to Kellogg because of its reputation for building strong leaders and its focus on not only the analytical side of business but also the qualitative side. The opportunity to experience this well-rounded approach fits well into my career aspirations.
ME: There is never a bad time to get your MBA. Coming out of a recent career change from finance to analytics that was accompanied by a shift in employer, I realized how much a career can pivot in a relatively short window of time. Knowing that, I believe that wherever I am in my career in four years, having an MBA in hand, and perhaps one with a different area of specialization, will only support continued growth and diversification in my career. When choosing the right school, I recognized that with my passion for both marketing and collaboration, Kellogg was a no-brainer.
FG: The hint of going back to school for my MBA started a couple of years ago and it was mostly precipitated by thoughts on formalizing the leadership and management skills I had been learning while working. I already have a master's degree and in my current industry, due to networking and career growth opportunities, it didn't make a lot of sense for me to take an additional one to two years off for a full-time program. This led to me to researching evening and weekend programs. From there, Kellogg's values and approach to business education resonated strongly with me, specifically the attitude of being a high-impact, low-ego leader.
Malik and Frank, you made a recent pivot in your careers. Can you share what drove you to make this pivot? Any advice for those looking to make a pivot or significant change in their career? 
ME: My degree out of undergrad was in finance, so naturally, I accepted my first role in finance as a foot in the door to corporate. After four years, I realized my passion for finance did not stem from P&Ls and cost savings initiatives, but rather, analytics and problem solving. With that, I sought and accepted an analytics-specific role where I could develop my technical acumen. My advice for anyone looking to pivot is to never pivot simply because you do not like what you are doing. Instead, find out what it is about your current role that you do like and seek out future opportunities that are related.
FG: The way that I see my career, retrospectively, is that there certainly is significant change from when I first completed undergrad to now, but the process was a slow and amorphous change. I've worked in a traditional architecture firm designing towers in New York City, then a property technology start-up, and now,  a management consulting firm. Every step, though, felt like a logical progression and continuation of me growing as a person and leader. Advice I would give to someone in a similar situation would be to not be afraid of change; being courageous takes being brave enough to take risks that others may not.
In your short time at Kellogg, how has your experience so far impacted your professional and/or personal growth?  
GB: Those participating in the Evening and Weekend Program are concurrently working full-time jobs and this provides a rich environment of diverse perspectives. Listening to my fellow classmates provide examples of how ideas from class apply to their work environment has enriched the course concepts, allowing me to think about them in ways I did not previously. While I look forward to going back to the classroom and experiencing everything in person, the virtual world has opened up many opportunities to attend a multitude of talks that explore what Kellogg has to offer outside the classroom. This experience has expanded my awareness of different areas of business that are outside of medicine, as well as provided new opportunities for leadership and personal development.
ME: Taking my first class virtually allowed me to see that the current world is not "business as usual" and that is okay. Seeing some of my classmates dealing with the reality of multitasking parenthood or caring for a loved one helped me develop a sense of empathy, which I now apply with my colleagues at work. This experience has shown me that the work will, of course, always get done when it needs to get done. But it has also shown me that we are all human at the end of the day, dealing with various circumstances, and we need to have compassion for our peers.
FG: Although it's only my first quarter at Kellogg, I've had some amazing experiences already both with clubs and in the classroom. I was able to join the real estate club and had the opportunity to host one of my old colleagues on a discussion regarding the future of the workplace, which led to a super interesting and diverse discussion on the possibilities of how we all may be working in the years to come. In the classroom, I'm interested in majoring in strategy and I was fortunate enough to take Business Strategy this quarter, which gave me invaluable, foundational knowledge that I've already been able to utilize at my job.  
COVID-19 has changed how we learn, engage and grow. What have you learned or gained — that you might not have otherwise — during this time? 
GB: Working in the emergency department during COVID-19 has created an experience I never thought I would have in residency. It has been incredible to witness and be a part of the fast-paced changes and the adaptability of the department in the face of uncertainty. While often times medical specialties operate in their own realms, at its core, medicine is a team-based profession and COVID-19 has shone a light on the power of teamwork to help patients heal. We are constantly learning new things about this virus and we are working as a collective conscience to improvise and adapt within the confines of the science available. I have been inspired by the resilience in the emergency department and it proves that passion and perseverance can overcome fear and uncertainty.
ME: I think COVID-19 has been a great forcing mechanism for companies to finally learn that employees being in the office every weekday from 9am-5pm is not necessary for success. On a personal level, I have developed a WFH routine that allows me to be more productive than being in the office. In addition, I prioritize a work-life balance that may otherwise be difficult when forced to sit in an office for 8-10 hours a day.
FG: It may seem counter intuitive, but during the past six months, I've learned to be more present both during work and in my personal life. COVID-19 has taken away the spontaneous, personal interactions in the workplace and at school that I had previously taken for granted. Recognizing that the unprompted connection is becoming increasingly rare, I've learned to enjoy and become more engaged in the interactions I'm still fortunate to have.