Start of Main Content
GCC Series: Empowering Peers as an IPG Leader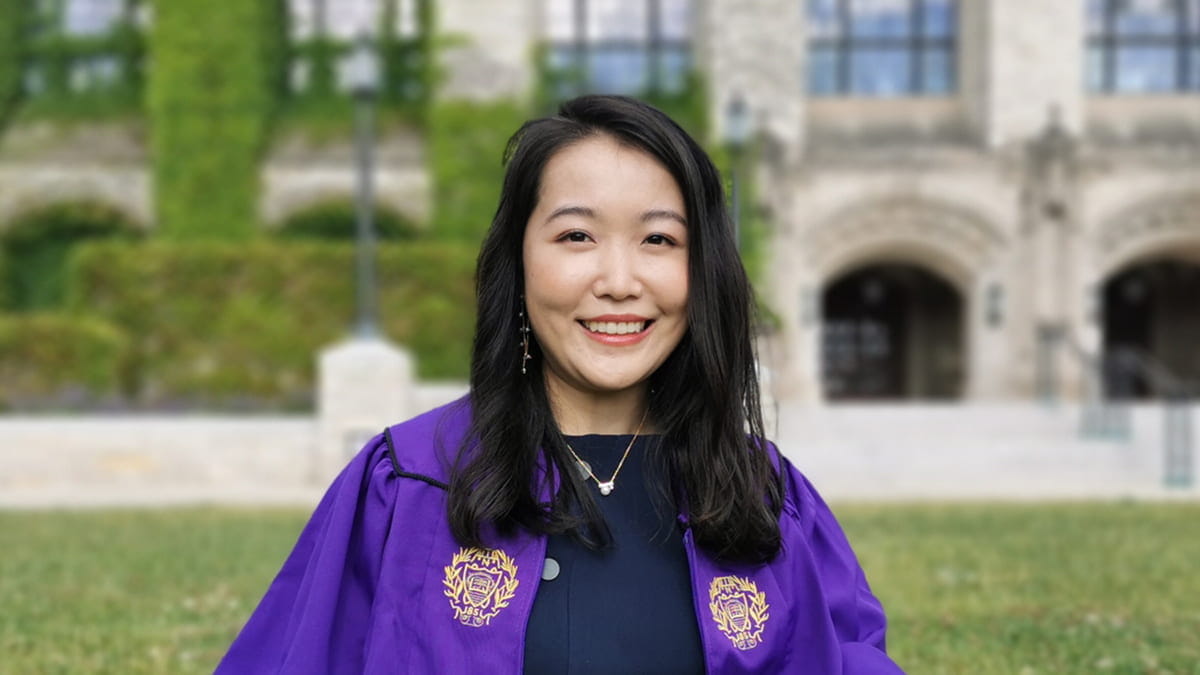 Laura Chen (2Y 2020) shared with us her pivot to consulting and giving back to her community as an Interview Prep Group (IPG) leader for Kellogg's Greater China Club (GCC). Her blog post is part of a series from representatives of Kellogg's Greater China Club. Click here to view all the posts in this series!
Tell us about yourself.
I did my undergrad in Chemical Engineering in China and Finland. During my time in Finland, I specialized in paper manufacturing because Fins are very proud of their forest industry. I did an internship to optimize label removal during the recycling process of glass beverage bottles and I became interested in sustainability practices. That is why I decided to come to the US to pursue a Ph.D. in renewable energy that is specific to the paper industry.
During the four years that I worked in the paper industry, I had the exposure to not only engineering but also product management and marketing & sales. The higher I moved up, the more I realized that there is so much more I could do to reinforce my technical and soft skills, as well as gain broader exposure to different industries and functions. While this was why I decided to pursue an MBA and pivot to consulting, it was also why I chose Kellogg; Kellogg's culture of peer-to-peer support and incomparable career platform are paramount for consulting recruiting.
Why did you choose to be an IPG leader for GCC?
Those recruiting for consulting may have memorized Case in Point by Marc Cosentino or have daydreamed of building a bulletproof framework. However, that all comes crashing down after receiving your first case. Without a doubt, it was the amazing feedback and unrelenting guidance of my peers that truly transformed me to excel in my interviews. Therefore, I am heavily indebted to the countless second-years who have devoted their time to help me navigate through this process.
What many do not know is that interview prep and casing sessions come at a cost in other top MBA programs, but they are 100% volunteered at Kellogg. I felt that it was my duty and obligation to pass on the wisdom I have gratefully received.
In particular, I chose to be an IPG leader within GCC because I knew I can better integrate the cultural differences and explain the intricacies necessary to successfully recruit in the U.S. I thought it would be valuable in this capacity to share my experiences after having lived in the U.S. for 10 years and receiving a full-time offer from McKinsey. Furthermore, a GCC IPG also serves as a safety net for first years to vent their emotions, thoughts and feelings during the recruiting process. No one can pull recruiting off alone and the second-years in GCC are here for you.
What is the secret to being a good leader so that all your team members got internship offers from the top firms?
If I could name one thing that I am most proud of at Kellogg, it is my GCC IPG group. Because I only recruited for the U.S. offices, I requested to mentor first-years interested in recruiting solely in the U.S. so they could get the most out of me. Besides the fact that I was matched with three extraordinary individuals, I focused on three guiding principles – discipline, authenticity, and attention to detail:
1. Discipline
Setting a discipline of casing habits early on is among the most crucial aspects of nailing consulting interviews. When I saw my team showing me stacks of reflections that they wrote on cases they had done, I was certain that they had the traits to be successful.
2. Authenticity
I also found it valuable to share my successes and failures authentically. I firmly believe that a great mentor should reflect without reservation.
3. Attention to Detail
Lastly, the interview is a test on not only technical skills but also demeanor. A lot of the time, nuances in how you present the case on paper and how you react to an evidently provoking interview question can make or break the deal. Attending to every detail in the interview process makes an interviewee stand out and be memorable. From day one, I instilled that mentality in my team.
Describe your overall experience of being an IPG leader.
My three, wonderful first-years in my group were fast learners who not only absorbed complex information quickly but also responded to feedback genuinely. We had a lot of fun as well. I was especially fond of wacky ideas: for example, brainstorming "how to open a poke shop in Evanston" when I introduced "market entry." If I had a time machine, I would love to go back and back again ten more times!
This experience has been transformational for me, as well. It transformed me into a better mentor with more compassion and patience. Witnessing my team adopt the concepts and grow into excellent candidates was extremely fulfilling to me. I also loved the camaraderie in seeing them case each other and in them, I saw my strict persona materialize, which made me confident that they will pick up the baton and become amazing leaders next year.
The interview process is very much a mind game, with the mentally tough winning an offer. From the get-go, I tried to foster a culture that created meaningful connections so that they felt engaged and encouraged throughout the process. I could feel the anxiety among them in the final rounds and holding their hands to jump through the final hurdle is a precious memory of mine.
Any last reflections on the GCC community?
I feel extremely privileged to have been a member of the GCC community and to have had the opportunity to inspire my peers. My group and I have merely completed step one of our journey by securing great consulting offers. While there will be many more bumps along the way, the pay-it-forward culture of Kellogg and GCC has bestowed a mindset and network that will accompany us on the road ahead.