Start of Main Content
Apply to Kellogg! The 2021 Full-Time MBA Application Is Here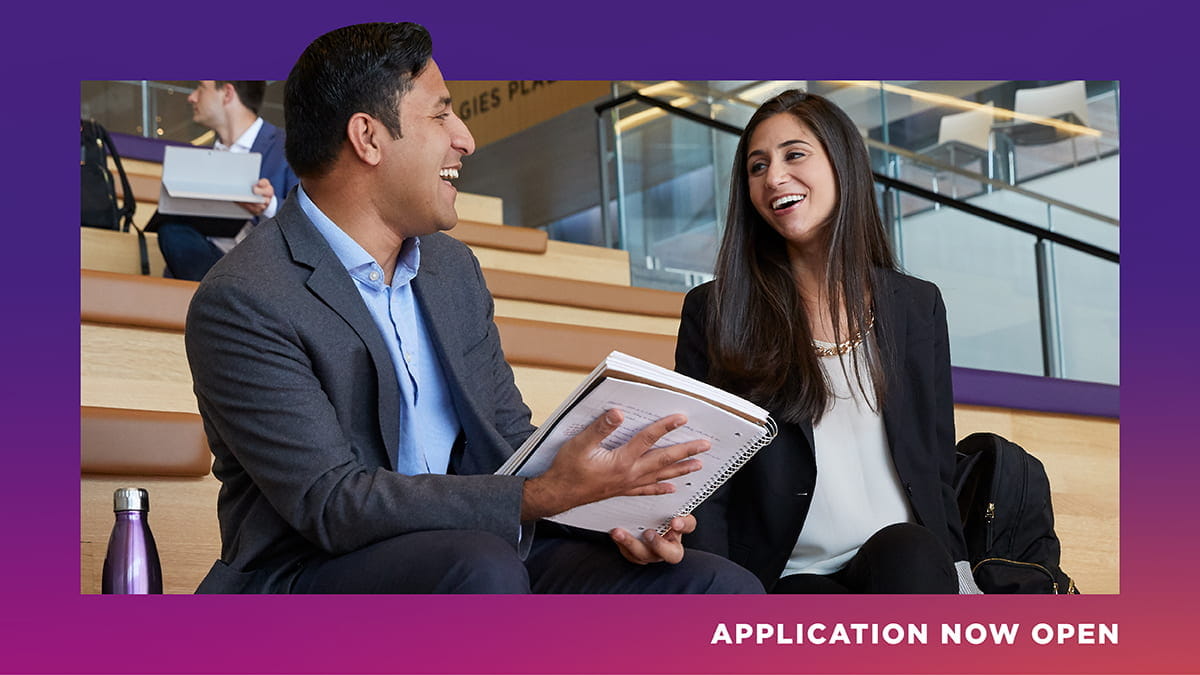 By Renee Cherubin '06, Senior Director of Full-Time MBA Admissions
The Kellogg MBA application is now live!
As of today, you can now apply to Kellogg's Full-Time MBA Programs: One-Year, Two-Year, MMM, JD-MBA for entry beginning in summer-fall 2021.
To all ambitious senior undergraduates and current master's students: The application for our deferred enrollment program, Kellogg Future Leaders will open later this year.
In this post, I'll walk through some tips that will help you present your best self and get to know us better.
Looking for leaders: "traditional" not required
COVID-19 has emphasized the need for innovative solutions to lead organizations through the unexpected. Beyond that, one of the things that the racial injustices in America have highlighted is just how important graduate business education can positively impact change. Kellogg leaders leverage true, productive collaboration in the workplace, the kind that values differences and strengths and raises the quality of work in the process.
This focus on creativity and diverse teams is a long-standing element of Kellogg's DNA and something that we infuse into every curricular and co-curricular experience on- and off-campus. What does this focus mean to you? Perhaps you've intended to earn an MBA since you were an undergraduate, but recent events have inspired you to step up into a leadership role in a way you never imagined. Maybe, throughout these crises, you've created something new, or learned something about yourself. Whatever it is, we want to hear about it.
The most important thing you can get across in your application is your authentic self. We do not want to shape the incoming class of Kellogg with students who look the same, think the same, and come from the same background and experiences. We need to understand what makes you different in order to understand what strengths you bring to the Kellogg community. The only way to accomplish that is to be authentic. Our holistic admissions process depends on it. So please keep authenticity top of mind as you begin to think through your application materials. We really want to get to know the real you!
Kellogg MBA application tips
Written and video essays
The written essays for this year have not changed. Check out Dean Smith's blog post from last year, which provides a summary on what we are asking so you can prepare. Our goal is to uncover what motivates and inspires you. What drives you? How will this make you a meaningful member of the Kellogg community?
Kellogg introduced video essays several years ago. To us, they're a chance to feel like we can "meet" each candidate, no matter where you are in the world.
The video essay structure and content is as follows:
First, you'll see a variety of sample questions, which you can practice as many times as you like to familiarize yourselves with the format and technology.
The first question will shift from an icebreaker to a simple request to introduce yourself: Tell us about your background.
The second question asks about your ambitions: What path are you interested in pursuing, how will you get there, and why is this program right for you?
The third question will ask about a challenge you've faced.
Test scores
We are asking for GMAT/GRE test scores this year. However, as we've been acknowledging throughout this entire season, we know that there are still places around the world where GMAT/GRE test centers are closed. Further, this situation is fluid, and access to taking the test varies based on your location, health condition and personal situation.
If you're facing challenges in taking the GMAT or GRE, we hear you. We encourage you to submit in your desired application round (see deadlines below) to start the initial review process, even if you haven't taken the test yet. We will work with each applicant 1:1 to navigate next steps based on your unique situation.
Virtual interview
Kellogg has always required interviews, though this year we're conducting them virtually. This recent transition has gone very smoothly with admissions for our other MBA programs this spring.
My best advice is to treat it like a typical interview. In fact, think of it like a conversation. We really do want to get to know you better, so expect a little smalltalk and rapport building before we really dive in. Think in advance about your background and certain aspects about yourself that you want to make sure we know, and have a few real-life examples of this trait at the ready to help articulate it to us.
Finally, find a quiet place with minimal distractions and strong internet access. Dress and present yourself just like you would if you were on campus. That said, we completely understand if minor distractions outside of your control take place, so don't worry if that happens.
Deadlines
The deadlines for the Full-Time 2021 application are as follows:
Application deadline
Round 1: September 16, 2020
Round 2: January 6, 2021
Round 3: April 7, 2021
Decision deadline
Round 1: December 9, 2020
Round 2: March 24, 2021
Round 3: May 12, 2021
Get to know us better
Virtual experiences
A great place to start is watching a video tour of the Global Hub, our full-time students' home away from home, on the campus visits page.
We're also hosting virtual events around the clock, so no matter where you are based around the world, you can check in with Kellogg at an hour that is convenient to you. In addition to "Ask Me Anything" live events and virtual info sessions, I recommend registering for the following:
Diversity conversations with Lance Bennett, our director of diversity admissions, and leaders of student groups such as Pride@Kellogg and the Black Management Association
Topical discussions, such as our July 2 session on "Thriving in Challenge – How Leaders Create Cultures of Resilience" (Register here!)
Student Coffee Chats, where you can have a conversation with a current student and a small group of fellow applicants on Zoom (Sign up here!)
"Office Hours" events with admissions team members, senior leaders and faculty on InstagramLive
In the coming weeks and months, we will continue to focus on niche areas that are industry- and region-specific, so keep checking this link for updates, and don't forget to register!
Keep an eye on this blog
Throughout the summer we'll be publishing more application tips on Inside Kellogg, along with updates from club leaders and stories from recent alumni and current students that will help you picture yourself within the Kellogg community.
Please reach out to our team at MBAadmissions@kellogg.northwestern.edu or (847) 491-3308 with any questions. We're here to support you throughout the process. The entire Kellogg Admissions Team wishes you good luck as you start your application!