Kellogg Magazine
|
Features
Fast Radius 3D Prints COVID Personal Protective Equipment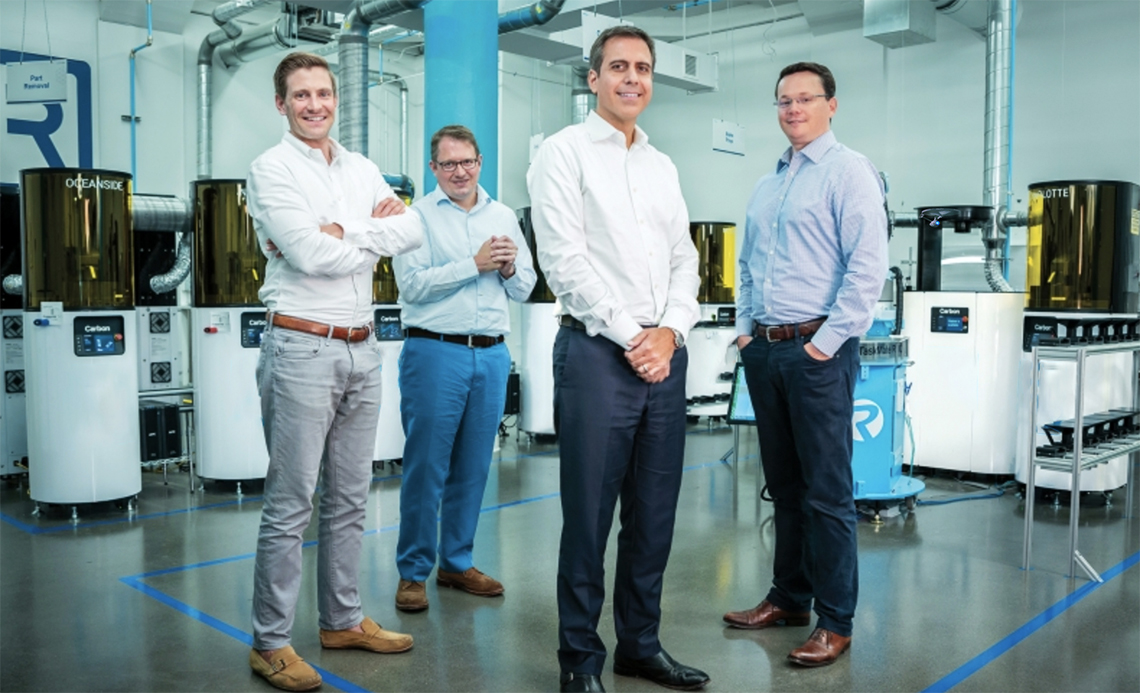 In the ongoing battle against COVID-19, personal protective equipment such as facemasks and shields have been in critically short supply.
Luckily, companies like Chicago-based Fast Radius, which was cofounded by Rick Smith '94, John Nanry '12, and others, are conducting multipronged efforts to design and produce PPE.
"We help companies discover, design, make and fulfill new things for the world," says Nanry, Fast Radius's chief fulfillment officer. "Our motto is 'Make new things possible.'"
"We started the business to address the opportunity of a growing 'on-demand' purchasing environment," says Smith, who subsequently departed Fast Radius to launch and advise multiple new ventures. "Customers can order what they want, when they want it, where they need it, and in the exact quantity required. The shift to this new model is inevitable."
Fast Radius carries out its mission largely by helping customers create new applications with manufacturing technologies — with a focus on 3D printing. "We do everything from integrating 50 parts of a component into a single, 3D-printed part to leveraging technology to shorten a customer's supply chain," Nanry says. So the company helps with both the design and manufacture of critical items for other businesses across sectors, including aerospace, automotive, consumer goods, and medical devices.
As the COVID crisis mounted, Nanry and fellow Fast Radius leaders saw potential for positive impact. "There was a lot of demand for PPE from hospitals and other essential businesses with frontline workers," he says. "Traditional supply chains weren't set to fulfill this. The country as a whole just didn't have the inventory."
Given Fast Radius's expertise in 3D printing, Nanry had conversations with government officials including state representatives about using the technology to help combat COVID: "We quickly scanned to identify where 3D printing could drive real impact of scale."
Ultimately, the business has focused on several key areas. The first is plastic face-shields, which protect healthcare workers and others from airborne particles created by coughs and sneezes, for example. Specifically, Fast Radius developed a 3D-printing approach to the headband that holds the shield in place — or the "halo" as the company refers to the part. They're able to produce a large volume of the halos and purchase the plastic shield from outside manufacturers, delivering tens of thousands of units weekly.
The company produced the designs in-house then scaled up production, using their Chicago-based factory for 3D printing where possible, then transitioned to traditional, less expensive manufacturing methods such as injection molding to handle larger volumes. "It's a very agile way of working," Nanry says.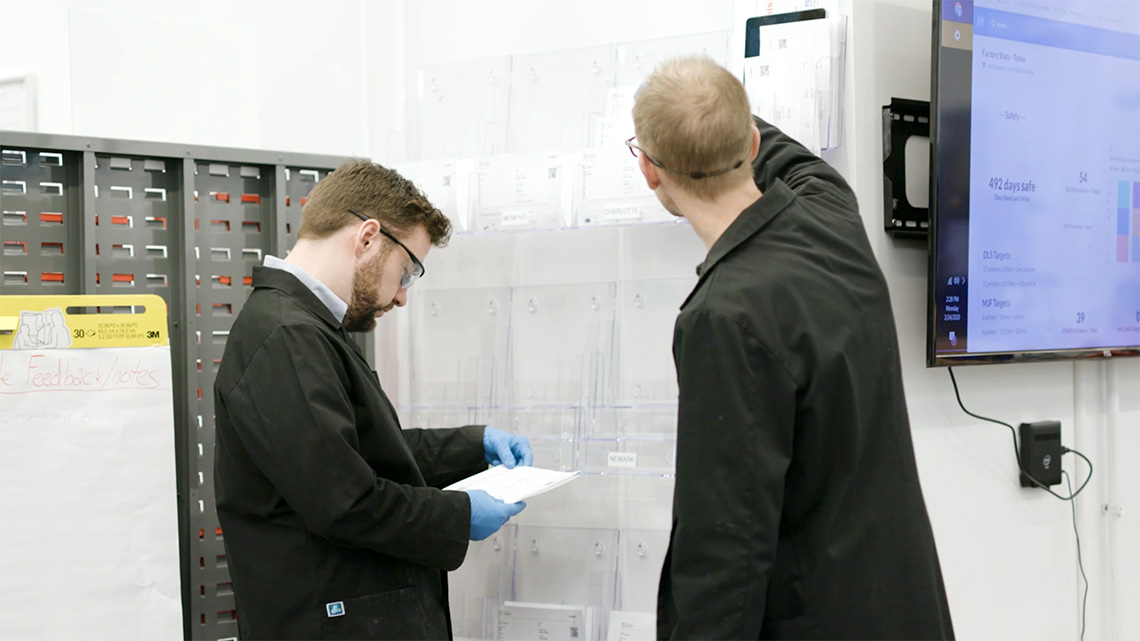 Fast Radius also designed a facemask that can be downloaded and printed by hobbyists. "If the public at home uses our design to get one mask out of their printer a day," Nanry says, "that's great. They can use it themselves or donate it. That's another way we're scaling impact."
Fast Radius has also worked with original equipment manufacturers to produce key ventilator components, given the criticality of these machines in the effort to combat COVID.
"We've plugged ourselves into a 'rapid-response' supply chain to leverage the benefits of 3D printing to really increase production volume and speed," Nanry says of the overall effort. "The basic idea behind our pandemic response efforts is to design, print, test, iterate."
Among the lessons learned from the company's COVID-focused efforts has been the speed and agility with which manufacturing players and the broader supply chain have moved in the face of the crisis.
"We're grateful to be in a position where we're able to move very quickly and allocate both R&D and production resources to help the broader community in a time of need," says James Levin '12, chief marketing officer of Fast Radius. "We're now producing supplies that didn't exist just a few months ago."
"Manufacturing is known for being slow and dusty," Nanry says. "But everyone has stepped up, from the big companies you hear about in the headlines to the family businesses supplying the Velcro straps for the face-shield halo we make. Everyone is moving with a sense of urgency.""We've>
Now Nanry and fellow Fast Radius leaders will apply what they've learned to current and future pandemic-related efforts. For example, the business is actively ramping up coronavirus test swab production — another item that has been in short supply. For this one, they'll partner with a medical-device firm to deliver the final product.
In general, Fast Radius is eager to increase its involvement in the healthcare space. "This effort has reinforced the importance of our work in medical devices," Nanry says. "We are a Series B startup and things are going well. We absolutely plan to continue producing COVID PPE while looking for more projects that will help us grow."