Kellogg Magazine
|
Features
Allstate's CEO and chairman on being informed and decisive in a pandemic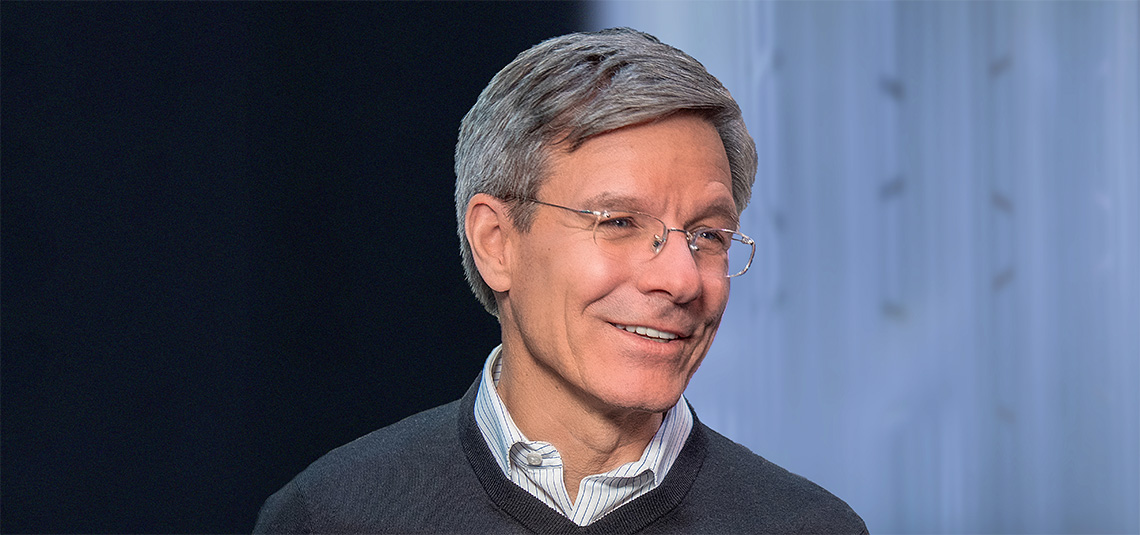 Tom Wilson '80, CEO and chairman of Allstate, led the insurance company to be the first to refund its customers amid the COVID-19 crisis
Insurance companies like Allstate are used to planning for highly infrequent events. So, when the COVID-19 pandemic started to spread around the world, the company had already been preparing to implement a response plan.
"Insurance companies live in the tails," said Tom Wilson '80, Allstate's CEO and chairman, about probability curves. "We've been thinking about a pandemic since SARS. We'd modeled it out."
Allstate makes it a practice to analyze the probabilities of extremely low-frequency scenarios, including pandemics, so the company was prepared to respond quickly to the global health crisis. Within 10 days, Wilson led Allstate in creating the Shelter-in-Place Payback program, announcing on April 6 plans to refund personal auto insurance customers more than $600 million during the months of April and May.
"We knew [the pandemic] was coming, and then the rate that people quit driving was stunning. Literally, driving was down by 60%," Wilson said.
With such a drastic decrease in cars on the road, Allstate refunded customers an average of 15% of their bills. The company ended up extending the program through June, increasing the total refunds to approximately $1 billion.
"I think acting quickly, being decisive and putting the customer first really worked well for us," he said.
Allstate also provided additional benefits to its customers in response to the pandemic including payment relief for those facing financial challenges and extended coverage for those using their personal vehicles to deliver food and medical supplies during the crisis. In response to the dramatic increase in remote, online work, Allstate started offering free identity protection services to all U.S. residents, even if they are not customers.
"Our purpose is to protect people from life's uncertainties," Wilson said. "There are subtle things we do differently related to our shared purpose that we executed and think will help us with customers on a long-term basis."
Annually, the Allstate Foundation grants more than $40 million to charitable organizations, primarily related to youth empowerment and support for victims of domestic violence. In response to the COVID-19 crisis, Allstate pledged to donate an additional $5 million to these causes, along with supporting nonprofits whose boards are served by Allstate leaders. The company also plans to pledge extra funds to organizations addressing inequality in America.
"We try to link together with what is important to the communities we operate in," Wilson said. "Since we're in most communities in America, their issues are our issues."
Wilson emphasizes the importance for leaders to invest their time and efforts in giving back to their communities and serving on nonprofit boards. "I think that makes them better leaders, and it broadens their perspectives," he said.
In addition to preparing responses to the crisis for customers and communities, Wilson also faced the challenges that come with transitioning 48,000 employees worldwide to remote work such as providing appropriate access to technology, networks and servers. Within two days, 95% of Allstate's workforce was working remotely.
Looking to the future, Wilson expects the workplace environment to be very different, likely involving more remote work. Of his time at Kellogg, Wilson says the school helped him learn to innovate in challenging times such as these and utilize different perspectives to solve complicated issues.
"When you're doing something like Shelter-in-Place Payback or return to office, you have to look at it from many different facets because every little thing matters," Wilson said. "I felt like the Kellogg training forces you to look a problem from many different angles … so that's helped me do what I do."