Start of Main Content
A Commuter's Perspective on the Kellogg Weekend MBA Experience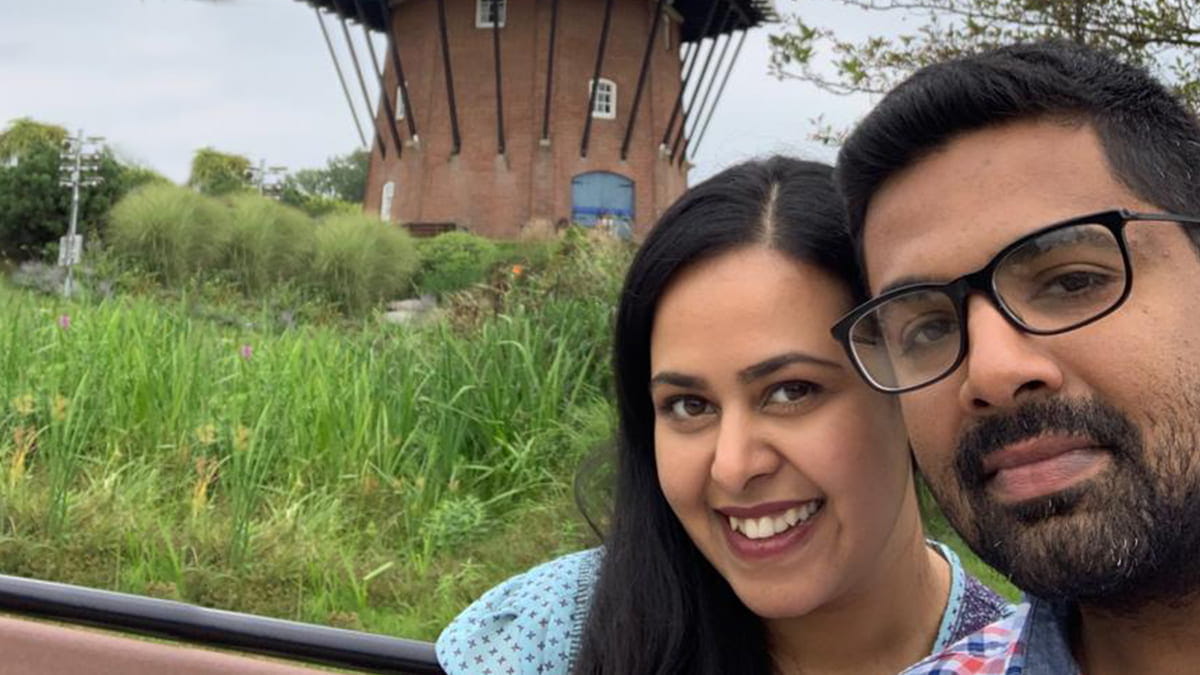 by Santosh Subramaniam, E&W 2020
As I write this at 30,000 feet, halfway home to Miami and halfway through my MBA journey at Kellogg, I can't help but reflect on the rich learning experiences that have made the last year immensely gratifying and transformational.
Choosing a business school and program
My quest to become a better corporate change agent began in late 2017, after being convinced that an MBA would help build my cross-functional management skills, while reinforcing my expertise in operations and supply-chain planning. After several mentorships, campus visits, interviews, and cost-benefit assessments, it was ultimately through a series of late-night pep-talks with my wife, a seasoned consultant and road-warrior of over five years, where I found the support and motivation to pursue a program while balancing professional and personal commitments. From there on, Kellogg's Evening & Weekend MBA Program was a clear winner. Apart from the program's strong reputation for building world-class general-management skills, and emphasis on collaborative, team-based learning, the Kellogg accelerated option was a real differentiator since I could leverage former learning to skip core courses and dive right into major electives. It also allowed for significantly less time in the program, which translated to hard savings that could offset travel costs.
Fast-forward to June 2018, and my attendance at CIM (Complete Immersion in Management) — Kellogg's two-day orientation for matriculating students in the E&W MBA program — where I had one big question on my mind: Is there anyone else crazy and committed enough to doing the weekend commute? Turns out, over 40% of my cohort would be commuting in from various parts of the country, with some of us traveling all the way from the Pacific Northwest, Southern California and the Northeast Seaboard! Our cohort had every major metropolitan area covered, and it was fairly easy exchanging schedules and forming travel buddies to share in some of the air and hotel costs. Moreover, attending a world-class MBA program in a globally connected city means you're never more than a stop away from Chicago, and have plenty of travel options across most budget and full-fare airlines that serve two major airports (O'Hare and Midway).
Tips from a weekend commuter
My travel goal is to stay within a monthly budget, while still advancing frequent flier points with major global carriers. The points can add up fairly quickly, based on how you pay for travel (using co-branded credit cards from airlines to book flights and pay for tuition is a great way to get additional bang for your buck), and can lead to a nice kitty that pays for your annual family vacation while advancing airline status that can provide priority check-in, security, boarding and upgrade privileges. That said, there are times when I have swallowed my pride and balanced my travel costs by flying ULCCs (Ultra Low-Cost Carriers), like Spirit, to make my budget stick. Nevertheless, relative to peak summer, you could expect flight and hotel costs to drop 20-30% in late fall and stay low through early spring. You could also use tools like Google Flights to monitor flight prices and Hotwire to get last-minute deals on hotels, if you aren't necessarily picky on brands within a particular category.
Once on the ground in Chicago, I typically use Kellogg's Uber for Business partnership to hail free rides to/from campus (Evanston and Downtown Chicago included), which is a real differentiator compared to other schools. On rare occasion, like busy weekday mornings when freeway traffic could be high, I prefer riding the "L" train which takes about an hour from O'Hare airport, and much less from Midway. Overall, I can definitely say that the commute, although daunting on paper, becomes second nature a few weeks into the program, and, if planned correctly, it can be personally rewarding and cost-efficient.
The benefits — foreseen and unforeseen
I will say that pursuing a program of this nature has driven me to positively change my behaviors and habits. It teaches you to be disciplined, patient and grateful. Disciplined, because I have never found myself paying more attention to financial planning, and managing my professional and personal commitments down to the wire. Flexible, since it teaches you to be nimble and adapt to changing circumstances, like travel disruptions. Grateful, since you learn to value and appreciate the time you spend at home with family, at work with peers, or at school with classmates and professors. I definitely believe the sacrifice made today, is a small price to pay for world-class learning that can last a lifetime.