Start of Main Content
People
Tracy Striebich '22
One-Year MBA
Tracy Striebich shares how Kellogg's One-Year MBA Program was the perfect fit to grow as a leader before re-entering the industry she's passionate about, food and beverage.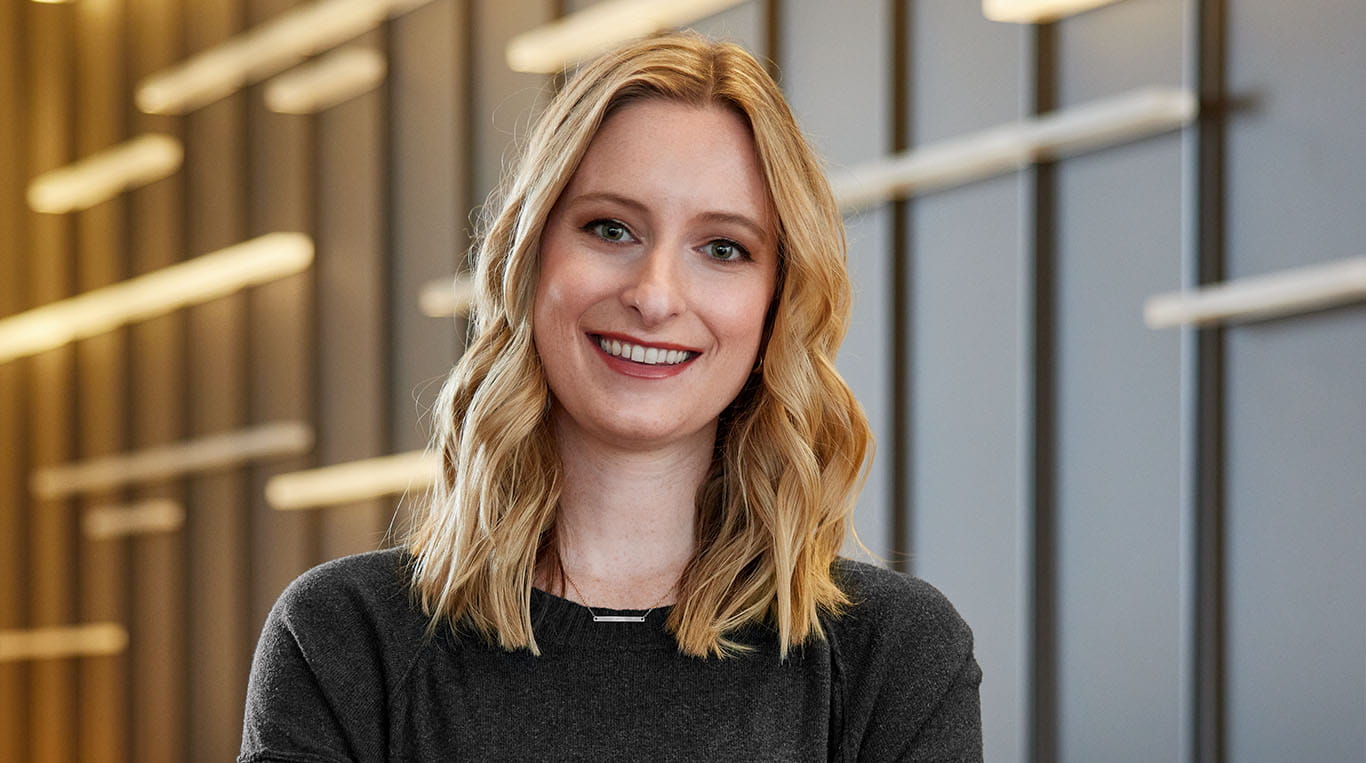 Tracy Striebich's journey to getting an MBA went differently from how she initially imagined it — and she wouldn't change a thing.
"I was thinking about an MBA many, many years before I applied, and I think it just never felt like the right time," she said. "I came much later than I thought, and I think it was the perfect timing."
A native Midwesterner, Tracy grew up in Cincinnati and obtained her undergraduate degree from Miami University of Ohio, where she studied supply chain management and marketing. She quickly developed a passion for leadership in her early career working in the food and beverage industry, while simultaneously making time to play volleyball, sing a cappella, do community service, and even run an Instagram account where she eats and reviews nachos. Living in Seattle and working for Starbucks, Tracy was initially hesitant to uproot her busy life and leave the job and city she loved; however, she knew that the right MBA opportunity would be an essential asset to her career development.
Kellogg was the only school Tracy applied to, and she says the One-Year MBA Program was what truly attracted her. With a degree already under her belt and a desire to remain in the food and beverage industry, the focused one-year program perfectly suited her goals.
"You're not trying to squeeze everything into one year. They actually time it out very appropriately," she said. "It was the perfect program for me."
Past experience, future goals and where Kellogg fits in
Before coming to Kellogg, Tracy worked for Kimberly Clark on the sales team supporting Costco, as well as for Starbucks in a brand manager role. After her years of experience in the food and beverage space, Tracy developed a passion and expertise for the industry that she will continue to pursue after graduation.
"Healthy, sustainable and convenient food — that trifecta is so hard to find. And so my plan is to find a company that is looking to close that gap and scale it," Tracy said. "I want to join a small-to-midsize company that shares my same passion in that space."
Tracy says with her experience and future plans in mind, she has two main priorities with her studies at Kellogg: gaining a strong technical skill set and becoming more strategic in how she thinks through projects. She's taken analytics and finance classes that have taught her how to code, and an experiential learning course where she partnered with a client as a consultant to help them expand a new portfolio. She says the One-Year MBA Program has pushed her to maximize her opportunities, both in and out of the classroom.
Making Kellogg feel like home
Outside of her studies, Tracy has integrated herself into the Kellogg community in a myriad of ways. She has leadership positions in the Retail Club and Kellogg Cares, and she says both organizations have pushed her to think outside the box and helped her meet like-minded peers. This past summer, she participated in a KWEST (Kellogg Worldwide Exploration and Service Trip) trip, where she says she "fell in love with Kellogg people." On the trip, participants don't share their backgrounds, which she says helped them form deep bonds over the course of the week. With her fiancé here in Evanston — and her sister graduating from Kellogg's MMM Program in 2022 alongside her — Tracy has truly made the Kellogg family her own.
About Tracy
Pronouns
she/her/hers
Undergrad
Supply chain management and operations, Miami University School of Business
Pre-Kellogg Job
Strategy manager, Starbucks
Favorite Kellogg experience so far
KWEST trip to Charleston, South Carolina! I loved getting to know my new classmates in this authentic setting. It was one of the most memorable experiences I have had in my life.
What has surprised you the most during your time at Kellogg?
As you can imagine, time goes by extremely fast. This is especially true for the One-Year MBA Program. I'm shocked about not just how quickly the year has gone by, but also by how quickly I have formed deep, meaningful relationships with my classmates and professors. I have met so many interesting, impressive people that are now my very close friends supporting me as I think through my next steps post-Kellogg.
What excites you the most about the future?
The people. Meeting so many brilliant and driven people this past year makes me confident about what the future holds. Yes, there is a lot to figure out, but the passion and creativity for innovative solutions that I've seen at Kellogg continues to energize me. The fact that it is now common and expected for people to think bolder about the joint trifecta of business, people and environment in every solution is what excites me and fills my cup.
Share something you've learned that you see being valuable throughout your career.
Kellogg has exposed me to the breadth of ways I can make an impact and, most importantly, it has challenged me to define what 'impact' means through the lens of my own values and goals. I owe a big shout out to all my professors, classmates, club leaders and my fiancé for getting me closer to that reflective and intentional way of thinking this past year.