Start of Main Content
An MBA experience at the center of business, tech and science
The power of MBAi comes from the collaboration between Kellogg and McCormick, who have come together to create a new, blended approach to business and technology leadership.
The MBAi curriculum is designed to equip you with the skills to become a leader in fields such as technical operations, product management, product marketing and consulting. The depth and breadth of our coursework also ensures graduates are prepared to take on novel, emerging roles in this constantly evolving market space.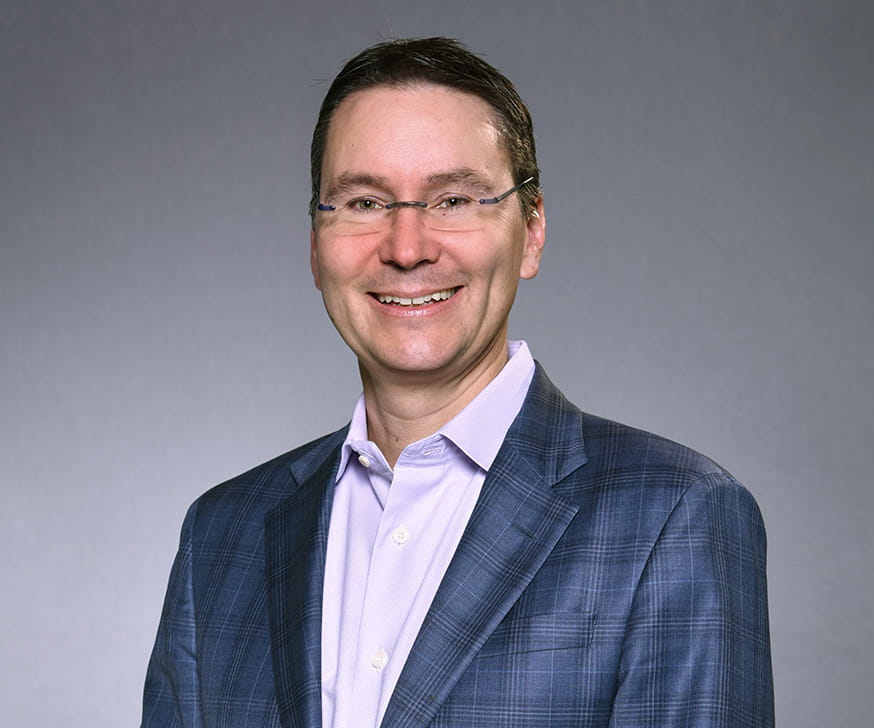 Below is a simplified roadmap of what you can expect from the curriculum throughout our program.
QUARTER 1: Begin with a Computational Thinking course to anchor technical curriculum and core MBA courses. This framework will help to develop strategies for AI-driven technologies through a leadership lens.

QUARTERS 2 & 3: Continuation of Kellogg core curriculum. You will also enroll in technology-focused and integrative courses, which begin to put business strategies to work.

QUARTER 4: All students will complete a full-time summer internship while taking one asynchronous course. After internships conclude, students will have the option to convene at Northwestern's San Francisco campus for a week-long Silicon Valley immersion experience.

QUARTER 5: Prepare to take the next step toward your professional careers through a Capstone product lab experience that will allow you to work with a team of students from both MBAi and McCormick's MS in Artificial Intelligence program to develop a solution for a real-world project in collaboration with a company sponsor. This experience will culminate in a Capstone showcase, where you will share your solution with students, staff and industry experts. You will also take additional coursework in core topics like advanced tech product management, as well as in areas of interest through elective courses.
Academic Experience
CATEGORIES
CLASS OFFERINGS
MBA core
You will participate in a combination of courses that are part of Kellogg's core MBA curriculum, as well as classes that are custom-built by Kellogg and McCormick faculty and exclusive to the MBAi program.
Core classes, taken alongside students from across the Full-Time MBA Programs:
Business Strategy
Microeconomic Analysis
Leadership in Organizations
Finance I
MBAi classes:
Business Analytics
Accounting for Decision Making
Marketing Management
Operations Management
Technical core
Technical core courses will accelerate your fluency in analytics and complex technologies. You'll begin with concepts including intermediate programming in Python, data structures and the Agile process, as well as techniques for business problem translation, management, applications and scale.
Computational Thinking for Business Leaders
Applied AI for Business
Data Intensive Systems
Tech Product Management
Modern Software Architectures
Integrated core
A range of courses from both Kellogg and McCormick, as well as new programming created exclusively for MBAi. Specialty electives will integrate these topics with business issues in marketing, finance, operations and other functional areas.
Emerging Leaders in Technology Speaker Series
AI Leaders
Organizational Design & Ethics
Capstone Course
Summer internship & industry immersion
You will use the Kellogg Career Management Center to help secure a 10-week summer internship. All students will take one asychronus course alongside their summer internship and will have the option to take 05.-1.0 additional virtual courses.
Summer quarter will end with a Silicon Valley Experience that includes company on-site visits, industry networking events, case competitions and more.
Ten-week summer internship
Optional one-week Silicon Valley Experience
Cutting-edge research paired with modern-day practice
MBAi courses are taught by a dynamic blend of tenured faculty and seasoned professionals at the cutting edge of business practice.
Eric T. Anderson
Polk Bros. Chair in Retailing; Professor of Marketing; Director Kellogg-McCormick MBAi
Kellogg
Andrew Fano
Clinical Professor; McCormick Director, Kellogg-McCormick MBAi
McCormick
Sara Sood
Professor of Instruction; Chookaszian Family Teaching Professor; Associate Chair for Undergraduate Education
McCormick
Leslie DeChurch
Professor, Communication Studies
School of Communication
Jim Lecinski
Clinical Associate Professor of Marketing
Kellogg
Kevin McTigue
Clinical Associate Professor of Marketing
Kellogg
Hatim Rahman
Assistant Professor of Management and Organizations
Kellogg
Jorg Spenkuch
Associate Professor of Managerial Economics & Decision Sciences
Kellogg
Adam Waytz
Morris and Alice Kaplan Chair in Ethics and Decision Management; Professor of Management & Organizations
Kellogg
Andrew Leone
Keith I. DeLashmutt Professor of Accounting Information & Management Chair of Accounting Information & Management Department
Kellogg
Aneta Gola
Sr. Product Manager & Product Management Leader Kellogg MBA '18
Becky Carlson
Adjunct Lecturer; Director, IDEO
McCormick
Birju Shah
Clinical Assistant Professor of Marketing
Kellogg
Sebastien Martin
Assistant Professor of Operations
Kellogg
Steven Franconeri
Professor of Design; Director, Northwestern Cognitive Science Program
McCormick
Alex Castrounis
Adjunct Lecturer; Director, IDEO
McCormick
Jeff Eschbach
Adjunct Professor in Entrepreneurship; Associate Director of Venture Creation for the Kellogg Entrepreneurship Program
Kellogg
Brook Miller
Adjunct Lecturer; Co-Founder, CTO
Kellogg
Contact us about the Full-Time MBA Program at Kellogg
Full-Time MBA Application Deadlines
Round 1: Sept. 13, 2023
Round 2: Jan. 10, 2024
Round 3: April 3, 2024