Start of Main Content
Meet the Class of 2025: A group of dynamic leaders, ready to make an impact
The incoming class joining the Kellogg community this year is setting new standards for academic achievement and brings a rich array of experiences to our community.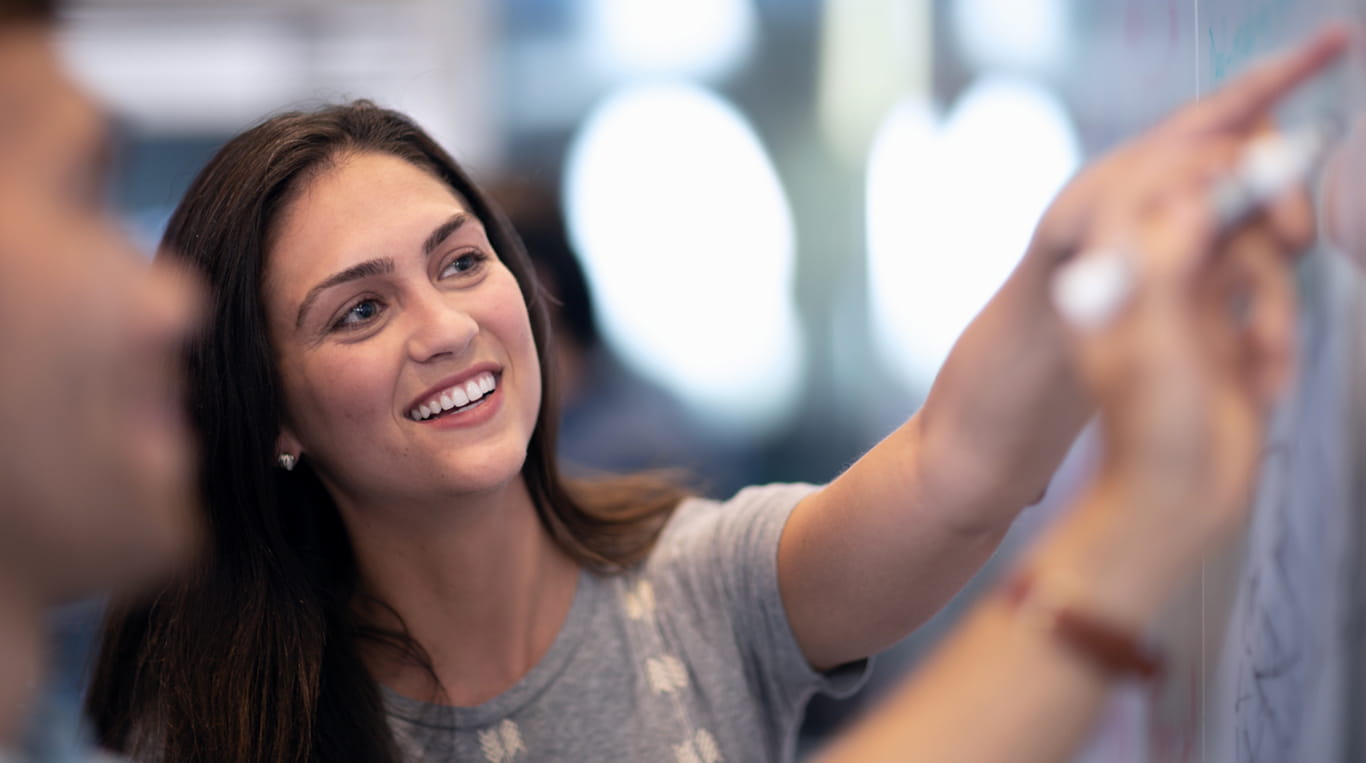 By Emily Haydon, Assistant Dean of Admissions and Financial Aid
Over the past few weeks, Kellogg's Global Hub has been buzzing with activity as we officially welcomed the Class of 2025 to start their business school journey in the Two-Year MBA Program. As these students settle into life on campus, I'd like to share with you some facts about this ambitious and impressive group.
Each year, we engage in a holistic admissions process to find our next incoming class. Our admissions team evaluates multiple factors – from academic accomplishment to interpersonal skills to the impact applicants have had on their organizations. The 529 members of this class have shown the unique combination of analytical, creative and social intelligence we seek in future Kellogg Leaders.
This class continues our rigorous standard of academic excellence with an average GPA of 3.7. These students also bring an average GMAT of 731 and a median GMAT of 740, meeting the high bar for exemplary scholarship set by recent incoming classes. Median GRE scores were 163 for both quant and verbal.
Kellogg continues to emphasize building a diverse community across many dimensions — including a broad spectrum of lived experiences, demographics, perspectives from around the world and career focus — to ensure a breadth of viewpoints and strengths in each class.
Of the members of the class of 2025:
48% are women
39% are international students
42% of the domestic population are U.S. students of color
13% are within the first generation in their families to pursue an advanced degree
9% are part of the LGBTQ+ community
Our incoming students bring a wide range of academic backgrounds, professional paths and career goals to our community, joining us from technology and consulting firms like Google and McKinsey & Company, financial services firms such as J.P. Morgan, Goldman Sachs and Golden Gate Capital, and not-for-profits such as Rockefeller Philanthropy Advisors and the Star of the Sea Foundation. The number of incoming students from the tech industry is at an all-time high of 19%. Finance continues to be a top desired industry for our incoming students. This trend is further evidenced by the growing number of students who enter this sector after graduation. In fact, as of graduation day, 22% of students in this year's graduating class from the Two-Year MBA program have accepted roles in financial services, and 10% accepted jobs in private equity.
This year's class reflects the empathetic, collaborative spirit so core to Kellogg. These traits are identified in our admissions process and nurtured throughout the student journey. Here are just a few of the accomplished leaders bringing their energy and passions to Kellogg:
Ankit contributed to Walmart's efforts in ensuring that more than 20 million Floridians had access to supplies and provisions during Hurricane Ian in September 2022.
Caroline spearheaded an award-winning initiative to enhance data science and machine learning at Intuit.
Sofie, a first-generation college graduate, pursued Kellogg through the Kellogg Future Leaders program. She joins us following her experience as an asset management analyst at Goldman Sachs.
Ellie was the brand marketing lead for Google's 2020 Super Bowl commercial.
Sanjana led the design and execution of a national virtual campaign with one of India's public policy think tanks to ensure the wellbeing of 29 million senior citizens during COVID-19.
Daniel performed an emergency procedure on a patient with a brain aneurysm rupture and supported post-operation care using novel techniques. The case was later published in a high-impact medical journal.
These are just a few examples of the students that have started their Kellogg journey this fall, and we're equally proud of the entire class. A full breakdown of data on our Class of 2025 can be viewed here.
Considering Kellogg? Discover which of our several Full-Time MBA Programs best fits your needs and career goals, and learn more about our application process and upcoming deadlines. Or, connect with our admissions team to sign up for a virtual or in-person admissions event.