Start of Main Content
Kellogg expands management education options for early-career professionals
Previously known as the MS in Management Studies, the new Master in Management Program prepares future leaders with foundational skills for success.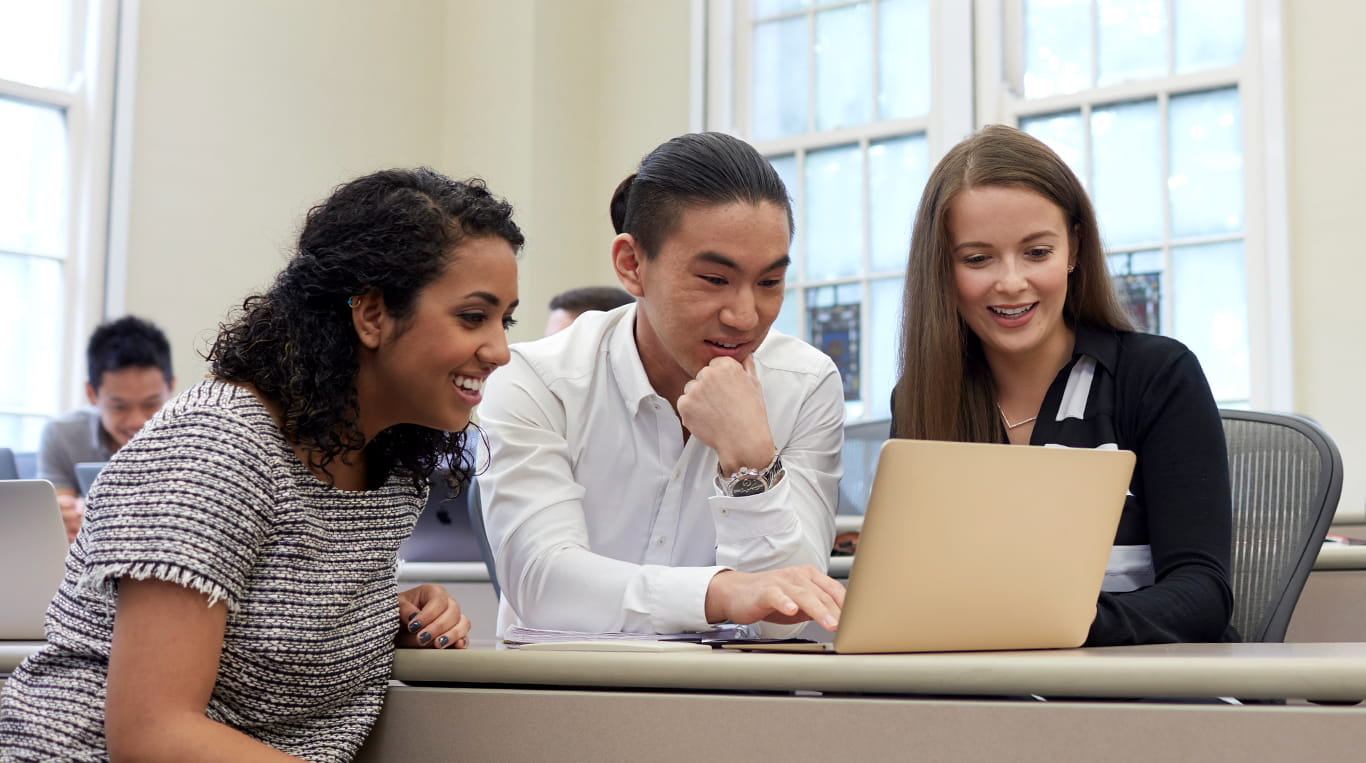 By Emily Haydon, assistant dean of admissions and financial aid
Since the launch of the MS in Management Studies Program at Kellogg in 2013, we've equipped early-career professionals with the core business management skills they need to become well-rounded leaders, ready to excel in any industry. Due to our program's continued success and growing demand, we're expanding its reach and giving it a new name more in line with our higher ed peers — Master in Management (MiM).
Designed for recent graduates with a background in STEM, business and economics or the liberal arts, the program was previously open only to those with one year or less of career experience after undergrad. Now we're excited to make it available to those with up to two years of career experience, expanding eligibility to more young leaders as they consider their professional goals in a fast-changing job market.
What remains unchanged is our innovative curriculum, taught by the same top-tier faculty who teach in the Kellogg MBA programs and blending academic rigor with real-world practicality. This 10-month program elevates students' potential and encourages them to gain a global business perspective designed to ignite their passion, giving them confidence and a competitive edge.
MiM classes are held at the Kellogg downtown campus in the heart of Chicago, the third largest city in the U.S. and a true commerce and cultural hub. Students will live and study alongside some of the world's largest companies and gain access to our world-renowned faculty who are experts in their fields. MiM students also take classes with their cohort and other MBA students at the downtown campus, learning and collaborating across programs with students from many industries and levels of expertise. In addition, MiM students can participate in Kellogg's unique Global Initiatives in Management (GIM) course, traveling outside the United States to learn about a market's key business trends, norms, challenges and successes.
With personalized coaching from our industry-leading Career Management Center to help students on their career journeys, the MiM Program offers an unparalleled advantage in the job market. Since the program launched 10 years ago, nearly 400 students have graduated and made their mark across a variety of roles and companies. Program alumni have gone on to work for top companies across the globe including Google, Goldman Sachs, Bain, JP Morgan Chase and Microsoft, to name a few.
The top 25% of MiM graduates will have automatic deferred acceptance for the prestigious Kellogg One-Year MBA program should they choose.
The MiM program is a STEM-designated degree program. Kellogg graduates on F-1 student visas and approved F-1 12-month post-completion Optional Practical Training (OPT) may be eligible to apply for the F-1 24-month STEM-OPT extension for up to three years of U.S. work authorization before requiring employer sponsorship for an employment-based nonimmigrant or immigrant visa.
Our MiM application will launch later this summer. In the meantime, familiarize yourself with our application requirements. Keep in mind, anyone with a GPA of 3.4 or higher can submit an application without a test score, and anyone with a Northwestern undergraduate degree does not need a test score to apply. You can explore our blog and admissions website for application tips for telling your unique story. We can't wait to meet you!