Start of Main Content
Two Kellogg Hawryluk Scholars eager to change the future of biopharma
In April, the Hawryluk Scholars traveled to Boston, Massachusetts, for a trek through the city's biopharma ecosystem.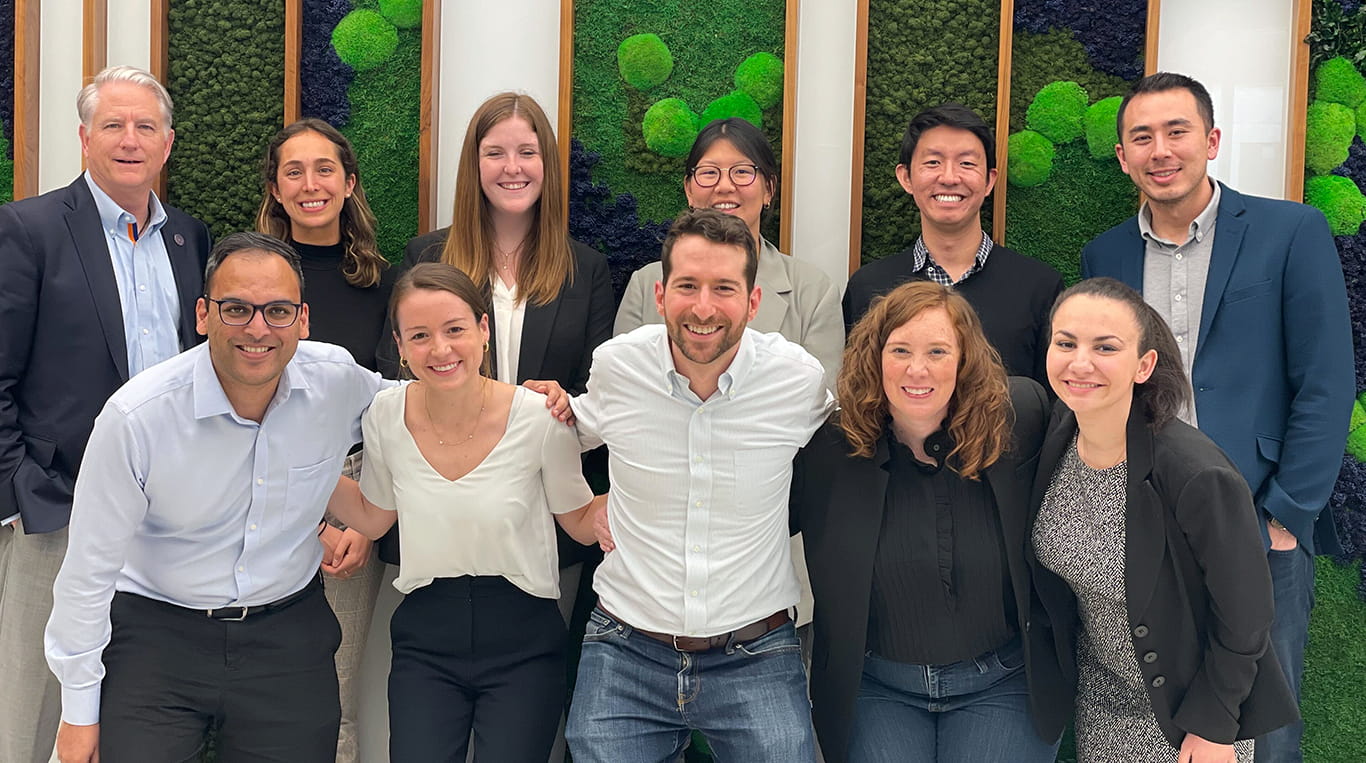 Written by Christina Wells '24 and Pam Divack '24, Two-Year MBA program students
The Hawryluk Scholars Award is given to a select group of students with an interest in the biopharmaceutical industry. Earlier this spring, the group met with several Kellogg alumni who are now leaders in the biopharma industry giving them a glimpse into what their future may hold. This year's group of scholars travel to Boston and kicked off their experiential journey with a Kellogg Healthcare Alumni networking event where they met with Kellogg alumni from across the healthcare industry. The reception welcomed a discussion and Q&A with Andrew Obenshain '04 MBA, CEO at Bluebird, and Professor Craig Garthwaite. Obenshain shared insights into Bluebird's history and growth, updates on its exciting pipeline and lessons learned on his leadership journey from Kellogg to the C-suite.
The next day, the Hawryluk scholars traveled to Kendall Square for two exciting company visits at Biogen and Sanofi. At Biogen, the scholars learned about the company and career opportunities and heard from recent MBA grads about their experiences across different commercial roles. They also met with Odette Schweitzer '00 MBA, Biogen's head of U.S. Multiple Sclerosis (MS) marketing. Odette shared insights about her role and career in the industry, her leadership journey, and insight into Biogen, as well as impactful guidance for MBA students.
The scholars traveled across Kendall Square to Sanofi where they spent the afternoon learning about the company, its growing focus on specialty care and care diseases and career opportunities for MBA grads. Sanofi leaders Adam Gluck, Marissa Poole, and Jeff Schaffnit '98 MBA spoke about the company's evolution and current focus and discussed their personal career journeys, providing invaluable guidance and insight.
Two Hawryluk scholars, Pam Divack and Christina Wells, share their experiences:
Experiences like these are why I came to Kellogg, and why I wake up energized every day to be here. I've always been passionate about the biopharma industry and advancing the development and commercialization of next-generation therapies (e.g cell and gene therapy, CRISPR, precision medicines) in the market. I'm excited by the developments in the field and know that successfully bringing these therapies to patients will require innovative solutions and increased collaboration across the healthcare industry.

I came to Kellogg as a Hawryluk Scholar to learn from esteemed faculty, alumni, and classmates, and to deepen my biopharma and business skillsets. I've been energized by the opportunities to meet with industry leaders whom I admire and get their insights on the industry, their companies, and their career paths. I've learned just how complex launching innovative therapies can be.I have been inspired by how truly patient-focused these companies and their leaders are. I am excited to follow in their footsteps.
At Biogen, it was great to hear Odette discuss her career in biopharma and lessons learned, highlighting the importance of focusing on patient and customer perspectives in launching and marketing treatments. She also shared impactful leadership insights such as the importance of building diverse teams, the necessity of collaborating internally with different stakeholders and how to lead with resilience and optimism. Our visit to Sanofi was also energizing. I really enjoyed hearing from all the Sanofi leaders; especially Jeff's talk about the future of Sanofi specialty care, and the challenges and opportunities generated from bringing specialty medicines to the market to treat rare diseases.

Whether it was meeting recent Kellogg alumni and going for post-event ice cream and discussing all things healthcare or hearing esteemed executives and alumni talk about their career paths and the future of the industry, the Boston experience was highly energizing. It was a reminder of the supportive, inspiring and impactful Kellogg community. This great Kellogg Hawryluk event continued to reinforce my commitment to this field, and again provided me with impactful insights, career guidance, and insights into the future of the field.

I'm looking forward to continuing to advance the Hawryluk Scholars program and to continue to grow the Kellogg Healthcare Community!
As a biology major at Notre Dame, I was always passionate about science, innovation and making an impact on people's lives. We studied innovative therapies, but learning the opportunities and challenges to commercialize these products and get them to the patient has been what has driven my interest towards the biopharma sector. During Covid, seeing how fast companies were able to get mRNA vaccines to the market and the subsequent impact on patient livelihood, drove me to Kellogg, to build on my skills to be a strong leader in this space in the future.

In Boston, I really enjoyed interacting with the business leaders. Speaking with Odette at Biogen, I was specifically intrigued by the global nature of her career. She shared her experiences working in the United States, Switzerland, Singapore, Germany and India, and the learnings that she gained in each of these unique markets. Marissa (Sanofi) and Andrew (Bluebird) also spoke of their experience abroad working in biopharma. This showed me how much you can grow your career by working in unique healthcare markets and excites me about a potential international assignment in the future.

It was amazing to meet with Kellogg alumni such as Jeff, Odette and Andrew who have become very successful in the biopharma ecosystem and hear them share their career progression. I was asked, "Is that going to be you one day? Are future Kellogg students going to do a pharma trek and come visit you as a leader?" — It opened my eyes to the type of career that I want to have and be able to interface with Kellogg in the future as a successful alumni.

Sanofi spoke to us about their business which is focused on rare diseases, often small patient populations, but devastating diseases with high unmet needs. They showed us a video featuring parents that had a child with Hemophilia A, a severe bleeding disorder. The parents were initially unsure if their son was going to survive. Sanofi's treatment completely changed the prognosis for the son. Some of the leaders at their company also spoke about living with family members with such rare diseases. Hearing how their treatments were dramatically changing people's lives, I really felt their passion for the patient. This is why I've become involved in biopharma. I witnessed the "why" behind Sanofi's business which I think is meaningful and what drives my interest in this industry.

What's next?
As our first year comes to a close, we're appreciative of all the great opportunities and learnings from this year, and going to miss our second-year Hawryluk Scholars, who have been amazing mentors and friends. We're excited to advance our careers in pharma this year in our summer internships, and to build upon our learnings from this year.
We're eager to welcome the incoming class of Hawryluk Scholars in the Fall and for a great second year at Kellogg!
Read next: How Kellogg faculty research is delivering critical medical care to sub-Saharan newborns