Start of Main Content
Headlines: School news and announcements
Read on to learn about the first Kellogg Cares Day for alumni, a new gift to support veterans in business, and more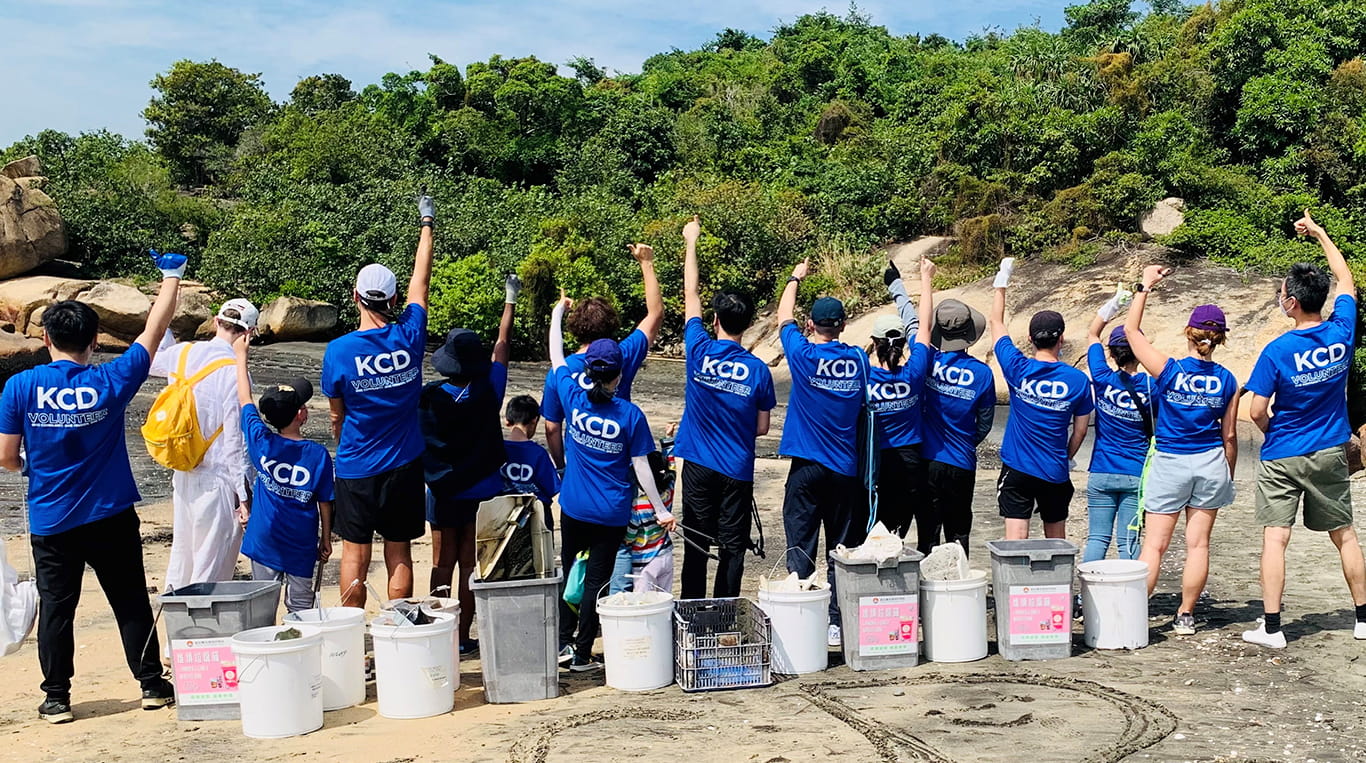 Kellogg magazine, Spring/Summer '23
Above, alumni at a beach cleanup in Hong Kong gave a thumbs-up to Kellogg Cares Day, a new volunteer event. Grads and their families in five cities gathered in October for a day of service with community nonprofits. Read alumni reflections on their volunteer experiences at the Kellogg News + Stories website.
---
Introducing Course Summary Guides for alumni
A new online resource will help Kellogg alumni continue their journey of lifelong learning. Available now on the Kellogg alumni website, Course Summary Guides — faculty-prepared summaries of the school's most popular courses — will help graduates recall and build on what they learned during their time at Kellogg.
"Several alums have mentioned the value of going back through their course materials when embarking on new projects or roles," said Sunil Chopra, deputy dean and the IBM Distinguished Professor of Operations Management. "The Course Summary Guides are a first step in providing alums a curated resource they can search for concepts and frameworks that can help them address challenges they are facing."
Course Summary Guides are available now in the following topic areas: accounting, business law, entrepreneurship and innovation, finance, leadership, management and organizations, managerial economics and decision sciences, marketing, operations, social impact, and strategy. The guides also provide links to supplemental videos and related Executive Education programs.
"Our long-term goal is to be a valuable partner to our alumni as they grow and progress," said Chopra. "We hope to evolve the content based on alumni feedback."
Access these resources at kell.gg/guideSS23.
---
Kellogg proudly joins The Consortium
By Crystal Fazal '08 MBA, Director, Diversity Admissions
At Kellogg, we believe in the power of diversity of thought and experiences. Channeling the energy that lies in differences helps effect change and creates impact around the world. We strive to form mutually beneficial partnerships that can help us continue our work in building better communities and more inclusive workplaces, which is why we are excited to join The Consortium.
Now encompassing 23 esteemed business schools among its membership and 1,000 current students, The Consortium is the nation's largest diversity network linking top-tier students with MBA programs and providing merit-based scholarships. Prospective students who apply to Kellogg through The Consortium will gain access to webinars, events and a network of more than 80 corporate partners.
Through this partnership, Kellogg is furthering its mission and its commitment to creating a more inclusive and equitable student experience in which students feel they can show up authentically and unapologetically. Continuing to uphold a high level of achievement, Kellogg will extend its dedicated network including career counseling, personal support, academic planning and career placement assistance to Consortium Fellows.
Read more at the new Kellogg News + Stories website, your source for the latest school stories.
MBA scholarships for military veterans championed by Duchossois gift
Kellogg has received a $4 million gift to establish the Janet and Craig Duchossois Veteran Scholarship Fund. The gift will provide scholarships for U.S. Marines and other military veterans, enabling Kellogg to enroll more veterans who desire a top-tier business education.
These scholarships will promote the distinctive Kellogg experience among veterans considering business school, expand the existing veteran community at Kellogg and engage more alumni veterans in the life of the school. Anticipated to become available for the 2023-24 school year, the Janet and Craig Duchossois Veteran Scholarship Fund will eventually support two first-year and two second-year Full-Time MBA students.
"We are grateful for Craig and Janet's vision and generosity, and that they share our mission to make a Kellogg MBA education attainable for more veterans," said Francesca Cornelli, dean and the Donald P. Jacobs Chair of Finance at Kellogg. "Kellogg's focus on leadership, teamwork and the ability to thrive in an uncertain environment makes it the perfect place for veterans. They are a great fit because they bring valuable insight and experience, plus a desire to learn and lead."
Abrams gift supports sustainability education
A generous $1 million gift from Wendy '90 MBA and James Abrams will expand curricular and cocurricular opportunities for Kellogg MBA students through curriculum development, expanded case studies and a conference.
Curricula infusing teaching and skill-building at the intersection of markets, leadership and sustainability will prepare MBA students to address the topic over the course of their careers. This gift will allow faculty to enhance the options available to students to strengthen their knowledge of sustainability and to develop new courses for students who wish to specialize in this area.
Case studies bring together academia and real-world knowledge. As leaders in their fields, Kellogg faculty author case studies that are foundational to the business school learning experience. This gift will allow faculty to create specific sustainability-focused case studies while also integrating the issue into case studies that are focused on other topics that impact, or are impacted by, climate change. These materials will be incorporated into the current Kellogg curriculum and coursework, creating an even more robust opportunity for students to engage in sustainability topics across disciplines.
Conference funding supports the efforts — spearheaded by the student-led Kellogg Energy and Sustainability Club — to convene a high-level gathering to discuss climate as strategy. The conference in February 2023 brought together faculty, students, alumni and industry experts to exchange ideas on how to rapidly evolve to avert environmental collapse.
Kellogg continues to strengthen our offerings in this important area for our students and the broader community. The Abrams gift joins the Thomas K. Montag Senior Fellowship in Sustainable Finance as the most recent example of the partnership and generosity of friends and alumni in helping us develop Kellogg Leaders in sustainability and climate change.
Healthcare Entrepreneurship Initiative championed with impactful gift from McNerney family
Trustee James McNerney Jr. and his brother Peter McNerney have made a generous gift of $1.5 million to create the McNerney Healthcare Entrepreneurship Fund at Kellogg. The gift will strengthen the school's position as the premier graduate business school for healthcare entrepreneurship by providing key support and visibility for the initiative.
This gift will allow for curriculum development, an alumni/student forum, speakers and student programming, and a business plan competition. It will help foster a community among alumni in healthcare entrepreneurship that can be an important resource in educating, mentoring and networking with students interested in pursuing a career in healthcare entrepreneurship or early-stage investing.
Both McNerney brothers are parents of Kellogg alumni. Jim, a Northwestern University life trustee, is senior advisor of Clayton, Dubilier and Rice. Pete, an adjunct professor at Kellogg, has more than 30 years of healthcare operating and venture capital experience, including co-founding Thomas, McNerney & Partners.
The McNerney Healthcare Entrepreneurship Fund builds on the family's legacy of more than 40 years of dedication to the Kellogg healthcare program. Walter McNerney, father to Jim and Pete, joined the Kellogg faculty in 1982 following 20 years as president of Blue Cross and Blue Shield. Walter is credited with expanding the school's focus beyond hospital administration to address the business of healthcare more broadly.
More in this issue
Profits with purpose: Meet alumni launching sustainability-focused startups
Delivering critical medical care with the NEST360 Program
Merck CEO Rob Davis on the future of pharma
Nike's Angela Dong is hitting her stride
Faculty in focus: Cynthia Wang PhD '07, MS '04