Start of Main Content
Nike's Angela Dong is hitting her stride
The Executive MBA alumna discusses China's growing sports culture and the virtues of teamwork.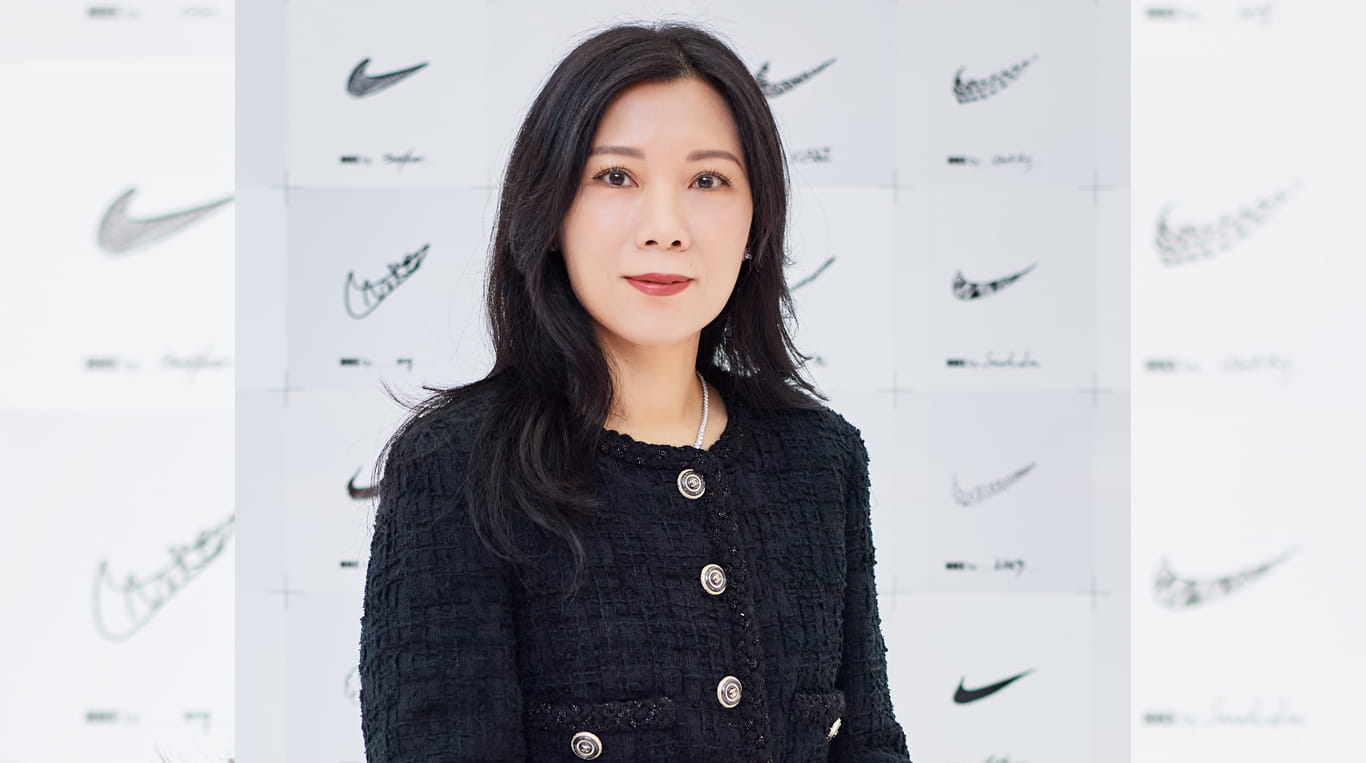 By Claire Zulkey
Angela Dong '08 MBA is global vice president and general manager, Greater China, at Nike, where she has worked since 2005. She has been listed as one of the most powerful women in business in China numerous times by top publications. In April 2022, Fortune China named her as one of the country's 50 most influential business leaders for the third time. A graduate of the Kellogg-HKUST Executive MBA Program in Hong Kong, Dong recently sat down with Dean Francesca Cornelli to discuss teamwork at a global company. Below is an edited excerpt from that discussion.
Nike is a large global company. How do you bring siloed teams together to create innovation?
I have 20-plus people who report to me with many different functions and dimensions. Every year, we spend considerable time aligning at a global level, at the regional level and at the team level.
Nobody should have more than three key things to do. The process of streamlining and focusing is extremely painful, but as a team of thousands of teammates, we need to have a clear direction that can be easily translated into three key points.
Every individual plays to our strengths, but we know that the team's true strength comes from how we work together.
You graduated from Kellogg in 2008, when China hosted the Summer Olympics in Beijing. What was that year like for Nike and for sports in China?
It was a year when China rose to prominence at the center of the world stage — a year when sports became the center of attention for 1.7 billion Chinese consumers, and a year when sports culture was expanding at a breakneck speed.
However, after the fanfare of the Olympics had come and gone, Nike faced the challenge of sustaining this culture of sports in China. We used it as an opportunity to reflect and to redefine ourselves geographically. We shifted our focus to create an invitation for people in China to discover sports. And it proved to be a tremendous unlock for Nike's future growth in China.
What were the most significant lessons you took from Kellogg?
What I loved about the Kellogg experience is what I love about Nike culture: We succeed not only by individually taking credit but also by working together. For those who are still in school, do you know how many team projects you will go through? Business school is essentially the business world, and nothing can be accomplished by one individual.
You're a longtime runner. How does your relationship with fitness tie into your work at Nike?
I played sports from a very young age, which was the opening to my passion for it. I still run three or four times a week. I train every day if I have time. I also do boxing and swimming.
You will realize that your physical capability will determine how long your career can last. I think that if you find an activity that fits you, a good physical capacity can be an anchor to your life and your career. It's very helpful: It keeps your mind clean, it keeps your spirit focused and it can also help you to enjoy life more.
Watch the Conversations with Kellogg Leaders webinar series on our virtual programs website, and see our alumni website to browse and register for upcoming events.
More in this issue
Profits with purpose: Meet alumni launching sustainability-focused startups
Delivering critical medical care with the NEST360 Program
Merck CEO Rob Davis on the future of pharma
Faculty in focus: Cynthia Wang PhD '07, MS '04