Start of Main Content
Drake Scholar is eager to help develop the next generation of female leaders
Drake Scholar Avni Halabe '25 came to Kellogg and quickly learned the value of solid leadership and inclusivity.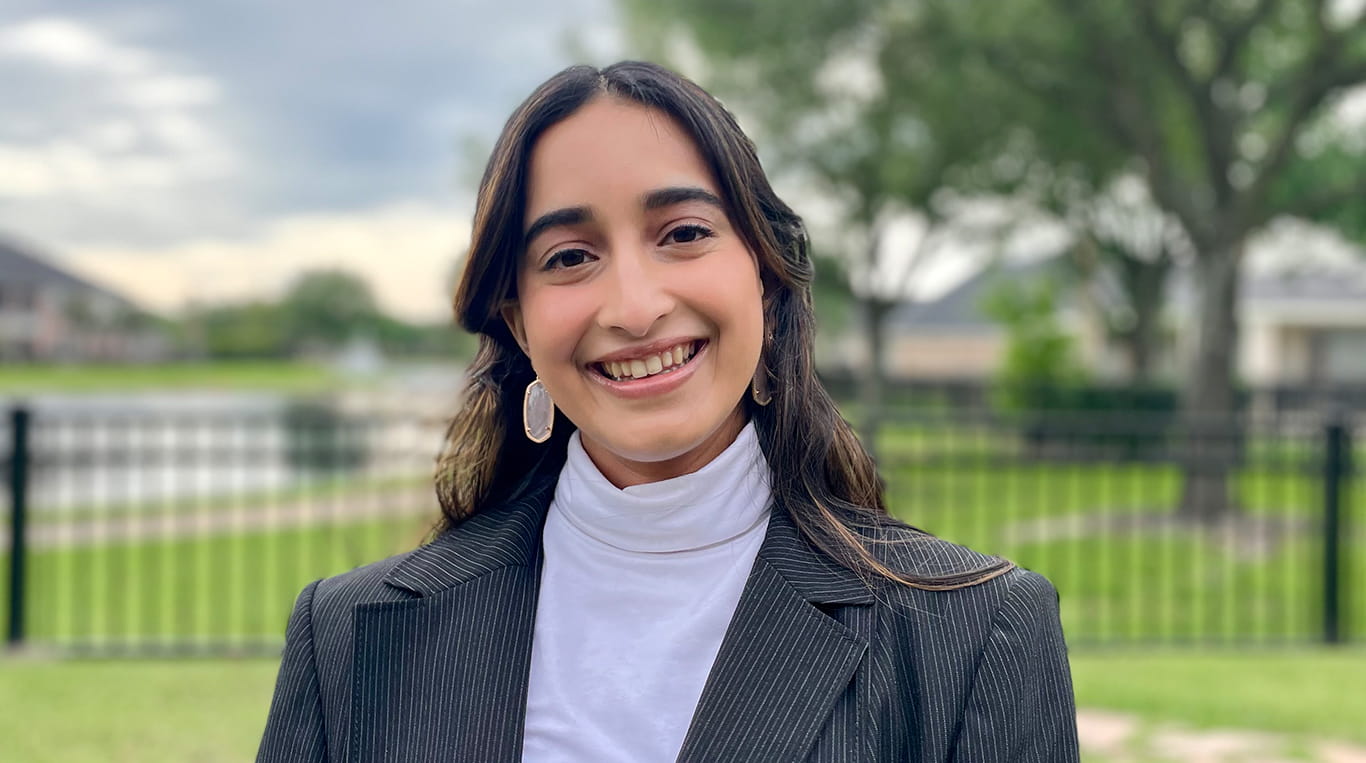 Excited by the ever-changing and continually evolving energy industry, Avni Halabe '25 Evening & Weekend MBA Program plans to have a long future working in the field she is passionate about. Knowing that the energy sector is going through massive change requiring fresh ideas and strategic thinking, she is thrilled about the opportunity to be among dynamic female leaders who can help her get her where she wants to be, and more importantly, she is looking forward to one day helping future leaders.
Learn more about how she hopes to change an industry while also developing her own leadership skills.
Tell us a little bit about your professional background, and what motivated you to get a part-time MBA at this point in your career?
Avni Halabe (AH): I'm from Houston, Texas, and studied chemical engineering at the University of Texas. I've been working at ExxonMobil for two and a half years and moved up to the Chicago area from Houston last year. I just survived my first winter, luckily it was pretty mild. I work at the Joliet Refinery as a project development engineer, where I am responsible for scoping out the business case for projects, developing the technical design, and evaluating the impact on existing facilities.
The energy industry is currently undergoing a fundamental transformation as the world pivots to cleaner energy sources. Energy companies will have to make significant business model and technological changes to address this, and I hope to apply the skills learned from an MBA to strategic management in order to lead the energy transition. From a personal perspective, I feel like this is the right point in my life to pursue an MBA because I have so much to learn. I have relatively little personal commitment outside of work, so I have the time to dedicate to school right now. I'm also very excited to meet people in the Chicago area.
What does being a recipient of the Drake Scholarship mean to you?
It was a great honor to be selected as a recipient of the Drake Scholarship. To me, it is an inspiration to continue supporting organizations that equip women with the tools to advance. I have had several female role models throughout my collegiate and professional career, and I hope to pay it forward and inspire and mentor those who come after me, in the workplace, at Kellogg, and beyond.


How has being a Drake Scholar shaped your view about leadership?
I think it reinforces the importance of inclusive leadership. When we get diverse perspectives in the room, we make better decisions. Programs like the Drake Scholarship are aimed at propelling women to provide their perspectives at the highest levels of decision making in organizations, and this is what I aspire to.
What are some of the things you're most looking forward to as you embark on your journey at Kellogg, whether it be classes or extracurriculars?
I'm most looking forward to meeting new people and expanding my network, which I'm hoping to achieve through a combination of classes, extracurricular activities, and social events with my cohort. In addition, I'm very excited to take strategy and case-based classes – this will be a completely new area of learning for me, and I'm hoping I can apply those learnings to real-life scenarios in the future.
How do you feel your MBA will help you achieve your professional development and career goals?
The energy industry is filled with uncertainty. Oil is a commodity whose price fluctuates depending on supply and demand; geopolitics and public sentiment. The future of oil is even more uncertain. As the world pivots to cleaner energy sources, energy companies must diversify to remain relevant. At the crux of all of this is the necessity for economic analysis and scenario management, an area in which I want to lead. I am pursuing an MBA to develop the thinking approach required to analyze these uncertainties and construct successful corporate strategies in spite of them, while balancing business drivers with consumer needs to avoid energy crises in the future. The Evening and Weekend MBA program is a great fit for me because I want to grow my network with people in other industries to understand the challenges they face and how they develop strategies in response.
In addition, I believe an MBA will help me develop my leadership skills in general. I hope to be a transparent and inspiring leader, and, through KLJ sessions and classes I have already taken. I can see that Kellogg is making me take an introspective approach to what I value in leaders, the type of leader I aspire to be, and the skills that I will need to develop in order to make this a reality.
What do you think you can learn from a leader like Ann Drake?
I have not had an opportunity to meet Ann yet, but I certainly hope to! She's an inspirational leader and embodies the principle of paying it forward and removing obstacles for future generations of women leaders to succeed. I think the most important things I'd like to learn from a leader like her are how she has approached obstacles and adversity throughout her career, especially as a woman in a field dominated by men, and how she has prioritized facets of her life, including her family and her career. In addition, I would love to learn more about her leadership style and how it has evolved over time.
As a member of the next generation of leaders, what do you hope to accomplish?
I aspire to be an open and transparent leader who acts with empathy. One of the reasons that I'm here at Kellogg is to discover more about my leadership style and what I value in leaders. My hope is that Kellogg will equip me with tools to maximize my potential and impact as a leader.