Start of Main Content
Squeezing every drop out of Kellogg to find a dream finance job
Michael Ladipo '21 MBA dove head first into experiential learning opportunities at Kellogg and ended up with a career he loves: impact investing.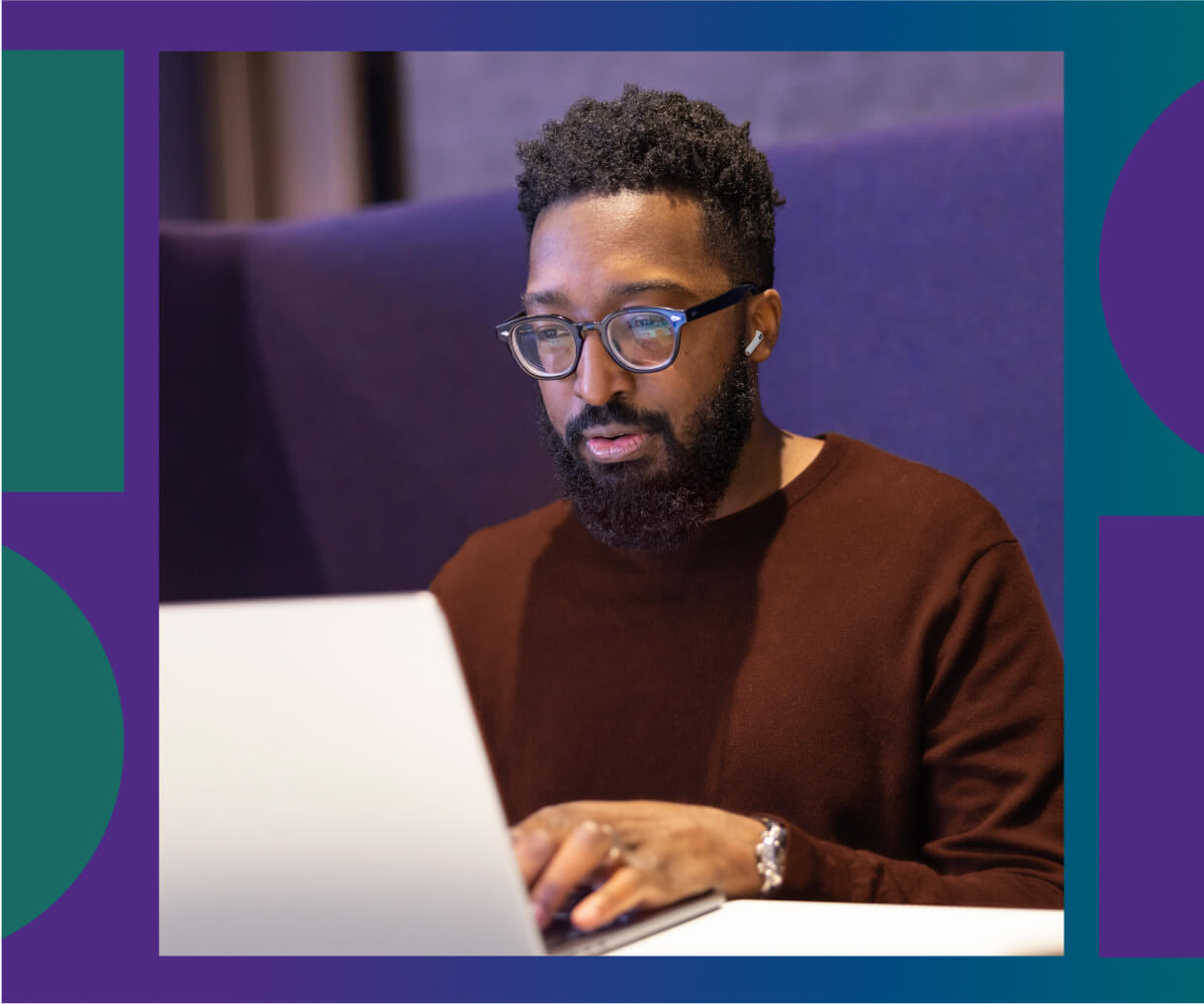 The destination for every journey isn't set at its start. Sometimes you know there's something out there for you, but you aren't yet sure what it is. That's how Michael Ladipo '21 MBA felt when he enrolled at Kellogg. Despite having a successful career in investment banking, he wanted something more from his profession. He needed something that matched the person he wanted to be — the impact he wanted to make on the world.

At Kellogg, he connected with a deep network of peers and alumni, learned from professors leading their industries and explored leadership in a student group. He organized panels of local Chicago investors, participated in global business courses and gained hands-on experience in the school's experiential Venture Lab course. He searched every corner of the school for what it had to offer, and he took advantage of it all.

In the end, Michael found himself and his professional path at Kellogg. He landed in impact investing at a venture capital fund — a role he recognizes has allowed him to be a good professional and a good human.

We spoke to Michael about squeezing every drop out of Kellogg, how his ride-or-die professors helped him and what he did to find his true career path.

What first pushed you to explore an MBA program?

I was working in investment banking primarily dealing with a lot of older, mature companies. I was helping business owners sell their companies and retire, but I'd always had some interest in tech and innovation. I had an itch to see what it took to build a business from ground zero into these massive companies I was working with.

As an investment banker, it feels more like you're dating these companies. You get to know them at a very surface level, but you don't really know what the day-to-day is that drives the work they do — what helps them earn money, build out products or services and develop strategies. I was interested in getting a little deeper look into what it takes to build and scale a company.

So you decided to go to business school. Where did you think you'd end up after that?

I thought it would help me get into a new career, although where that was I wasn't sure. I knew I wanted to be with companies that were more technology-focused and more future-oriented. I wanted to work in a space that was building the tools to solve problems for the future — tools that did not yet exist for things that did not yet exist.

Did you know you wanted a part-time program?

Yeah, I didn't want to lose out on my income. I also learn better by taking information from the classroom and being able to apply it in real life, and by taking questions from real life and bringing them to the classroom. I need that iterative effect.

Beyond a part-time program, what were you looking for in a school?

The opportunity to have hands-on experiences with tech-focused companies from a finance perspective was very important. That's my background, and I still wanted to use that skill set. I also wanted to gain product experience. Finally, I was looking for a school with strong opportunities to work internationally. Those were the three major things for me.

Were you able to integrate any of those international programs?

I had one of the greatest international-focused classes. It was a Global Immersion Management course. We were supposed to fly to Kenya and Rwanda, but unfortunately, that trip was canceled because of COVID. Still, the experience was amazing. It was with Professor Grant Harris, who was a principal advisor to the Obama administration on global issues.
I gained a tremendous amount from the program itself including a better understanding of startup and business cultures in different countries. We covered the nuances of how different global policies and cultures influence the way you finance and run a business, how you structure loans and what technology tools might be beneficial in the United States but not in some emerging countries. Those different perspectives went beyond what I was expecting.
Did anything surprise you about the faculty at Kellogg?

The professors at Kellogg are ride-or-die. They go to bat for you, and that's what led me to where I am today. There's an aspect of "My time is your time. Let me know what you need." These are people who are running multimillion-dollar businesses and doing talks. They have other things to do, but they invest their time in you. They also open up their networks so freely. They truly value you as a Kellogg student and want to see you not just barely succeed but really hit your ambitious goals.

Were there any professors in particular who truly helped you get to the place you are now?

I got to take classes with Jeff Eschbach, professor in the entrepreneurship program and associate director of Venture Creation for the Kellogg Entrepreneurship Program. Even before my classes with him, he would invite me to chat about startups. He was integral in my journey into the startup world. He even connected me with several people for a panel I hosted as president of the Black Management Association on what venture capital and startups look like in the Chicago ecosystem. Later I worked with him in his angel fund group.

Professor Paul Earle and Dean DeBiase, who taught Corporate Innovation and New Ventures, helped me understand how to build products and scale things in existing companies. Before coming to Kellogg, I thought innovation only existed in new companies. I didn't think about what innovation looked like in existing companies. It helped me understand what it looks like to essentially build a startup within a company.

Through Dr. Nicholas Pearce's courses, "Beyond Diversity: The Fundamentals of Inclusive Leadership" and "Management and Organizations," I learned to harness the power of differences to help people flourish and drive evidence-based inclusion strategies for an equitable and just workplace. His teachings have been a cornerstone for my investment strategy and the support I provide founders through my job.

How did those courses impact your professional journey?

These hands-on courses definitely helped me career-wise. They connected me with people who offered amazing advice and networks, and I developed culturally and contextually relevant multi-disciplinary skills.

My experiences with the Venture Lab got me to understand what it looks like to invest in startups and cemented my decision to work in venture capital: investing in startups as opposed to working within one. It also helped me understand that there is a way for me to make an impact on communities while driving financial returns — and that's through impact venture capital.

That lab was a big factor in getting me to where I am now because the VC firm I interned with through that experience connected me to the partner that runs the fund I work for now. The network at Kellogg went above and beyond.

You jumped into all kinds of experiences at Kellogg.

Yeah, I was very intentional about squeezing Kellogg for all the resources it has. I mean, I didn't squeeze it for all the resources, because it has way too many, but I definitely squeezed a lot out of the experience.

Did you make any choices to ensure you could do that?

Midway through the program, I left investment banking to work at Discover Bank, so I had more flexible hours that allowed me to engage beyond the evenings and weekends. I explored what I wanted to do and the relationships I could make at Kellogg. I was able to get a "full-time" experience during my "part-time" program. I wanted my cake, and I wanted to eat it too — and I did that.
After all that, where did you end up?

I'm working at an impact venture capital fund now. I think I'm one of those rare people who can actually say I love what I do. This is the first time in my life I can genuinely say that. It's not work. I'm just doing what I feel is right and using my skills to do it.

All the things I did while at Kellogg — like my VC internships, fellowship at the angel fund and experiential class on product development — were the things that prepared me for this job when it came along. It's not like I was doing those things because I was planning for this. I was just doing them because I loved doing them, and I leaned into my interests. Those were also spaces where I was thriving personally and professionally, so I do not take the luck of being offered this opportunity for granted.

How did Kellogg help you build your legacy of leadership?

At Kellogg, I got to experiment with how I wanted to be a leader as president of the Black Management Association for two years. I got to experiment with what it looks like to be an investor in startups versus building products. I got to experiment with the things that make me a good professional and a good human being. I got to figure out where I can make the impact I want on the world and where I want to leave my mark. I got to incubate myself and figure out how I wanted to take myself to market.

I had the space at Kellogg to identify where I can just really "kill" it. I don't think I would have been given that space, or even known that space existed, without being around others who were experimenting; without having professors and resources to help me flesh out who I am personally, as a leader and as a VC investor. Without Kellogg, I wouldn't have been able to do that.


Take control of your career with a Kellogg Evening & Weekend MBA. Find out more about the application process.