Start of Main Content
Celebrating Valentine's Day with Zachary and Irina
Two-Year MBA couple Zachary Cole '24 and JV Irina Talty talk about moving to Evanston from Atlanta together, and why the experience has inspired Irina to pursue an MBA too.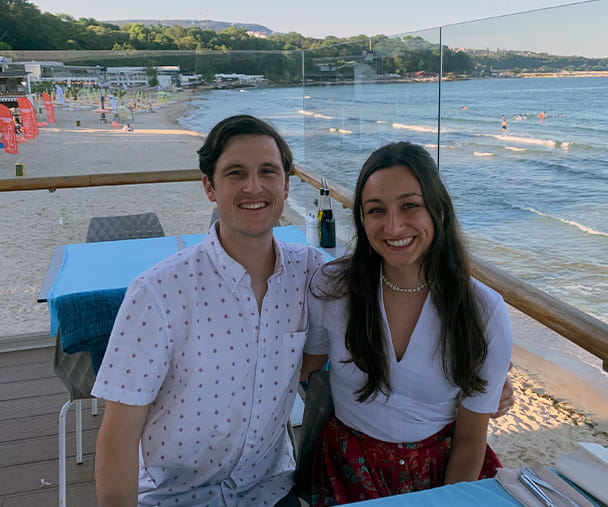 Did you know that nearly 40 percent of our students are married or have a partner accompanying them as they embark on their MBA journey? Our Joint Ventures club is the official group where students' partners (JVs) can create a community and participate in other activities including professional development and meaningful volunteer opportunities.

In honor of Valentine's Day, we asked a couple who joined the Two-Year MBA Program this past fall about why they chose Kellogg and what they've found helpful in supporting one another in this new phase of their lives.
Meet Zachary Cole '24, a Two-Year MBA student, and JV Irina Talty
We've been together for five years, and we recently got engaged in June 2022! We met at Emory University as undergraduates and stayed in Atlanta for a few years post-college. While Zach was applying for his MBA, Irina began applications to get her master's of fine arts in creative writing. Our goal was to attend graduate school together in the same city; however, this didn't pan out.

We decided Irina would work while Zach pursued his MBA and reapply to school after he graduated. Irina found a job in Evanston as an editor, and we made the exciting move with our dog Gatsby! Everything worked out for the best in the end, as after a few months Irina realized that an MBA would be better suited for her career goals. This September, she'll be sending out MBA applications of her own.
How we chose Kellogg
We chose Kellogg for three reasons. First, Kellogg is a school where students are extremely supportive and congratulatory of one another despite business schools' inherent competitiveness. Second, Kellogg has a very robust program for significant others, and that mattered, since we were moving to Evanston together. Third, Kellogg has a top-notch consulting recruiting program and consulting is Zach's desired post-MBA industry.

We've found it's incredibly helpful to listen and support one another through school, whether it's Irina supporting Zach during recruiting season, or Zach helping Irina find a GMAT study plan and providing some insight into the MBA application process.

Outside of school, we have weekly dates and take turns planning them, which ensures we have quality time together. We've found it helpful to plan dates and outings that get us outside campus and into downtown Chicago or different areas of Illinois where we can go hiking.
In the hot seat:
What's your favorite date night in Evanston/Chicago?

NaKorn Urban Thai in Evanston

What's your favorite place on campus?

The Lakefill

If there was a movie, show or song that describes your relationship, what would it be?

"Can't Help Falling in Love with You"

What's a quality you admire in each other?
Irina: Zach's fun-loving personality
Zach: Irina's self-confidence
What is the biggest lesson you've learned as a couple going through an MBA program together?
Learning how to see things from each other's perspective.
Read other MBA couple stories and how they're making the most out of the MBA experience: