Start of Main Content
Kellogg Chronicles: Marissa In Paris, an MBA exchange
Read about a Full-Time MBA student's experience during her exchange program with HEC Paris, a leading French business school.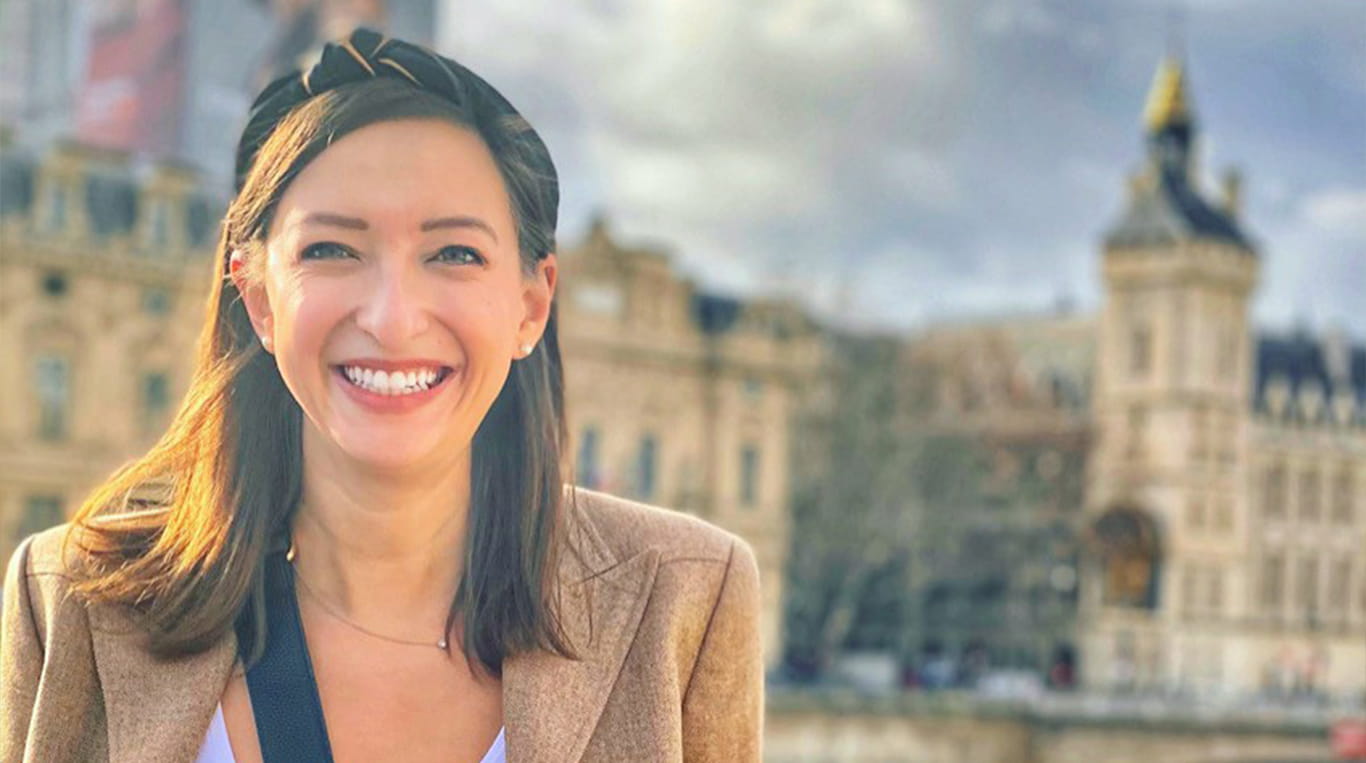 This content was originally published in Poets&Quants.
by Marissa Wizig '21 MBA, Full-Time Program
During the winter of my second year at Kellogg, I had the opportunity to participate in an exchange program with HEC Paris, a leading French business school. This would probably seem like a pretty standard MBA activity, except that winter was January of 2021 — right in the heart of the pandemic.
I came to Kellogg with a goal to pursue as many global opportunities as possible — through academics, extracurriculars, and personal travel. I majored in Government in undergrad, and before business school I spent five years working at the intersection of politics and Middle East policy at AIPAC. When I applied to Kellogg, I wrote about my desire to capitalize on my background in politics and international policy, and pursue the study of business through an international lens. I ended up committing to Kellogg in large part because of the resources dedicated to global programs.
The Kellogg team goes above and beyond
When I got to Evanston for my first year, I took advantage of every opportunity I had time for. I travelled to Seville and the Canary Islands on my pre-orientation KWEST trip, signed up for classes like "Strategic Challenges in Emerging Markets," joined the KWEST Executive team to plan 30+ international trips for incoming first-years, and booked flights to Cambodia and Vietnam for my first-year Global Immersion in Management spring break trip. I was also accepted to study abroad on an exchange program during my second year at a South African business school.

With the onset of the pandemic in 2020, I became nervous that studying abroad would no longer be possible, and that I'd spend the rest of my MBA program with two feet planted firmly on U.S. soil. But the Kellogg Global Experiences team didn't give up. In a testament to the value of choosing a school that is heavily committed to international learning, the Global Experiences team moved mountains with Northwestern University to make it possible for a small but eager group of us to study abroad. Not just to participate remotely, but to physically move abroad for a quarter at a time when very few (if any) other U.S. MBA programs were giving students that option.
When it became clear that my original exchange program wasn't possible due to South African travel restrictions, the Global Experiences team offered me the chance to study at HEC Paris. Excited about the possibility of traveling abroad despite the pandemic, I recruited a close friend to join me in the program, and we found a long-term Airbnb in Paris's Latin Quarter. After months of uncertainty and planning, I dusted off my high school French skills (aided by spending several weeks of winter break playing Duolingo) and flew from Chicago to Paris for the winter quarter.
One of the most valuable aspects of my exchange program was meeting classmates from all over the world. Kellogg is very international, but the majority of students still hail from the U.S. HEC Paris attracts students from across Europe and the Francophone world, and most of my classmates had not been living in France before the program. They were eager to hear about my experiences at an American MBA program, and I was excited to learn about their backgrounds and expand my global network.
Read the original article in its entirety on Poets&Quants to learn more from Wizig and how her MBA exchange program helped prepare her to work with international teams as well as how the Global Experiences team at Kellogg supported her throughout her journey.
Read next: Empowering connections boost an international student's MBA journey