Start of Main Content
Alumna's startup savors a flavor for life
Kalpana Waikar '06 MBA creates purpose through culture and food and talks about how her "why" has evolved throughout her different stages of her life.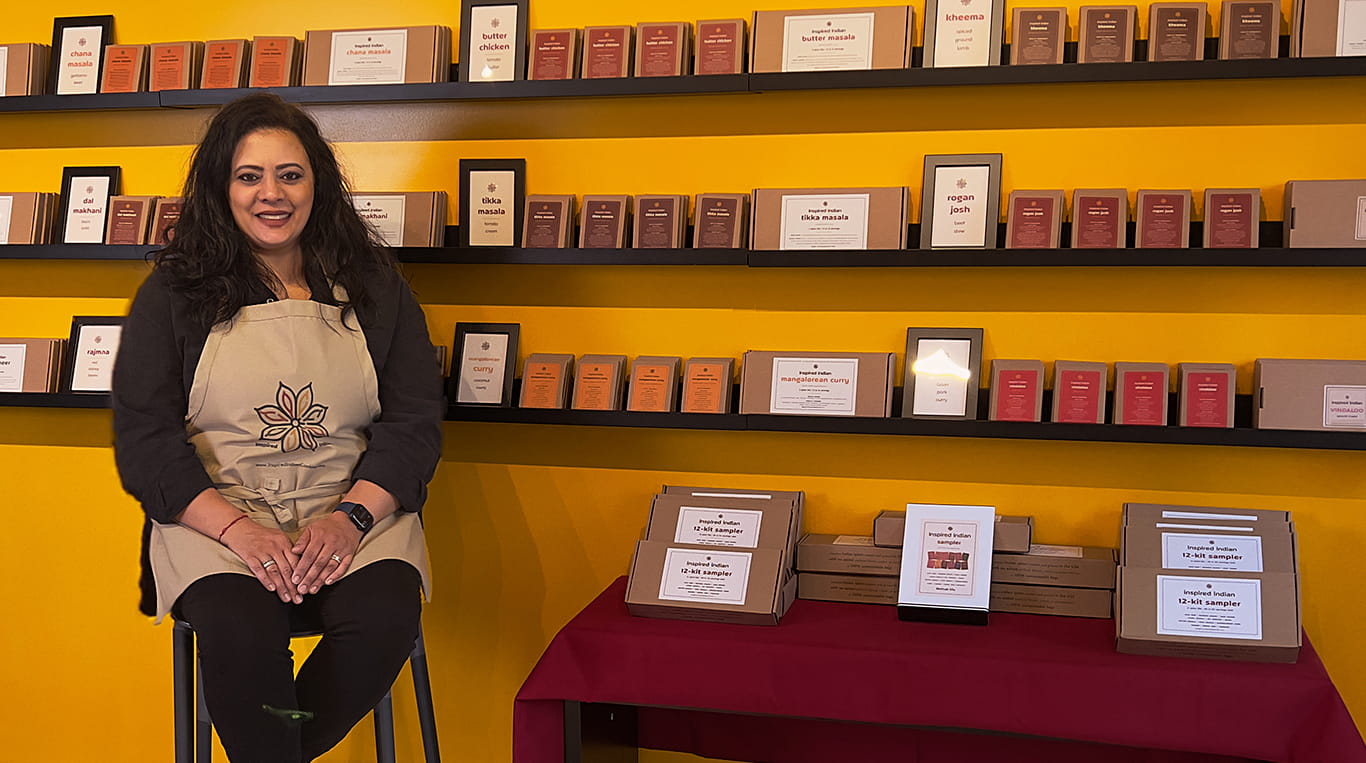 It's okay for your "why" to change throughout life. Just ask Kalpana Waikar '06 MBA who has worn several hats —academic advisor, entrepreneur, mom, sales representative— yet each of those has satisfied a particular purpose at that point in time. She shares more about her Kellogg journey both as a student and employee and how her start-up came to fruition.
By Kalpana Waikar '06 MBA
When I joined Kellogg in 2003, I knew I wanted to do something different but wasn't sure exactly what. I never could have imagined how many twists and turns the path ahead would involve—for my Kellogg experience itself and later for my career.
But one thing helped me seek out and navigate each new experience and gain value from it: knowing my "why."

My decision to transfer MBA programs
I applied to the Evening & Weekend MBA Program while working in sales in Chicago's western suburbs. My motivation was to take on bigger-picture, more strategic work —possibly in product management— but I knew my specific vision would likely evolve.
When I started the program in January 2003, I was already a mom with a toddler and pregnant with my second child. I enjoyed the coursework and team-based culture but soon found juggling work, school, family and other pursuits wasn't ideal. I was constantly "borrowing" time from one area for another.
So, I applied to transfer to the Full-Time MBA program for a more immersive experience split mostly between school and family. As soon as I started in Evanston, I knew it was the right choice. My full-time classmates were very welcoming, and I formed many strong friendships while diving into classes, recruiting and volunteering at my kids' schools.
But soon I faced a decision. I had interviewed with several companies for product management roles and while I liked the idea of making an impact in that area, something was missing. After thinking through it, I realized I wanted to focus fully on motherhood. I'd gone back to work to support my family when my son was a year and a half old and after Sachin, my husband, who had been diagnosed with a life-threatening illness, left consulting to pursue writing. My son was now six and my daughter was three. By this time my husband was in a position to financially support us as a freelance writer, so I was able to take time off after graduation.
I loved the time with my kids, but it turned out I wasn't quite done with Kellogg yet!
Returning to Kellogg
My return to Kellogg started with an email from a staff member at Kellogg who knew me well as a student: "Kalpana, we're hiring our first academic advisor. Do you know anyone who might be interested?"
It turned out I did—me! At this point, I had been at home for several years and my young kids were now in middle and elementary school. I was ready to have career impact again (my new why), and what better place than Kellogg—a place where I'd grown so much. So, I applied for the role, and within a month I interviewed and accepted the offer to return to work at Kellogg.
As hoped, I grew quickly and significantly as an academic advisor. I found out how much I enjoyed helping students find their own "whys" and the right Kellogg resources to leverage for these while also building new systems and processes for waivers, early exams and more. Several years later, I had progressed to a more senior role and was managing a team of advisors.
But sure enough, I found myself again wanting something different. The more I thought about it, the more I realized I wanted to build not just a system or process but an entirely new business. I just had to figure out what and how.
Tapping into lessons from my Kellogg MBA to create Inspired Indian
As my entrepreneurial urge grew, I made the difficult decision to leave Kellogg in 2017, proud of what I'd achieved there. Strategically, I resigned just before we moved into the Global Hub, knowing how hard it would be to give up that view!
Now I had the time and space to think about what to build. I considered a number of different ideas but none of them felt quite right.
Then I realized what I felt most passionate about: helping people cook Indian food - my entrepreneurial "why." I, myself, had struggled to cook Indian food despite watching my mom cook while growing up. It's not easy, due to overly complicated recipes, hard-to-find spices, and other culinary challenges. I conducted some basic market research and confirmed my gut feeling that the main pain point was the sheer number of spices required to make a single dish.
I decided to launch my business by offering spice kits and simple recipes for specific Indian dishes. I studied countless Indian cookbooks and online resources, creating my own recipes and testing spice blends. I also learned how to incorporate, get business and food establishment licenses, design a logo and packaging, build a website and integrate it with back-end systems, and countless other things that go with bootstrapping a start-up. As a solo business owner, it was exhausting but also exhilarating.

Inspired Indian Cooking launched as a subscription business in the fall of 2019. Within a few short months, hundreds of customers signed up to receive spice kits and instructions to make a full Indian meal every month. I loved seeing my idea come to life. Then the pandemic hit, and I faced supply chain and shipping challenges that made me hit a pause on the business.
That turned out to be a great thing. Since many customers wanted to make the same dishes again, I was able to reimagine Inspired Indian as a retailer of individual kits—a more scalable business—rather than subscription-based meals. Also, I loved the idea of opening a retail store in Evanston; becoming part of the business community and interacting directly with customers.
And so in December 2011, Inspired Indian was reborn as a retail spice shop in south Evanston, just a few blocks away from Kellogg. Sales have exceeded my projections, and now, as I near a full year in business, I'm so excited about what is to come. So many customers have told me they've gained much more confidence cooking Indian food with my products or that their kids enjoyed something other than mac and cheese for the first time or that they've impressed friends and family with Inspired Indian dishes.

Life is a balance of flavors
Even while at Kellogg I never could have predicted where my career would take me. Each hat I've worn—student, mom, advisor, entrepreneur—has satisfied a specific "why" and led me to the next one. And my kids who motivated me to not pursue traditional post-MBA roles? My son just graduated from college and is working in product management (the career I thought I wanted as a Kellogg student), and my daughter (the one I was pregnant with when I joined the program) is a sophomore in college minoring in entrepreneurship. I couldn't be prouder of them and don't regret my career decisions a single bit.
I guess my "Big Why" is just that: understanding what motivates me—even if it seems non-traditional or unusual— pursuing it and repeating it. I hope my story inspires others to keep focus on their why and bring it to life in a way that works for them.
Read Next: Kellogg offers former tech employees MBA application test waiver