Start of Main Content
A military career & MBA provide diverse leadership perspectives
Graham Van Hook '16 MBA was recently appointed to serve as a White House Fellow making him the first Kellogg alumni in 20 years to hold this position. He thanks Kellogg for preparing him for this career milestone.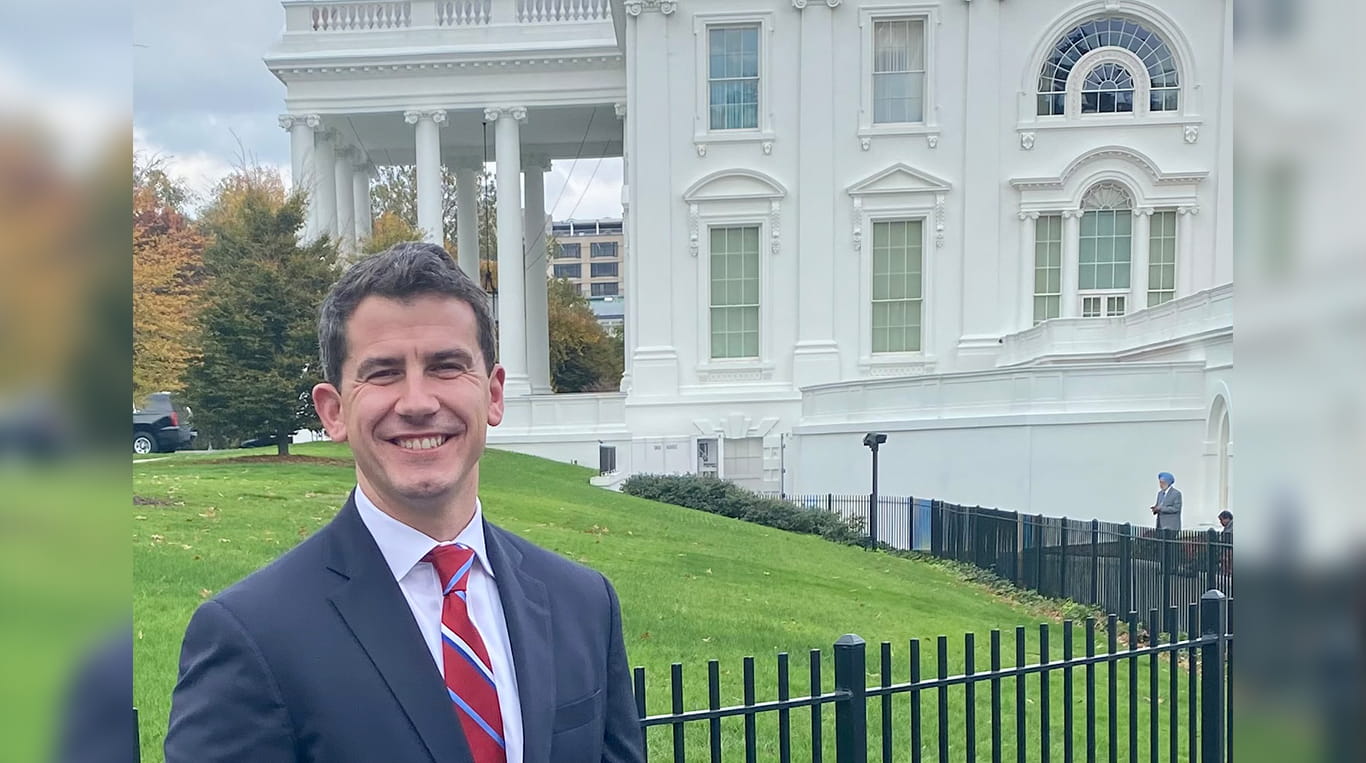 By Alicia Webb
Graham Van Hook '16 MBA has served as a U.S. Navy Officer for 14 years and is currently serving as a White House Fellow within the Office of Cabinet Affairs where he acts as the liaison between the Cabinet and the White House. As the first Kellogg alum to have this position in 20 years, he is proud and says that his time in the part-time Evening & Weekend MBA Program prepared him in ways he never could have imagined. In honor of Veteran's Day, we spoke to him about how his experience at Kellogg has shaped him as a military and business leader.
Love of country and the Navy
For Graham Van Hook going into military service was a no-brainer, he is a fourth-generation naval officer. In his 14-year career, he has been deployed overseas five times. He couldn't imagine any other career path. "I love the Navy; I plan to make a career of it and will be in the Navy as long as possible." Graham says.

As a White House Fellow, he is a rare breed. He is the only one with a military background while most of his colleagues have been a part of a presidential election campaign or have a background in politics. "When I tell people I am a captain of ship, it really stands out. People sometimes look at me like I am crazy, but the experience along with getting my MBA has really prepared me for pretty much any leadership position you can think of," he says.
Transitioning from the Navy to Kellogg
Graham admits that he will forever be grateful to the admissions staff at Kellogg, "I was persistent, and they were open to someone with my experience and background. The admissions team saw something in me, beyond academics. Specifically, Megan Krueger, the assistant dean, noticed something in me that others didn't, and if it was not for her, I don't think I would be where I am today."

Coming to Kellogg was the first time Graham took off his Navy uniform and says it was enlightening as well as transformative. His experience at Kellogg forced him to think differently and approach each problem as a case study. Graham explains, "Getting my MBA has allowed me to think creatively and solve complex problems. Skills you really need in the Navy. My MBA has really enhanced my career and allowed for professional growth that I never could have imagined." Kellogg taught him how to step out of his comfort zone as a naval officer and ask, "what are the unintended consequences of this situation?"

While his time at Kellogg prepared him to think differently, Graham acknowledges that the unique culture at Kellogg is what truly helped shape into the leader he is today. "Kellogg taught me how to be a person of high impact with a low ego. It's not about me; it's how I serve others," he shares. "Kellogg has a dynamic culture inside and outside the classroom, and I have been able to take that with me to the Navy and to the White House. Serving the greater good and ensuring lasting impacts on our communities are bedrocks that Kellogg instilled in me. Kellogg has the ability to find the nicest people and make them work well together to find consensus."
Kellogg and beyond

Graham will be serving as a White House Fellow through September 2023, and he is excited to see what the next year will bring. As a naval officer with an MBA, he feels strongly his background will continue to set him apart from other leaders. "Kellogg continues to open doors for me. It has given me access to some of the top leaders and C-Suites in the world. It provided me with the education needed to examine problems, industries and data. Inside the U.S. Navy, I am able to work with the Congressional Appropriations Committees on the U.S. Navy's Budget. If I didn't have my MBA from Kellogg, none of these opportunities would have been possible."
Read Next: Business as a way to give back
This week The Kellogg Veterans Association, a club dedicated to helping U.S. veterans and foreign militaries succeed in civilian employment and in life, is honoring U.S. and International military veteran students at Kellogg with special programming throughout the week. See below for a listing of events:
Hear My Story: Monday, November 7, 5:15-6:15pm, KGH White Auditorium
Several spots still available. All attendees to check in on CampusGroups, and no-shows will no longer be allowed to occupy in-person seats at future HMS events. Out of respect for the speakers and their stories, we will begin promptly at 5:15pm and close doors at 5:20pm. Thank you for supporting HMS and the veteran students who will share their stories with us tonight.

KVA Charity Golf Scramble: Wednesday, November 9, 12:00pm at Canal Shores
Beverages at the American Legion bar. Proceeds will go directly to Folds of Honor, scholarships to support the families of fallen or disabled American service members and first responders. Sign-up available now.

Fireside Chat with Pat Pacious: Thursday, November 10, 12:15-1:15pm, KGH White Auditorium
A few spots still available. They are excited to welcome and co-host with the Travel & Hospitality Club a Navy Veteran, Kellogg graduate and the president and CEO of Choice Hotels.