Start of Main Content
Kellogg adds new offerings to its top-ranked Executive MBA Program
The Executive MBA Program will offer students the chance to earn a certificate in emerging fields at no extra cost. The degree is also newly STEM-designated.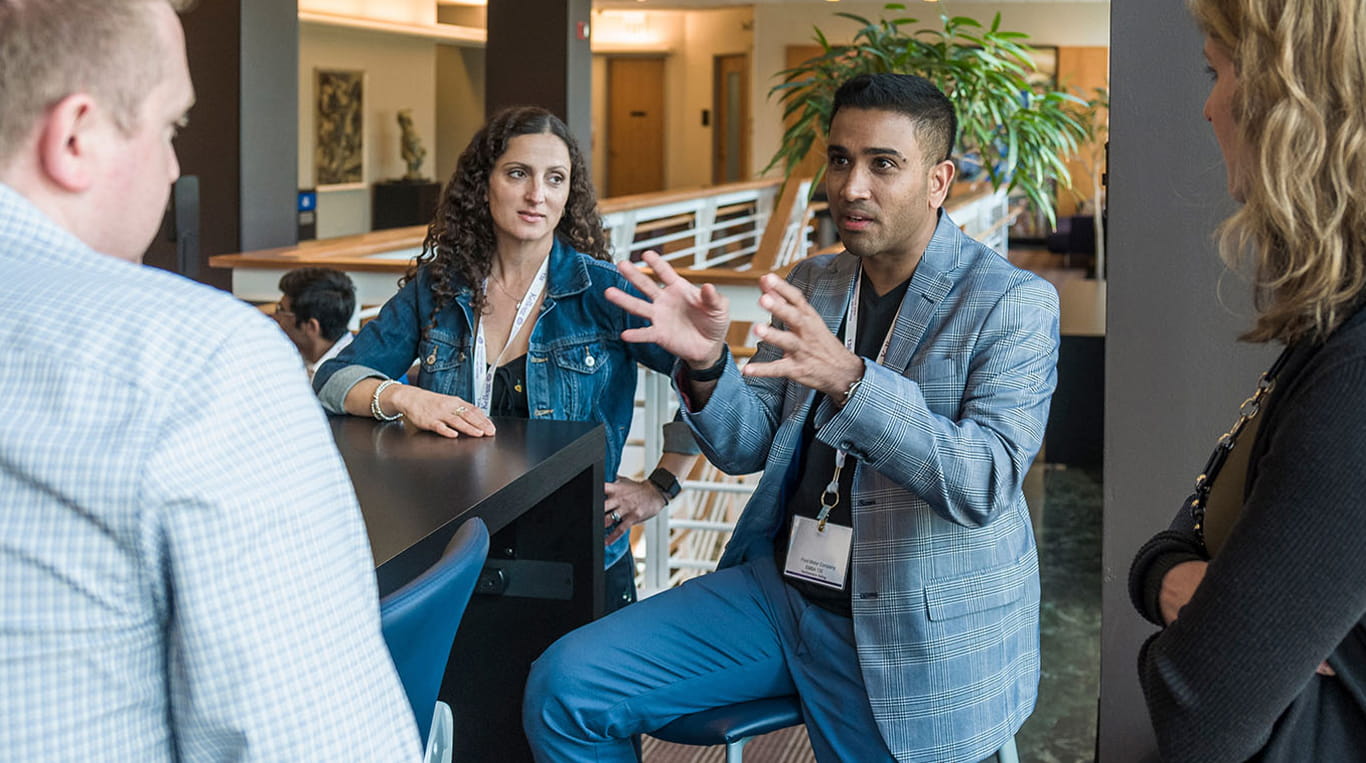 By Greg Hanifee
Associate Dean of Degree Operations
The No. 1-ranked Executive MBA Program now has even more to offer students, with the addition of important enhancements effective for students beginning the program this fall.
New Healthcare Leadership and Product Management certificates
We are excited to announce that Executive MBA students entering the program will have the option to earn a certificate in either Healthcare Leadership or Product Management from Northwestern University while they complete their MBA coursework at Kellogg. The first certificates will be awarded to graduates in Spring 2024. We are offering this option in response to student demand for opportunities to deepen knowledge and expertise in these fields of growing importance in the business landscape.
Since Executive MBA students must complete a minimum of 28 credits to graduate but may take up to 32 credits while in the program, those interested can complete either of these certificates at no extra cost. Graduates who successfully earn the certificate will see it specially designated on their official Northwestern transcript.
To earn the Healthcare Leadership certificate, students must complete the Heathcare Deep Dive series, composed of four one-credit courses with class sessions in Evanston, Miami and San Francisco. Taught by renowned Kellogg faculty and healthcare industry leaders such as Professor Craig Garthwaite, the Deep Dive course attracts students from a wide range of roles and backgrounds, including those working in clinical practice, insurance, pharmaceuticals, medical device innovation and more.
Students interested in pursuing a certificate in Product Management will gain knowledge under the guidance of globally recognized scholars, including renowned faculty members such as Professor Mohan Sawhney. He will lead students in both live virtual and asynchronous modalities in a foundational course in product management, Leading Product Organizations. Students will build their certificate from a choice of other electives delivered by Kellogg faculty, such as Digital Strategy: Individual and Organizational Transformation for a Digital Age, Strategic Brand Management, Launching & Leading Start-ups and TechVenture India.
STEM eligibility
We are also happy to share that the Kellogg Executive MBA degree qualifies as a STEM-designated field of study as of the 2022–2023 academic year. Alongside the existing STEM designations for our entire Full-Time MBA and Evening & Weekend MBA Programs, this now makes all Kellogg MBA programs STEM-designated.
This offers a substantial new benefit for international students holding an F-1 student visa who graduate from the program. While on a 12-month post-completion optional practicum training (OPT), these students may qualify for 24 additional months of OPT, known as F-1 STEM OPT extension, allowing them to expand their real-world business skills and experience in the United States. Eligible students will be responsible for submitting their OPT and STEM OPT extension applications to USCIS by the established deadlines. Northwestern Office of International Student and Scholar Services (OISS) and the Kellogg International Student Advising team will collaboratively offer guidance on OPT and STEM OPT processes.
We are thrilled to offer this opportunity, which presents an attractive option for executives interested in pivoting to an organization that would sponsor their visa in the United States. This development stands to benefit students currently in the program, and those just entering or considering Kellogg for their executive MBA.
Fostering a worldwide culture of innovation
From the formation of global partnerships over 20 years ago, to the introduction of courses in 2017 that combined asynchronous and live in-person components to "pop-up" electives held in Lisbon, London, Singapore, San Francisco and other global destinations, innovation has long been at the core of our Executive MBA Program. We are delighted to continuously offer new opportunities for those who choose Kellogg for their executive MBA.
To learn more about the Executive MBA Program, request information here or sign up for an upcoming admissions event.