Start of Main Content
2022 MBA to Watch: Bhavana Balakrishnan, Kellogg
"An excellent planner, above average dancer, average cook, and terrible navigator."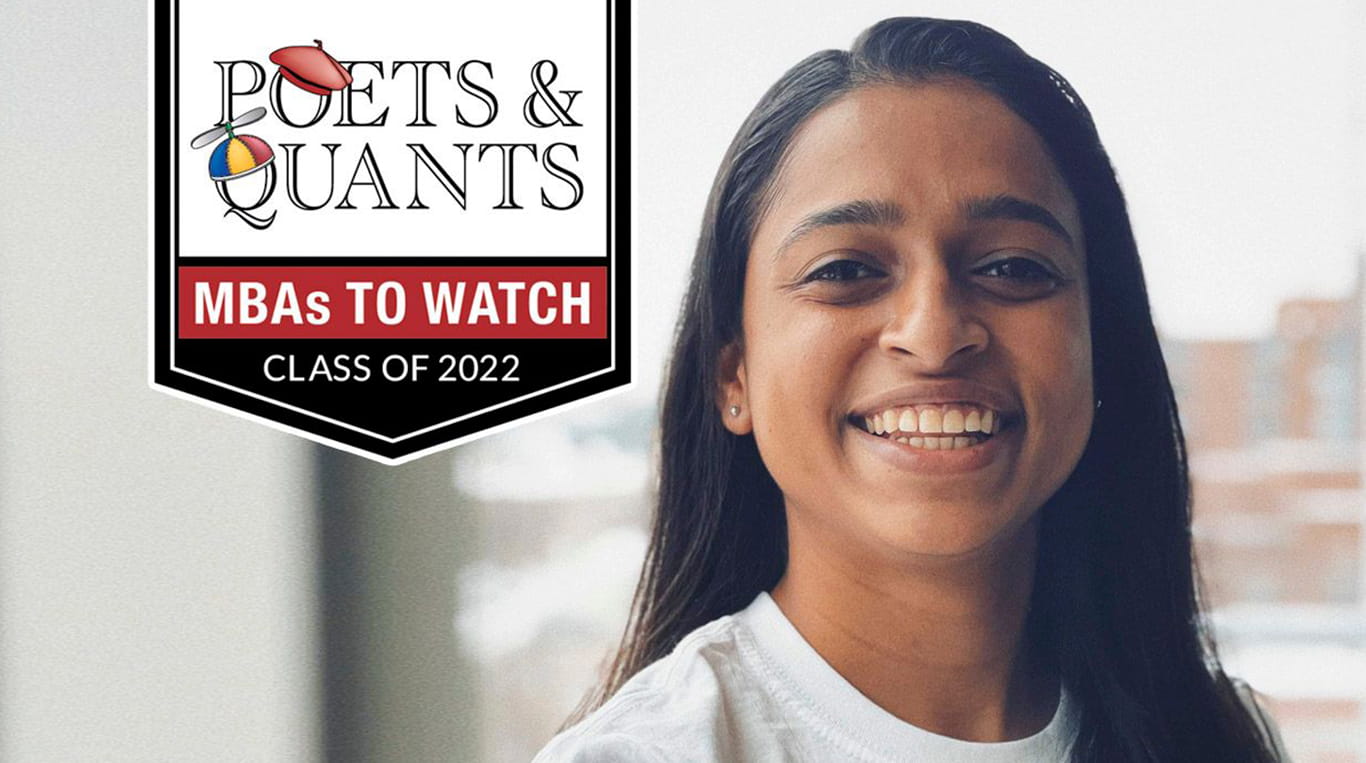 This article was original published in Poets&Quants.
Get to know more about Bhavana Balakrishnan '22 MBA in the Poets&Quants MBAs to Watch: Class of 2022 series where she talks about her involvement as a Golub Capital Board Fellow, why she chose Kellogg and how prospective MBA students can gain an edge on their applications and once enrolled.
Hometown: Chennai, India; Singapore

Fun fact about yourself: I spent most of my childhood in Doha, Qatar! Absolutely loved the city, but haven't been back in many years since my family moved, and I would love to go back sometime.

Undergraduate School and Degree: National University of Singapore, Chemical Engineering

Where was the last place you worked before enrolling in business school? Novartis, Manufacturing Supervisor for cardiovascular, oncology, and diabetes medications

Where did you intern during the summer of 2021? JP Morgan at their New York City location

Where will you be working after graduation? JP Morgan in NYC as a Healthcare Investment Banking Associate

Community Work and Leadership Roles in Business School:
Kellogg Student Association, VP of Clubs and Finance
Hawryluk Biopharmaceutical Scholar
Ex-officio board member of The Cradle (Golub Capital Board Fellow)
Kellogg South Asia Club, VP of Events
Healthcare Club, 1st year Director of External Marketing
Groupwerk, Dancer
Student Admissions Committee, Prospective Students Interviewer
Kellogg Dean's List: Fall 2020, Winter 2021, Spring 2021
Which academic or extracurricular achievement are you most proud of during business school?
One of the extra-curricular engagements that I've learnt a lot from is my role as a Golub Capital Board Fellow. In this program, 50 Kellogg students are selected to engage with a local Chicago or Evanston non-profit of their choice in board service and undertake strategic projects for their organizations over a period of 18 months. Over the last year, I've been involved with The Cradle as an ex-officio board member. Having never worked with non-profits before, the last year has given me such an amazing opportunity to understand what meaningful civic engagement looks like, and how I can use my skills in business school to support a non-profit's strategic goals (both during the program and after). I've been working with the organization's marketing strategy research, and it's been incredible to compare and contrast marketing for corporations vs. non-profits. Big shout out to Jackie Gibson, the VP of Marketing at The Cradle whom I've learnt so much about non-profit marketing from!

What achievement are you most proud of in your professional career?
In my role as a Manufacturing Supervisor, I was the first point of contact whenever something went wrong on the operations shopfloor. Any disruption in manufacturing or deviation from established procedures could critically delay the shipment of life-saving medication to patients. I used to work rotating shifts, so I often found myself standing beside a tablet (a.k.a. pill) compression machine at 3 am, troubleshooting a time-sensitive manufacturing issue while keeping the quality of the drug product and the safety of our patients and associates top of mind.

I often relied on the advice of manufacturing technicians who had an incredible wealth of knowledge and guided me with their experience – a minor change in process parameters could alter the drug product characteristics completely. I developed such a deep appreciation for the work we do on the shop floor, the tangible impact our work had in saving lives, and our commitment to patient safety. I will always remember my days as a woman in manufacturing with pride!
Why did you choose this business school?
Kellogg's offerings in healthcare stood out to me from day one. I knew very early on that I wanted to continue focusing on the pharmaceutical and biotechnology space and looked for academic, extra-curricular and professional opportunities in business schools that would give me the best access to this industry. I have benefited tremendously from the way Kellogg's healthcare curriculum is designed to complement our core classes. Some of my favorite classes have been Healthcare Strategy (taught by Professor Craig Garthwaite) and Biomedical Marketing (taught by Professor Tim Calkins) which layer on the nuances of the healthcare industry onto our core economics, finance, strategy, and marketing curriculum. Additionally, as a Hawryluk Biopharmaceutical Scholar, I've had the opportunity to interact with people who have had a tremendous impact across different verticals of healthcare such as Dr. Rick Silverman, Professor Peter McNerney to name a few.

Who was your favorite MBA professor?
This is honestly a tough one because I've had so many "a-ha!" moments in classes, especially since I come from a non-business background. One professor who has evolved my entire perception of finance is Professor José Liberti. He has drilled into us that finance is a lot more than just cash flows and costs of capital – it is understanding legal environments, corporate governance, ownership structures, who we are creating value for, and so much more! He also makes sure to individually reach out to each of his students when they make an insightful comment in class or if he feels they need additional support. His class is the most challenging class I've taken at Kellogg, but also incredibly rewarding. He is also really engaging, making his classes the shortest 3-hours ever.

What was your favorite MBA event or tradition at your business school?
The 'Hear My Story' series is one of my favorite traditions at Kellogg. It is a monologue-style series housed under the Diversity, Equity, and Inclusion pillar of the Kellogg Student Association. Each week, 4 students share their personal stories surrounding the week's theme – I've had the privilege of listening to authentic stories from students about their intersecting identities, mental health, lived experiences, and global perspectives. Each of us come to business school with one narrative informed by our respective identities and experiences – it's impossible for us to truly be empathetic of the hundreds of narratives around us if we don't take a step back to just listen and realize that we actually don't know it all. This series has allowed me to truly learn from the diversity of those around me and challenged me to be a good listener. Providing safe spaces for students to share their most vulnerable and authentic selves in front of hundreds of students is what makes Kellogg so amazingly unique.

Looking back over your MBA experience, what is the one thing you'd do differently and why?
I'd been warned about FOMO (Fear Of Missing Out) at business school tens of times before I got to Kellogg. The one thing I hadn't realized is that FOMO does not just apply to social commitments, but also to academic and extra-curricular opportunities! I wanted to be in all the great classes, take advantage of all the extra-curricular opportunities that were available, and attend all the incredible club events. It can be really hard to manage your energy while juggling the multiple expectations that you set for yourself at business school – I would highly recommend introspecting and listing out your priorities before you actually start and knowing that you honestly can't do everything!
What is the biggest myth about your school?
Business schools are generally considered highly competitive environments, and I've often heard the descriptor "sharp-elbowed." My experience at Kellogg could not be further from that. I recruited for investment banking and found support among my peers and the year above us in preparing for coffee chats and technical interviews. No one was looking to grab the biggest share of the pie for themselves but rather grow the pie itself. We kept each other informed of upcoming events, quizzed each other on technicalities, and built each other up during networking.

What surprised you the most about business school?
As an ambivert, I was incredibly happy to see that there were others at Kellogg in the introvert/extrovert spectrum. It eased the pressure to not have to feel my best social self all the time and continue to pursue hobbies on my own, in the comfort of my couch – i.e., catching up on Netflix regularly.

What is one thing you did during the application process that gave you an edge at the school you chose?
I started the application process really early and spent a lot of time reflecting on what differentiated one school from the other for me. As I mentioned earlier, finding a school that provided healthcare opportunities was my #1 priority. Once you know what matters to you and why, it becomes easy to present yourself in the most authentic way possible. You will automatically find yourself aligning with the school's values, instead of retrofitting your story to what you think the school is looking for.

Which MBA classmate do you most admire?
Sammy Goldstein – she is the President of our Kellogg Student Association, a treasured friend, and an incredible human being. I've had so much respect for Sammy from the first day we met, and discussed running together on a slate for KSA exec. Our slate ran on the theme of "connection" – and she has lived by that commitment! Over the past year, I've seen her strengthen communication channels between students and the Kellogg administration, represent diverse voices to the best of her ability, and prioritize transparency. In a year where the pandemic has evolved so much, I'm glad we had her partnering with the Kellogg administration to keep us safe and in-person as often as we have been. I have no idea how she does it all, but she is truly an inspiration!

Who most influenced your decision to pursue business in college?
My husband, Sai! We both found ourselves at crossroads in our respective careers and knew that now was the time to take a leap of faith. We really loved our lives back in Singapore but realized that this was the right time for both of us to challenge ourselves professionally and personally. He is a second-year MBA student at University of Chicago's Booth School of Business, and it has been such an incredible experience to go through the MBA experience together. The decision to do an MBA is definitely a big one, and I'm glad I had my biggest support system right here with me!

What are the top two items on your professional bucket list?

1. Become a board member for a non-profit in my hometown of Chennai, India. Having moved around quite a lot as a child, I regret not having had more time in the city I was born in and have so many emotional ties to. I hope to someday give back to the local community, even if I have to do it from across the world.

2. Encourage more women to explore the world of finance. Though this goal is hard to quantify, this is a topic I feel very strongly about. The industry can definitely benefit from diverse perspectives and is slowly working towards dismantling barriers of entry for underrepresented voices. I'm very new to the world of finance myself, but I hope to someday inspire more women to consider a career here.

How has the pandemic changed your view of a career?
The pandemic has made me a little more comfortable with uncertainty. Earlier, I would try to plan for any and every eventuality but I now know that that's not possible. The last few years have definitely tested our resilience, but also taught us that things will figure themselves out!

What made Bhavana Balakrishnan such an invaluable addition to the Class of 2022?

"I have had the unique pleasure of getting to know Bhavana Balakrishnan as a Fellow in the Golub Capital Board Fellows program at Kellogg. For the past 15 months, I have supported Bhavana as she has served as an ex-officio board member and taken on a strategic project for The Cradle, one of the initial adoption and child welfare agencies in Chicago. I have also observed her engaging with her peers in the 50-person Board Fellow cohort.

During her tenure at The Crade, Bhavana has made a tremendous impact. As her mentor, Board Member Jeanne Enright, says: "Working with Bhavana gave us a fresh perspective. Bhavana has the drive and the intellectual curiosity that challenged us to think about The Cradle in a different way. Her work with The Cradle's board made us stronger." Indeed, Bhavana has brought rigorous attention to detail in every aspect of her project with The Cradle.

She has also brought her strengths of empathy, flexibility, and persistence. Within months of her initial engagement, the organization announced a transition in the CEO position. Bhavana built strong relationships with the outgoing, interim, and incoming CEOs, and with Board members. These relationships enabled her to remain relevant and in touch with the current needs of the organization. Throughout her experience, she has demonstrated flexibility and creativity as she defined and re-defined her strategic project to better match the organization's evolving priorities. She approached this experience with persistence, and optimism, which has not only helped her make the most of the Fellowship but has also helped The Cradle bridge turbulent times. As Jackie Gibson, VP of Marketing, Brand, and Communications at The Cradle, notes: "From the very beginning Bhavana was proactive about offering to help The Cradle however she could. Her attention to detail in the competitive audit and interpretation of our audience data have propelled our marketing strategy forward."

Bhavana is sure to apply these same leadership qualities to any challenge she confronts. It has been a joy and inspiration to know her and to see her share her experience with her cohort."
Allison Henry
Clinical Assistant Professor in Kellogg's Social Impact Program
Director of the Golub Capital Board Fellows Program