Start of Main Content
A bike ride that changed my life: My path to an MBA
A lakeshore bike ride to Evanston first got Awuley Quaye '22 MBA thinking about a Kellogg MBA. Now poised to graduate, he reflects on the skills and community he gained from the Evening & Weekend Program.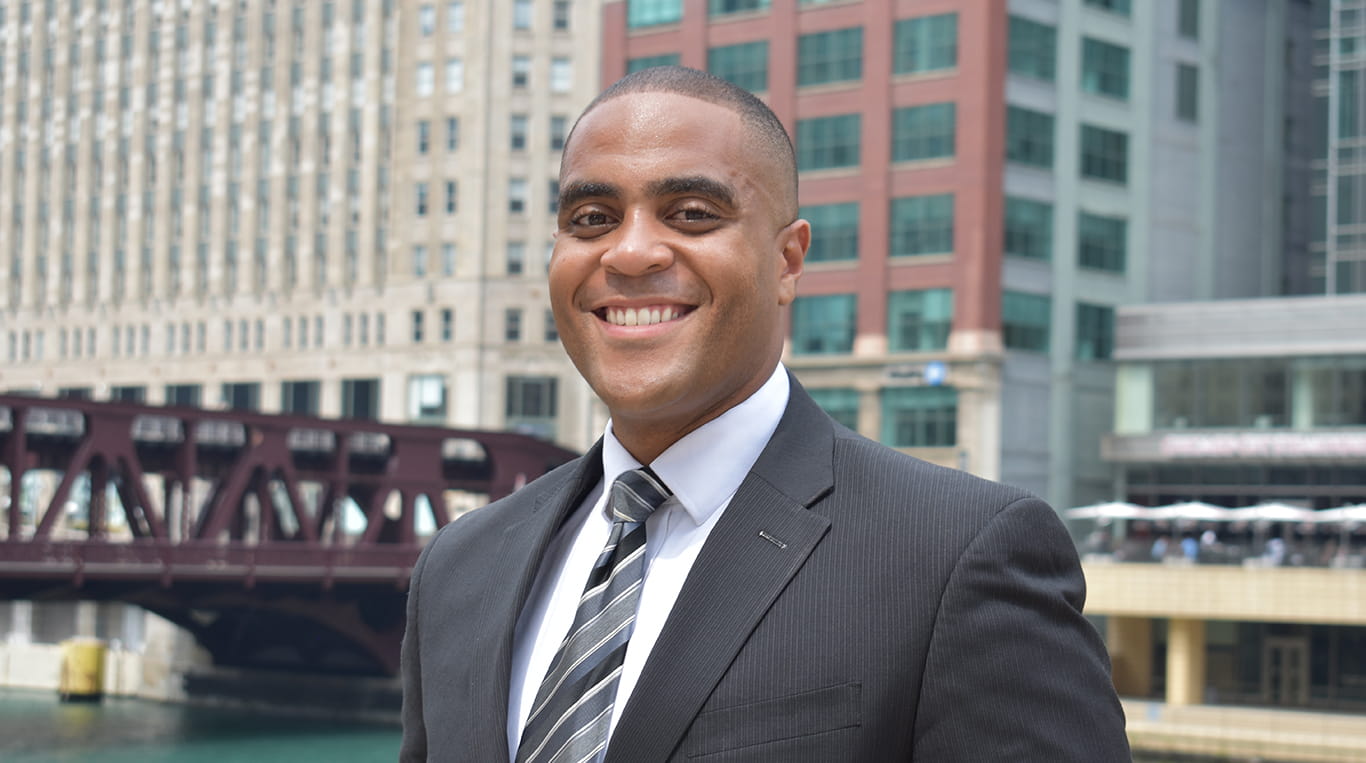 By Awuley Quaye '22 MBA
Evening & Weekend MBA student
I never thought a bike ride could change my life. But now as I near the finish line of an MBA journey that has transformed me in every way, I know now that my wheels hitting the pavement that day more than two years ago were bringing me closer to my future.
It was a Tuesday afternoon, but, this being the spring of 2020, things were anything but ordinary. Life under lockdown during the first months of the coronavirus pandemic had left me and so many other people with more extra time than ever before.
To stay active and get out of the house, I took up cycling as a hobby. So that particular Tuesday, I decided to bike the 15 miles up the shore of Lake Michigan to Evanston from my neighborhood in downtown Chicago. On a whim, I steered my way to the Northwestern campus.
I was stunned. As I glided past the impressive buildings, I found myself in awe at the campus' beauty. But I realized I was also responding to the energy of being close to an academic setting. I had often thought about getting my MBA, but in that moment, I knew two things: 1) I would make it happen and 2) I would get my degree from Kellogg.
Leveling up and standing out
I'm fortunate to have spent my career so far at Goldman Sachs, where I've been surrounded by some of the smartest, hardest working and most motived individuals I've met. I knew that a Kellogg MBA would help me gain the skills I needed to get to the next level and stand out at work.
Many people come to business school with the goal of changing careers entirely, but I'm not one of them. My objective was to double down on the skills I already had to make them more refined to help launch me even further within my existing career. To do that, I chose to enroll in the Evening & Weekend MBA Program and pursue a finance major to add significantly more depth to the knowledge I already had in the space. I took classes at the school's downtown Chicago campus, which was super convenient to my place.
The MBA courses in finance have given me a more thorough understanding of the field, through classes such as Corporate Finance, Investment Banking, and Macroeconomic Policy and Capital Markets. One of the most rewarding aspects of the part-time MBA experience has been learning a concept on a Monday night in class, then using that knowledge on Tuesday morning in meetings with clients and prospects.
Pushing my boundaries
I knew that during business school, I also wanted to focus on improving my skills in communication, negotiation and sales. As a sales person at within the asset management division at Goldman Sachs, we are always challenged to find new and innovative ways to connect with our clients. I found that Kellogg offered the curriculum to help me do exactly that.
Courses such as Persuasive Presentations, Advanced Negotiations, and Entrepreneurial Selling have significantly enhanced both my communication and sales skills. Again, I love the fact that I can pick up a skill in class at night then go apply it in the real world the very next day, leading to tangible results at work.
Choosing Kellogg was one of the best personal and professional decisions I have ever made. I gained a group of lifelong friends, deepened my professional network and obtained a set of invaluable skills that I believe will carry me far in life. The collaborative environment here has attracted some of the brightest and most creative minds in the world. As I prepare to graduate this year, I know that I will always be proud to be connected to this truly special community.
The bike ride to Evanston more than two years ago that ultimately directed me business school was the start of a new path forward in my life, and I am so happy I took it.
Read next: Faculty in focus — Marketing and AI with Jim Lecinski