Start of Main Content
Building an Executive's Toolbox
A recent Kellogg Executive MBA alumnus shares how the program helped him sharpen essential skills and gave him the personal development he needed to gain a career advantage.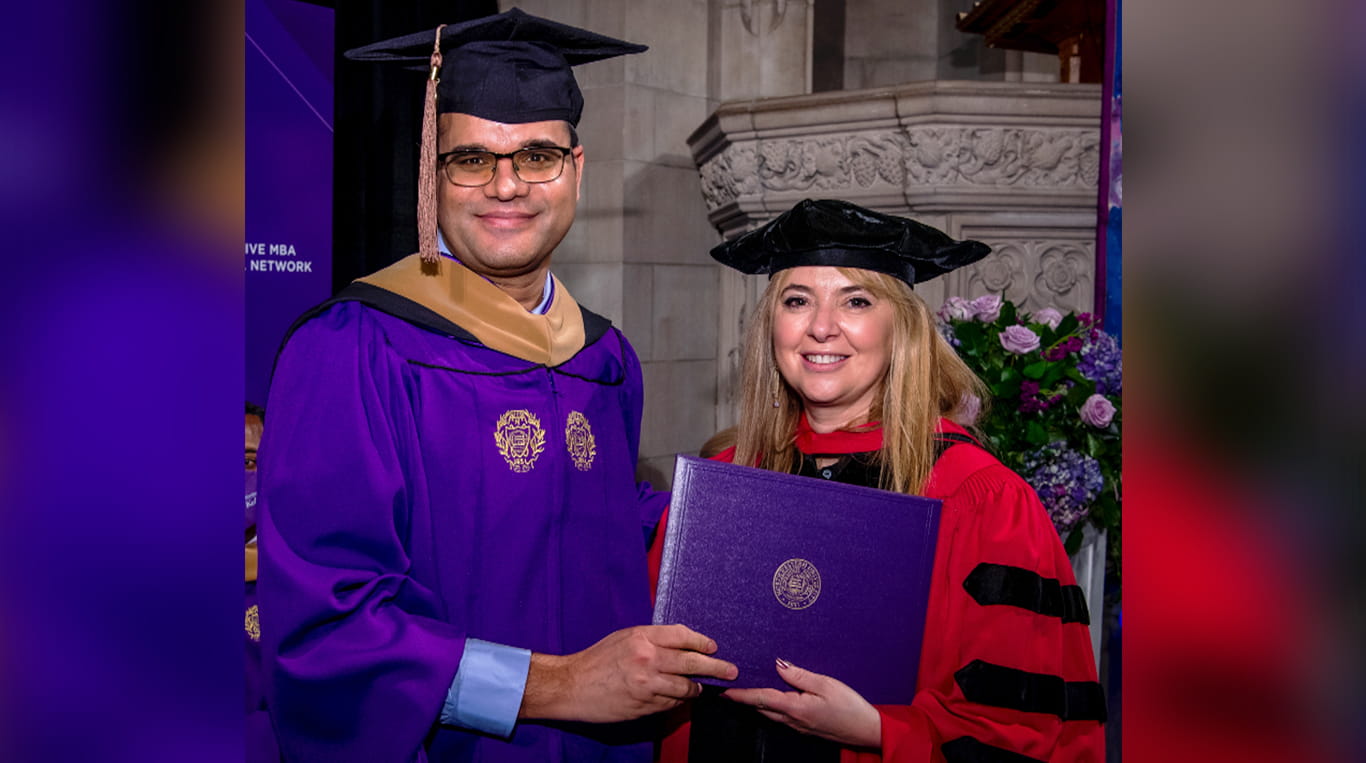 We recently caught up with Executive MBA graduate Ajay Kumar Gautam '21, a Sr Manager II, Software Engineering (Associate Director) at Walmart Global Tech who graduated from the program last December. Here, he shares some highlights from his time in the program.


"One can choose to go back toward safety or forward toward growth. Growth must be chosen again and again, and fear must be overcome again and again."
After two years of hard work and an enriching learning experience, I graduated from the Kellogg Executive MBA Program in December 2021. I came across this quote during my EMBA experience, and it has stuck with me ever since. It wasn't easy balancing work, my kid's online classes, traveling to and from Chicago on the weekends and preparing for work on Mondays. But joining one of the world's top-ranked EMBA programs is one of the best investments you can make in your future. This degree has given me a toolbox of quantitative and soft skills in business and management to advance my career.
What my two-year EMBA journey taught me
First, I learned how important it is to seek help. Since I've been in information technology for a long time, areas like finance, marketing and economics were not in my field. In the first semester, I was immediately challenged by a marketing assignment, and after a couple of hours of not understanding the assignment, I e-mailed Professor Aparna Labroo. I received a response immediately, we set up a call, and we figured it out together. This is just one of many experiences I've had with professors at Kellogg who have demonstrated their passion for being available to students. Sometimes requesting help is the greatest challenge.
Second, I also gained a new appreciation for both feedback as well as self-reflection. Feedback is about listening actively, taking the time to analyze, and then thinking of the best possible solution to perform better. It provides positive criticism and allows to see what everyone can change to improve their focus and results. It's easy to keep looking at the horizon toward your next goal, constantly comparing yourself to others (career advancement, financially, etc.). Through the program's Design Your Journey approach, I learned how to reflect on my journey and celebrate my achievements.
And finally, the program's ideal curriculum gave me a multi-disciplinary perspective on real-world business. Executive Perspectives on Leadership taught me how to lead a global team, while the Leadership and Organizations course refined my leadership skills. My course on Ethics and Executive Leadership helped me define my career goals further. And Strategic Decisions in Operations deepened my understanding of how to make strategic-level decisions and recognize their impact on corporate financial performance.
Why the Kellogg EMBA is different
Everyone I met embraced an attitude and mindset of "Low Ego High Impact." My cohort of 72 team members all came from versatile backgrounds with positive synergy. I was very impressed by their experience and dedication as they were willing to spend their time learning from one another.
Salute to Kellogg's management (Francesca Cornelli, Greg Hanifee, Colette Feldges and others) and the way they handled all the situations and gave confidence to learn in pandemic as well. They were able to provide a world-class experience to us, world-class faculty and the world's No. 1 ranked Executive MBA program. Joining Kellogg's best-in-class Executive MBA program is one of the best investments you can make in your future.
I also had the privilege of learning from so many stellar professors that it's hard to pick just one. Some of the professors who gave me a well-grounded perspective of business and life skills were:
Marketing, Aparna Labroo: Thank you very much for the course. I enjoyed every minute of your lecture as well as your marvelous sense of humor.
Finance, Mitchell A. Petersen: Thank you for these exciting two years! I always like having you as a professor and I appreciate your availability. It's very important to me that you check up on things, because school can get pretty stressful.
Leadership, Brian Uzzi: Thank you for your dedication, organization, enthusiasm and hard work. You're an inspirational professor.
Gratitude during this moment
My Cohort & Team H: While doing the Kellogg EMBA, I came across so many people that were far more superior in intellect and stature than I could aspire to be. Huge shout-out to my group members (Team H) and thank you to them for teaching and challenging me every day.
My Family & Friends: Mom, Dad, siblings, and their family, thank you for believing in me throughout this journey and your blessings! Special thanks to my brother-in-law and his wife who shared their learnings and experience with me on time to time. My amazing wife Madhu Gautam, who keeps me grounded and has been my pillar for strength. Despite her own professional commitments, she not only filled in for me with the kids but was there to encourage and motivate me throughout the journey. My 10-year-old son (Gauransh) and 7 years old daughter (Anika), who always motivated me to finish my assignments quickly so that they could spend time with me.
My Team: Special thanks to my fantastic office and leadership team (the clinical services team at Walmart Health and Wellness) who stood behind me so that I can focus on school. And finally, thank you to my friends – what an incredible feeling of coming full circle and you all make that happen by cheering me on every step of the way.
I am excited to see what the future holds. Congratulations to everyone (Cohort 122 & 123) in the class of Dec 2021, the adventure continues. I look forward to continuing the Kellogg journey as a Kellogg alumnus!