Start of Main Content
Celebrating Asian American & Pacific Islander Heritage Month
Meet the AAPI student clubs at Kellogg, and discover upcoming events celebrating this month.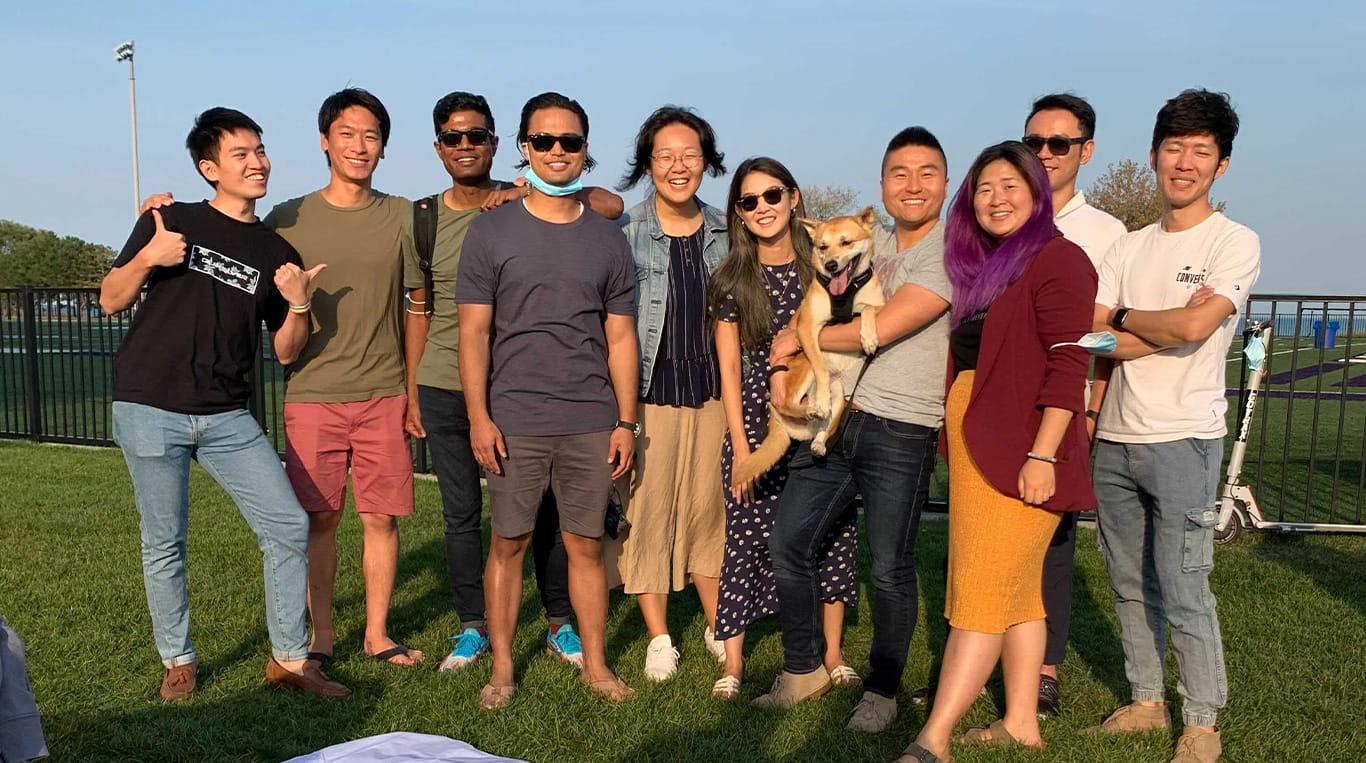 Kellogg is committed to fostering an inclusive culture representative of the diverse communities across the country, and as we turn the page to a new month, we celebrate Asian American & Pacific Islander (AAPI) Heritage Month. The contributions of Asian Americans and Pacific Islanders have played a crucial role in shaping the nation.
Kellogg has a strong network of clubs, organizations, activities and events to connect its leaders from our student, alumni, faculty and staff communities, and we're proud to elevate these communities year-round.
Learn more about the Kellogg Asian-affiliated student groups below, and check out a list of upcoming student-planned events and resources to better understand and support AAPI communities.
Clubs
Asian Management Association
The Asian Management Association (AMA) provides a home for all Asian-affiliated students by bonding through social activities, promoting cultural understanding, helping explore career opportunities and connecting members to a strong network of club members, alumni and business leaders.
Visit the club website for more information.
South Asia Club
The South Asia Club seeks to bring the myriad flavors of Indian culture and business to the Kellogg ecosystem. They provide onboarding support, recruiting guidance and a home away from home for students from the Indian sub-continent. At the same time, they help their peers at Kellogg better understand the business ecosystem in India and Asia Pacific through events, speaker sessions and small group dinners.
Visit the club website for more information.
Southeast Asia Club
The Southeast Asia Club connects Kellogg students from Southeast Asia or those who are interested in Southeast Asia. Their members comprise Southeast Asians as well as students of nationalities from all over the world.
The club aims to develop a strong alumni network for the Southeast Asian population at Kellogg and celebrate and share the Southeast Asian culture with the greater Kellogg community.
Visit the club website for more information.
Greater China Club
The Greater China Club (GCC) aims to build a supportive and dynamic community for students from Greater China and for students who are interested in the culture and business of this region. GCC strives to strengthen Kellogg's ties with the Greater China region. GCC has over 300 active members including students from the Full-Time MBA, Executive MBA, JD-MBA, and Evening &Weekend MBA programs.
As one of the largest affiliate clubs at Kellogg School of Management, GCC is a great platform for Kellogg-wide involvement in a variety of academic, recruiting, alumni, admissions and social activities.
Through active engagement with business communities connected with the Greater China region, GCC seeks to create more opportunities for its members to grow as future business leaders.
Visit the club website for more information.
Events
May 4 – Greater China Business Conference
Details: The conference brings together a unique and inspiring group of speakers to discuss the latest insights on the China market.
May 11 – India Business Conference
Details: The conference will host key sessions and fireside chats with expert panelists to examine the political, social and economic change needed to chart the next phase of India's growth.
Asia Week (hosted by the Asian Management Association, May 2 – May 6, 2022)
May 2 – Career TED Talks
Details: Join AMA for an exciting TED Talks–style event where three alumni from consulting, tech and VC will share their career stories about their professional trajectory and insightful advice from their experiences.
May 3 – Myth Busters with Jerry Won
Details: Learn about the diversity within Asia with master storyteller Jerry Won. He's worked with some of the world's most recognized brands in corporate and higher education, speaking on a variety of topics including authentic storytelling, personal branding, the creator economy and the Asian American experience in the workplace.
May 5 – KMC (Kellogg Marketing Club) x AMA Prof. Hennessy fireside chat with Lin Jiang, founder of Yishi Foods
Details: Kellogg Marketing Club and Asian Management Association is excited to welcome Lin Jiang, who will share her journey as a founder of Yishi Foods, a CPG oatmeal brand featuring flavors inspired by her childhood and Asian heritage. The fireside chat will focus on 3 topics: Yishi Foods' marketing evolution, Jiang's fundraising experience with being a WOC founder, and the line between tokenization and representation in the lens of Asian food CPG products.
May 5 – Hear My Story
Details: Students will come together to share personal stories that highlight their Asian and/or Asian American experience in America.
May 6 – Champion Your Stories Panel
Details: How do you navigate your identity and career journey after Kellogg? In this session, two Asian alumni, a faculty member and business leader share their journey in understanding and embracing their identity in their personal and professional life.
Panelists include:
Aaron Fung — Inclusion and Diversity Business Partner at Pinterest; Co-president of the Midwest chapter of Ascend, a nonprofit membership organization that develops pan-Asian business leaders in corporate America and Canada
Cynthia Wang — Clinical Professor of Management & Organizations and Executive Director of Kellogg's Dispute Resolution and Research Center
Elmer Almachar '20 — Senior Director of Strategy, Change & Insight at Kellogg, and former team leader at McKinsey & Co.
Sheau-Ming Ross '04 — CFO at Chicago-based technology startup ModelOp
South Asia Week (hosted by the South Asia Club, May 10 – 14)
May 10 – Lunch & Learn "Building Brands in Emerging Markets" with Prof. Mohanbir Sawhney and Ankur Jain
Details: Join professor Mohanbir Sawhney in conversation with Ankur Jain (Founder, Bira 91) to unpack the story of India's first craft beer start-up and its phenomenal growth. Gain insights into creating new consumer categories and building brands in an emerging market.
May 10 – Groupwerk Showcase (featuring Chinese fan dance, Bollywood fusion)
Details: Take a break from studying to come watch Kellogg's BEST AND FINEST dance crew werk it on stage.
May 14 – Bollywood Bash
Details: Get your dance on and join the South Asia Club for their largest event of the year: Bollywood Bash. Presenting a variety of dances that stem from all over South Asia, the dance styles resemble freedom of expression and are a form of celebration that bring family and friends together.
Resources
Check back for new posts and follow Kellogg on social (Facebook, LinkedIn, Instagram and Twitter) as we share stores from the Kellogg community all month long.