Start of Main Content
The many paths toward impact at Kellogg
With so many ways to make a meaningful difference in the world, we asked our community: "What does 'impact' mean to you?"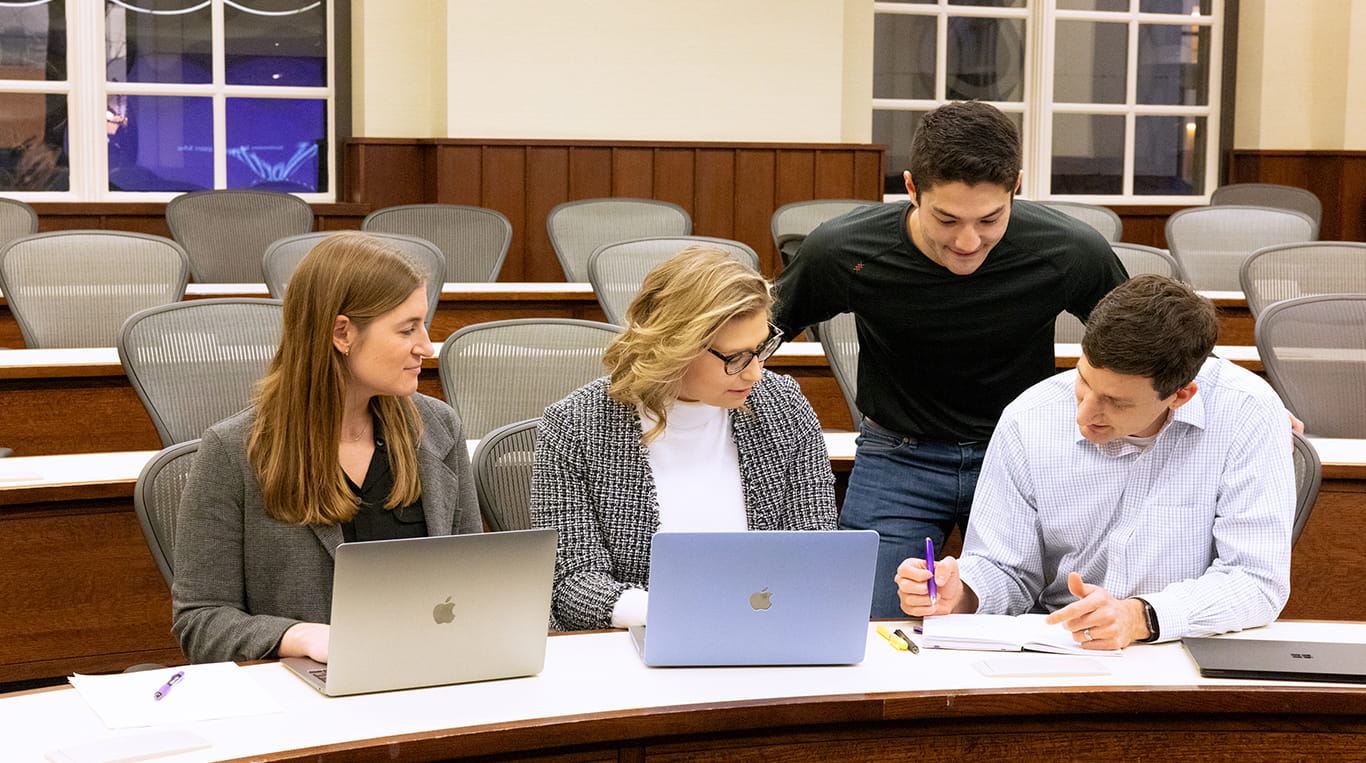 Each day presents a new opportunity to make an impact. And each day, students, graduates and professors of the Kellogg School of Management dedicate their time and energy to intentional, purposeful projects that push forward the frontiers of what's possible.
Their pursuits span an incredible breadth of interests both big and small — from implementing a new strategy at work to fostering dynamic conversations or even envisioning business opportunities that don't yet exist. But regardless of a graduate's ambitions or industry, the ability to make a meaningful difference in the world is a hallmark of a Kellogg leader.
"We consider social impact to be a management discipline," said Megan Kashner, clinical assistant professor and director of social impact. "At the intersection of impact and markets, our students and alumni are learning and deploying tools and skills — across finance, strategy, management, operations, technology — that can bring that impact lens to whatever they might be doing."
Often, "impact" at Kellogg involves bold actions. Kellogg students aren't afraid to take risks, especially when opportunities align with their passions and their drive to create change.
Take entrepreneurship, for example: Kellogg students and alumni founders have raised $12 billion in the past 10 years. The social entrepreneurs of Kellogg are using this influx of funding to make their ambitious plans a reality. For example, Olivia Cameron '20 co-founded Poppins Health, which helps small businesses provide better, less expensive health insurance for their employees, and raised $5.4 million in 2021. Another founder focused on social impact, Justin Allen '22, launched real estate startup Vet Equity, which provides U.S. military service members the equity benefits of homeownership even while renting or relocating for work.
Other students make an impact in the corporate world: One member of a recent incoming class was the technical lead in developing a new therapy for cervical cancer patients; another created a project that dramatically increased the number of women serving on company boards in his home country. A third designed the first pride-themed can for a global beverage brand.
No matter where students' passions lie, Kellogg provides an array of experiences both inside and outside the classroom to spark their curiosity. In terms of academics, curricular pathways dedicated to social impact; diversity, equity and inclusion; and energy and sustainability ground students in the latest thinking on these topics. Such courses are popular across the student body: More than one-third of last year's graduating Two-Year MBA class took three or more social impact electives during their time at Kellogg, including students whose main career focus is not social impact. And beyond the classroom, more than a dozen social impact-related student clubs support exploration and foster real-world learning opportunities.
Likewise, Kellogg professors and their research continually make an impact on the most pressing business issues of the day, breaking new ground and illuminating our understanding of the world around us. For example, Nicole Stephens, the Jeanne Brett Chair and professor of management and organizations, has done striking research on how misunderstandings across culture divides can lead to systemic inequality. And Brian Uzzi, the Richard L. Thomas Professor of Leadership, found what he calls the "special sauce" of mentorship, suggesting that learning how to think matters more than simply gaining field-specific expertise.
"I think Kellogg has a very special place in the social impact world," said Karin O'Connor, clinical assistant professor in entrepreneurship. "We select our students not only for their brains and analytical prowess, but also because they are thoughtful and empathetic people. I think those two skill sets combine nicely in the social impact world."
To dig deeper into what it means to make a difference, we spoke with four members of our community about what "impact" means to them and how they are using the transformative power of a Kellogg education to change the world. Read on to learn their stories:
Professor Noshir Contractor
Professor Contractor's cross-disciplinary research is helping teams — in outer space and on Earth — collaborate more effectively.
"My colleagues and I like to believe that our computational modeling forecasting platform to help predict team dynamics in extreme situations for Mars will have lots of payoffs back on Earth. We are beginning to see organizations think about how we can use these tools to assemble dream teams."
Ashley Thurmond Abraham '22
A Full-Time MBA student and entrepreneur, Ashley aspires to make a difference on a person-to-person level.
"I wanted a community that was very supportive and collaborative — a place where I could learn from my peers, where I could ask all the questions that I had, and also where I felt like I could offer a lot. I felt like Kellogg was a space that really values the student voice."
Jonathan Chaparro '22
A nonprofit executive and Executive MBA student, Jonathan wants to make high-quality education and career success more attainable for first-generation college students.
"I still deeply believe in the power of education to fuel upward mobility. Part of the reason why I'm in the Executive MBA Program is because I want to leverage my education to continue to grow professionally."
Christine Cornellier '22
An Evening & Weekend MBA student, Christine is is passionate about driving social impact in everything she does.
"People really wanted to share why they're interested in impact and why they like their jobs. And that helped me understand how they had made decisions and how I could apply that to my own career."