Start of Main Content
The 2022 Kellogg Tech Conference: Making Tech More Human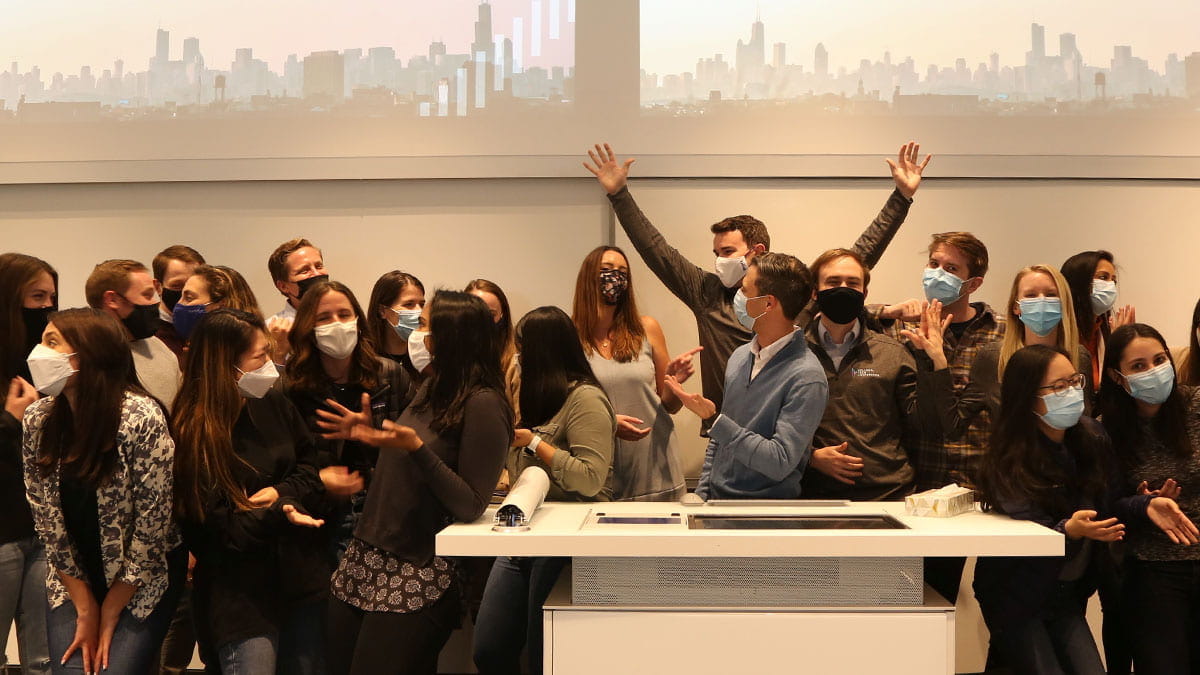 By Katie Muse (she/her) and Joey Couture (he/him), both 2Y, 2022
In Spring Quarter 2021, we learned we would be co-chairing the 2022 Kellogg Tech Conference after serving as first-year directors on the speakers and operations teams. Our first task was to develop a theme that would be both relevant and thought-provoking. We found in our first efforts that we bumped up against the same question, time and time again: Why does Kellogg have a tech conference?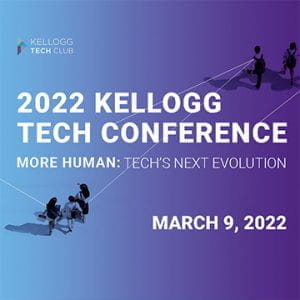 There was a nearly ten-year gap between the last tech conference at Kellogg and the 2021 conference, which brought together industry leaders in unexpected spaces, such as social equity and international policy. Our work on the conference in 2020–21 showed us how many Kellogg students and alumni were interested in tech — not just professionally, but in the way tech intersects with our lives. 
Tech is one of the most popular recruiting industries at Kellogg, with 30% of full-time students accepting a job in tech in 2021. And recently, Fortune announced that Kellogg sent more graduates to FAANG tech companies (Facebook, Apple, Amazon, Netflix, and Google) in 2020 than any other MBA program. This doesn't even include the amount of students who accepted roles in smaller "big tech" companies, startups and tech-related roles in other industries, like retail, healthcare and education. These trends demonstrated to us how critically important it is for Kellogg, via the conference, to have a point of view on what makes a strong leader in tech.
In short, Kellogg has a tech conference because we have a unique point of view about what it takes to lead in the industry. We believe the skills needed to tackle gritty challenges in technology extend beyond the technical to the human — centered on empathy, inclusion and ethical leadership, which Kellogg excels at more than any other business school.
This perspective goes beyond the principles of human-centered design and innovation. It encompasses human-centered skill sets that shape brave and inclusive leaders.
This year's conference theme, "More Human: Tech's Next Evolution" sparks an exploration of the tension between tech innovation and the human experience. Where can tech enhance the human experience, and where must we improve our development and implementation of new technologies? How do industry professionals drive inclusion and make ethical decisions at all levels of leadership? We intend to explore deep questions like these, because we believe it's essential to do so. 
As co-chairs of this incredible opportunity to solidify Kellogg's brand in the tech industry, here's what we're most excited for at this year's conference:
Katie Muse
"I'm particularly excited to welcome speakers at all levels of seniority in the industry, and from diverse backgrounds and areas of expertise. For example, our opening keynote speaker is Neha Parikh, CEO of Waze, the innovative navigation app with major network effects for its users. We'll also feature an Evolving Tech Showcase, where Kellogg-founded startups like Verilytix (Toby Velte, EMBA '21; Quinton Krueger, EMBA '21) and Cravosity (Malvi Hemani, MMM '21; Shashwat Sinha, MMM '22; Drew Burkhard, 2Y '22) will share what it takes to truly innovate and take hold in a rapidly changing tech marketplace."
Joey Couture
"Audience Q&A is always one of the most powerful elements of a Kellogg conference. As we just witnessed at KBHC in January and at BMAC in October, it's a huge opportunity to engage with alums and experts who are working in-industry to solve big problems. Given that the 2021 Kellogg Tech Conference was virtual, this year's in-person conference will give attendees more than just the opportunity to raise their hand — we are intentionally creating programming that increases the amount of engagement between speakers, sponsors, and attendees. Conferences like these can raise as many questions as they answer, and we hope to inspire provocative discussions about the tech industry, innovation and leadership."
Here's how you can engage with us!
The conference is open to all attendees. Register for the conference on Eventbrite.

If remote attendance is best for you, reach out to techconference@kellogg.northwestern.edu for a code to unlock virtual tickets.
For the first time, the Kellogg Tech Conference is opening a resume book for Kellogg students and JVs. The link to upload resumes is provided when purchasing a student/JV ticket.

Follow @kelloggtechclub on Instagram for conference and club updates
Visit our website, www.kelloggtechconference.com for updates on our keynotes, panelists, and sponsors.
We can't wait to see you on Wednesday, March 9, 2022!