Start of Main Content
Alumna & Founder of Cravosity Shares Advice for Entrepreneurs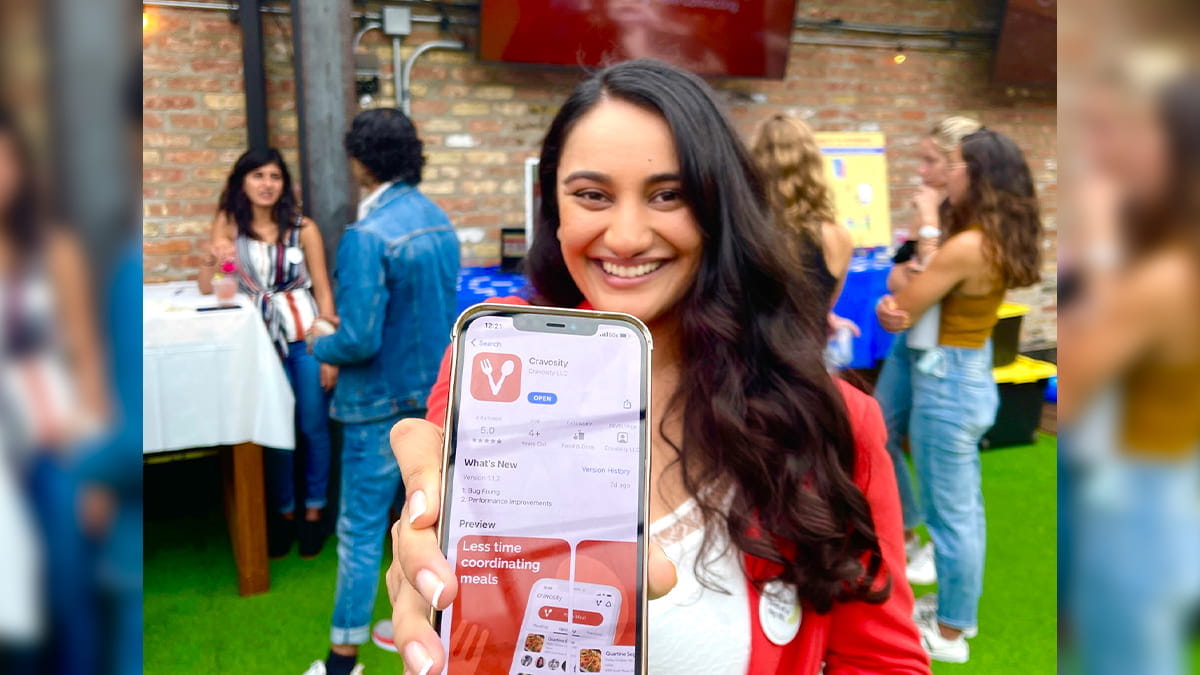 If you love food, going out to eat, or new female-founded startups, you have to check out this new, Kellogg-founded startup called Cravosity that just launched their mobile application in both Apple and Google Play stores! 
We had a chance to speak with CEO & Founder, Malvi Hemani '21, who wanted to share more about her experience founding the company. 
By Malvi Hemani '21
At the onset of the stay-at-home order in March 2020, I reflected on things I had taken for granted and was missing — both food and friends were high on the list. I'd been toying with the idea of launching my startup, Cravosity, for a few years, but decided there was no better way to spend quarantine than to try building it. My vision for Cravosity was to use technology to make the planning process for making reservations for a night out with friends more efficient and effective. 
As I entered my second year at Kellogg , I made the decision to really focus on iterating and testing Cravosity. But, I was scared of failure and worried about investing in more than an idea, especially when the restaurant industry was severely impacted by the pandemic.
However, the immense support I received through both my Kellogg peers and the community's resources were the force I needed to push me. It's not easy taking risks, so I want to share the three things I learned by taking mine. 
It's okay to serve your customers a product that is not perfect.

As a perfectionist, this was really hard for me to stomach. We spent months designing and prototyping the application down to every last pixel. However, until we actually launched and could gather feedback in the context of a real use case, we never realized what could be improved on or what was missing. 

You can perfect the product all you want, but until you put it in front of people and start testing, you won't get close to true perfection. The key is to communicate that you're in the early stages and you're iterating to make it better. The best advice I got that helped me move past my mindset was from Professor Rick Desai. He shared that even if the first several hundred customers are upset with flaws in the product, it won't matter once you're able to fix them (or even make it better than originally envisioned). Thousands will end up loving the product, which will only encourage those hundreds to come back. If those hundreds make up a big part of your target market, your idea might be too niche in the first place.
Don't be afraid to invest big and early if you believe in your product or service.

Investment doesn't just mean monetary, but also time and effort. There is a lot of value in taking time to ensure you have product-market fit, but there is also some value in taking a risk if an opportunity arises. For my team, the pandemic created a challenging dynamic in the restaurant industry and we wanted to launch our app earlier in order to strike when demand to eat out was high. That meant investing early and big in our v1 mobile app — a high, but calculated risk. 

Fear of failure is natural, especially as a sole founder, but you'll surprise yourself if you try.

I can talk for hours about my imposter syndrome and moments of doubt. In the beginning, no week went by without me questioning why I was doing this. However, just a month into launching our initial web-based beta, I found myself forming relationships with CEOs and CTOs of the biggest players in the industry. I was pitching as one of two women in a room of twenty-five amazing entrepreneurs. I still don't believe it, but I can confidently say that you will surprise yourself if you try, especially when the fire in you to pursue this idea is still burning. 
As I reflect back, I wish that I had started earlier and not been so scared to test my idea! There are so many ways that you can determine if your idea has momentum without spending lots of time or money. Today, we have grown to a team of eighteen executives and interns, and have a downloadable product with hundreds of users within the first two weeks of launch in Chicago. The team is thrilled to have already curated dozens of plans for friends who want to connect, and we cannot wait to help more planners save time as we prepare for our next city launch in Washington D.C. Follow our Instagram to stay up-to-date and participate in free giveaways: @cravosityusa. 
None of this would have been possible if I didn't take a leap. Honestly, there is never a perfect time so don't be scared to just try; even if it fails, you will learn something.