Start of Main Content
This Black History Month, a professor reflects on the mentors who shaped her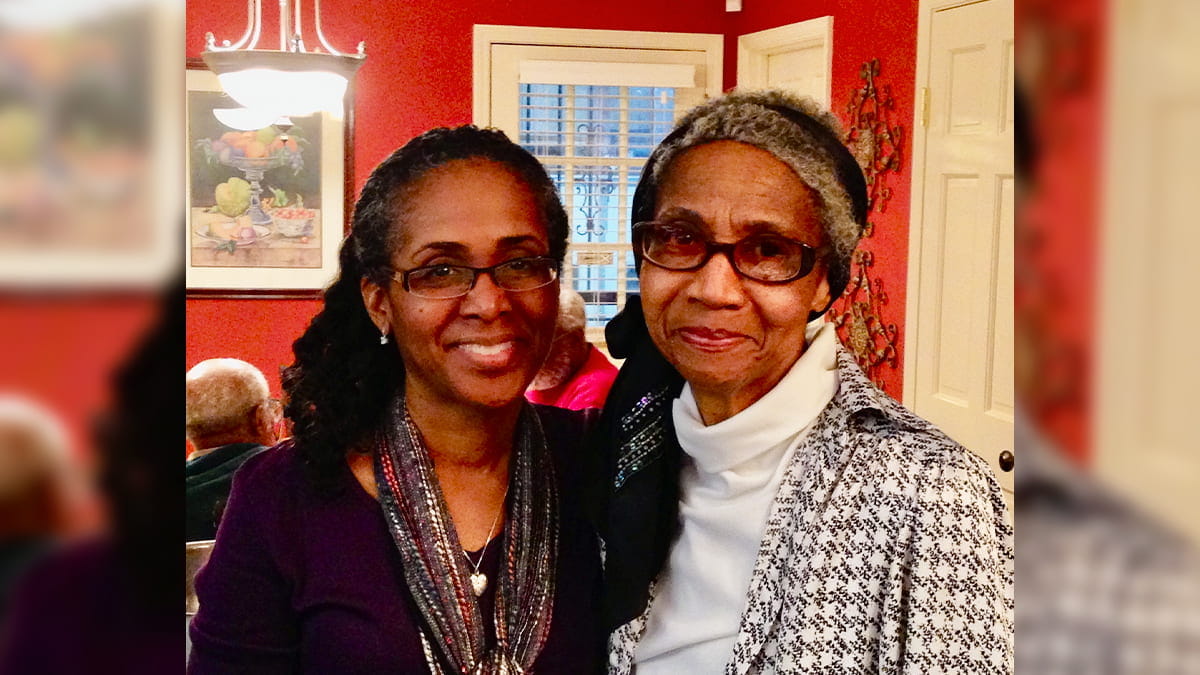 For professor Brenda Ellington Booth (pictured above at left), a career in education felt like a natural choice. In honor of Black History Month, she reflects on the family members and mentors who changed the course of her life and career, especially her mother, pictured with her above. Ellington Booth, Clinical Professor of Management & Organizations, also shares what she hopes to achieve with her new Kellogg class, Leading with Empathy.
Black History Month is an opportunity for me to pause, reflect and be grateful for the position I have right now. I come from a very humble background: I was raised by a single mother as my father passed away when I was very young. For most of my life, we lived with my grandparents. My grandfather was a janitor, and my grandmother was a part-time postal worker. Neither of them had an education beyond elementary school due to the Jim Crow laws of the South. However, they loved and supported me and showed me how to make the best of whatever life throws your way. I feel a deep sense of gratitude towards my grandparents, and in particular, toward my mother, who made countless sacrifices that allowed me to get my education. My mom was an elementary school teacher, and that is where I first started to fall in love with learning. I grew up going to her classrooms, and I told her I wanted to be a teacher. She replied, "It's good to be a teacher, but become a college professor." I listened to her guidance … and here I am, decades later, a college professor.
I have always felt that education was in my blood. My great aunts created and ran a school in Atlanta, Georgia, and educated my father and his siblings. Because of segregation, it was the only way for him to have a decent education. He went on to graduate from college at the age of 16. One of my great aunts was one of the first African Americans to get her PhD at Northwestern University in library science.  That is a big part of why I feel so grateful and privileged — no one ever would have guessed that I would make it to this point. Through sheer determination, hard work, an incredibly supportive family and luck, I find myself at Kellogg.
My time as an undergraduate at Stanford shaped me in many ways. I took a course called Interpersonal Dynamics, taught by Helen Schrader. The class explored how to develop empathy for people with different lived experiences. I found it powerful because I was able to listen to the lived experiences of others. It was also the first time I was able to talk about what it was like to be a Black woman at Stanford. I recall one white student who had no exposure to diversity other than when he came to college. He was full of stereotypes, but our professor created a safe space for all of us to learn and grow, that student included. The professor changed so many hearts and minds. I never forgot that experience. We all walked away as different people and, eventually, better leaders.
The experience I had as an undergraduate has now come full circle. Inspired by Helen, I am preparing to debut a course this spring called Leading with Empathy. The course will focus on self-awareness, social awareness and empathy. There will be a lot of sharing of life experiences, and I hope that all students can find and share their remarkable, unique voices while learning from others. Like Helen, I will create a place where people can tell their individual stories without fear of judgment. The course is rooted in the spirit of having a growth mindset; I will intentionally have students engage in substantive conversations with their peers who have different lived experiences.
We are all guilty of living in our bubbles (myself included), but we must make a conscious effort not to stay in our bubbles. My hope during Black History Month is that we all get to know each other as individuals. Kellogg has a lot of diversity; I hope we can all relish and take advantage of it.