Start of Main Content
Inside Kellogg's student-run Private Equity and Venture Capital Conference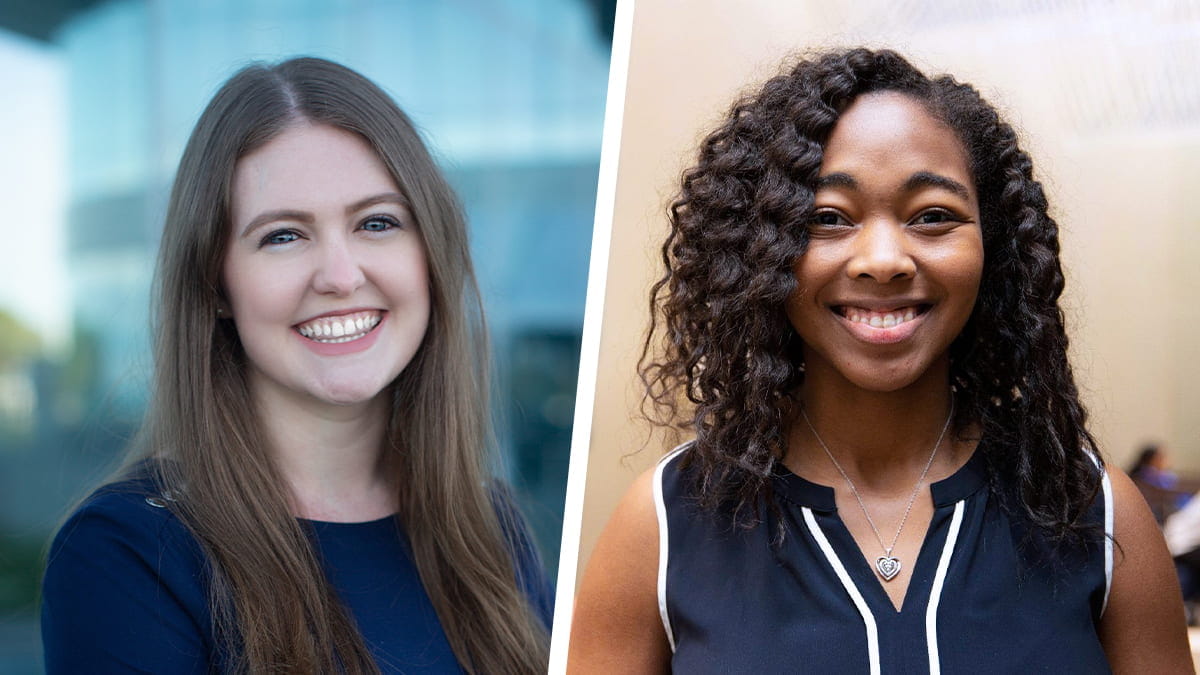 The annual student-run Private Equity and Venture Capital Conference is just one of many opportunities that Kellogg that students have to build relationships and find opportunities in this field. Ahead of this year's conference on Feb. 9, co-chairs Katie Nagley ('22, JD-MBA) and Morgan Jacob ('22, 2Y) sat down with us for a chat about all things PE/VC at Kellogg.
What drew you to lead this conference? What about the industry is interesting to you?
The number of students interested in private investing at Kellogg has exploded the past few years. We have phenomenal professors recognized as thought leaders and accomplished alumni across the private equity and venture capital industries. Dean Cornelli, student clubs, Private Equity Lab and Venture Lab, faculty and the Career Management Center are all working hard to foster the finance talent at Kellogg and connect students with internships and post-grad opportunities in private investing.
At the same time, the nature and landscape of private investing deals has changed significantly over the last several years. The conference is an exciting way to bring together members of our community and showcase Kellogg's leadership in the space.
What are some topics you're looking forward to hearing from speakers and panels this year?
We have two wonderful keynote speakers, Tricia Glynn and Fern Mandelbaum. Both of them have worked on exceptional companies across multiple industries. Additionally, both have taken smart risks in their careers at incredibly significant times, and as students this is a phenomenal opportunity to learn from them.
For the panels, we decided to have a more intimate panel format to facilitate thoughtful conversations that delve deeply into topics and show the wealth of knowledge each speaker brings to the table. Students are looking forward to hearing from panelists about the increased focus on ESG, firms' commitment to investing in underrepresented founders, and sourcing deals in this post-COVID environment.
What are you looking forward to the most now that this conference returns to an in-person format?
The conference last year made the best of a fully virtual experience, but lacked some of the connection that we're able to have with in-person interactions. This year, we are grateful to be able to Zoom in speakers from around the world and country among concerns with the omicron surge while having some speakers and a majority of attendees in person at the Hub. Our team is working hard to facilitate networking opportunities throughout the conference day that students find valuable.
Katie, what led you to switch careers into PE/VC? What attracted you to Kellogg in particular?
My interest in private equity comes from the power that firms' capital has to shape the business environment and economy. The JD-MBA Program drew me to Kellogg with the unparalleled opportunities it provided at both institutions. Legal studies gives useful frameworks for serving private equity clients, but understanding the business is necessary to truly partner with investing professionals on transactions. I came from a consulting background, so my focus at Kellogg has been developing finance skills and learning from classmates with finance experience. The students and alumni I've met through the Private Equity club and my internships are some of the most inspiring people I've encountered.
I was thrilled to have the opportunity to lead the conference this year with Morgan as two investing career switchers and the first all-female conference leadership team. Our team has worked hard over the past year to bring an intentional line-up of speakers and topics to conference attendees.
Morgan, can you tell us about your own journey launching yourself in this industry?
When I wrote my application to Kellogg, I talked about searching for ways business can be an agent of positive change in society. While I initially thought my skills would be most helpful in the public sphere, I realized quite quickly that finance and investing were driving the majority of the change in the business world. Whether in diversity, equity and inclusion or sustainability, some of the best new ideas are coming from small or growth-oriented companies. Venture capitalists and private equity professionals are picking the winners and losers in that space, and I wanted to be knowledgeable enough about the space to know the winning ideas when I saw them.
Last year, I served on the conference planning team, and I found it a positive experience, where I was able to connect with amazing practitioners and build relationships with other Kellogg students. When I was approached for the opportunity to lead the transition back to in-person, I jumped at it. We have the unique opportunity to reimagine the environment this year — to bring the best of the live experience as well as leverage the benefits of technology that we learned from the tragedy of COVID.