Start of Main Content
Founder of mental healthcare startup on his entrepreneurial journey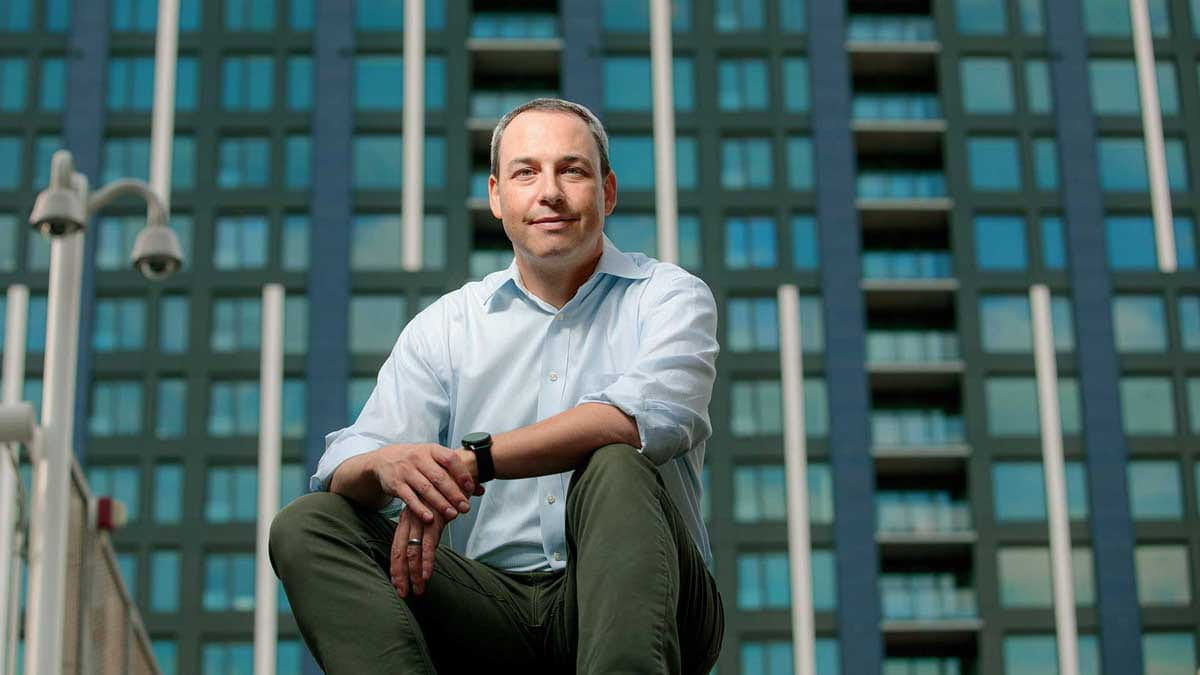 Denver-based tech startup SonderMind is on a mission to make it easier for people to find and access therapy. Founded in 2014, the company raised a Series C round of $150 million in 2021 and is working to realize its vision of a healthier world through improved mental and behavioral wellness.
Founder and CEO Mark Frank '07 recently chatted with us about his entrepreneurial journey and about how Kellogg prepared him to blaze his own trail in healthcare and technology.
Tell us about your career and leadership journey. Was there a particular catalyst for your pursuit of entrepreneurship?
In retrospect, I've always had a pretty entrepreneurial bent: whether it was creating a toy store in my room as a 7-year old (my younger sister was the only customer), to creating a WWF wrestling "magazine" that my friends and I sold to the rest of our 5th grade class, to getting my real estate license while in the U.S. Army and starting a side business, it's always been in my nature.
That said, I never really thought of myself as a natural entrepreneur — the realization is only in hindsight. However, I was definitely always interested in leading people. I chose to attend West Point for undergrad because it is the best leadership institution in the world, and it would enable me to serve as an Army officer for five years, thus putting into practice all of those leadership experiences from my time as a cadet. The opportunity to lead American soldiers was incredibly challenging, rewarding and humbling. I was extremely fortunate to be in direct command/leadership roles as the platoon leader for three different platoons from the ages of 22 to 24. I then served in a company executive officer (#2 in charge) position after that, which means that instead of the typical 12 to 18 months of operational leadership roles for a junior officer, I had almost three years of it.
My choice to attend Kellogg was driven by my love of the culture and team-focused method of education. After I was accepted, I was fortunate to learn about the MMM program and it seemed like a perfect fit, given my prior undergraduate and advanced degrees in computer science and computer information systems. Another factor was that I was not entertaining the idea of investment banking when deciding on business schools. To a large degree, I fell into that path by accident, but I had a tremendous amount of fun during my years at Morgan Stanley and learned so much that has carried over throughout my years as an entrepreneur and CEO.
My decision to leave investment banking was driven primarily by an intense desire to return to being in a role where I could lead people. In 2009, I was fortunate to find a great mentor and investor who took a bet on me and believed that I could build a strong healthcare business, despite there being no real historical data that would indicate this! I founded Denver Cyberknife (later rebranded Anova Cancer Care) in 2009 with all of the relatively little money I had, plus some outside investment and by convincing a commercial bank to lend more than $6M to purchase the equipment. That experience also included myself and my investor signing personal guarantees, which was hundreds of multiples in excess of my net worth — so the alternative to success was personal insolvency. I was able to ultimately build the company to about 30% free cash flow margins on close to eight-figure revenue and then structure a sale, which generated a 12x return for my outside investor.
In the midst of that, two co-founders and I started and sold SafeImageMD a software platform for storing, viewing, manipulating and sharing medical images. As a non-CEO co-founder, I helped build a data company with a SAAS sales intelligence product for telecom and commercial real estate that we grew to $150K MRR before I left to focus solely on SonderMind. I also assisted my then-wife in getting her preschool business started and operational, and, of course, I started SonderMind.
You recently secured Series C funding for SonderMind. Tell us about founding the company and about the impact you hope to have within healthcare and the mental health space.
SonderMind was born in 2014, having been conceived via the union of three intersecting beliefs: 1) all individuals should be able to benefit from high-quality mental healthcare, 2) mental health providers should be able to focus on providing great care, without sacrificing their other life goals and 3) the mental health industry must fully utilize the technological advances of the 21st century. Since inception, these core beliefs for SonderMind have not changed, nor has the notion that with proper execution, SonderMind can become the industry market leader and force structural change in how mental and behavioral health is ingrained within our society.
The SonderMind vision is to see a healthier world through improved mental and behavioral wellness and that vision is never-ending. Our mission is to redesign mental and behavioral health through improved access, utilization and outcomes. We have always been incredibly focused on providing therapy that really works, through personalized, evidence-based care that is critical in affecting real change. SonderMind's comprehensive approach to mental healthcare changes the way people access, receive and participate in treatment — lowering the total cost of care and enabling more people to get the support they need. Our providers are equipped with the tools to better understand what clients need and how to help them achieve the goals they want, improving overall health outcomes.
What skills, classes or networks from your Kellogg experience are you leveraging in your leadership of SonderMind?
All of them! While I say this in jest, it is actually true: being an entrepreneur, it's important to have a broad understanding of many functional areas, whether because you must roll up your sleeves and get the work done, or because you must know the skills to look for when hiring that will most effectively impact the growth of the business.
I took fewer strategy and leadership classes, because I had done a lot of that before Kellogg, although there was an amazing leadership class I took with Dean Jacobs. Other notable courses were some marketing classes, negotiations, most of my finance courses and a few operations courses. Lloyd Shefsky's entrepreneurship class was also pretty inspiring.
The biggest benefit has undoubtedly been my network of classmates. I'm fortunate to work with one classmate (Brannan Schell '07) and have other Kellogg alumni doing great things within SonderMind. A decent subset of my angel investors were classmates, and I've done business with many others throughout the years. It really has been an incredibly impactful network of classmates.
Any words of advice to students thinking of pursuing entrepreneurship or social entrepreneurship?
Spend a lot of time speaking with your customers. Stay close to who you're serving and continue to challenge your own assumptions about what need the company is serving and how to best accomplish addressing that need. Experience is the best teacher, so get out there and do it!