Start of Main Content
Part Two: The New Talent in Kellogg's EMBA Program, Fall 2021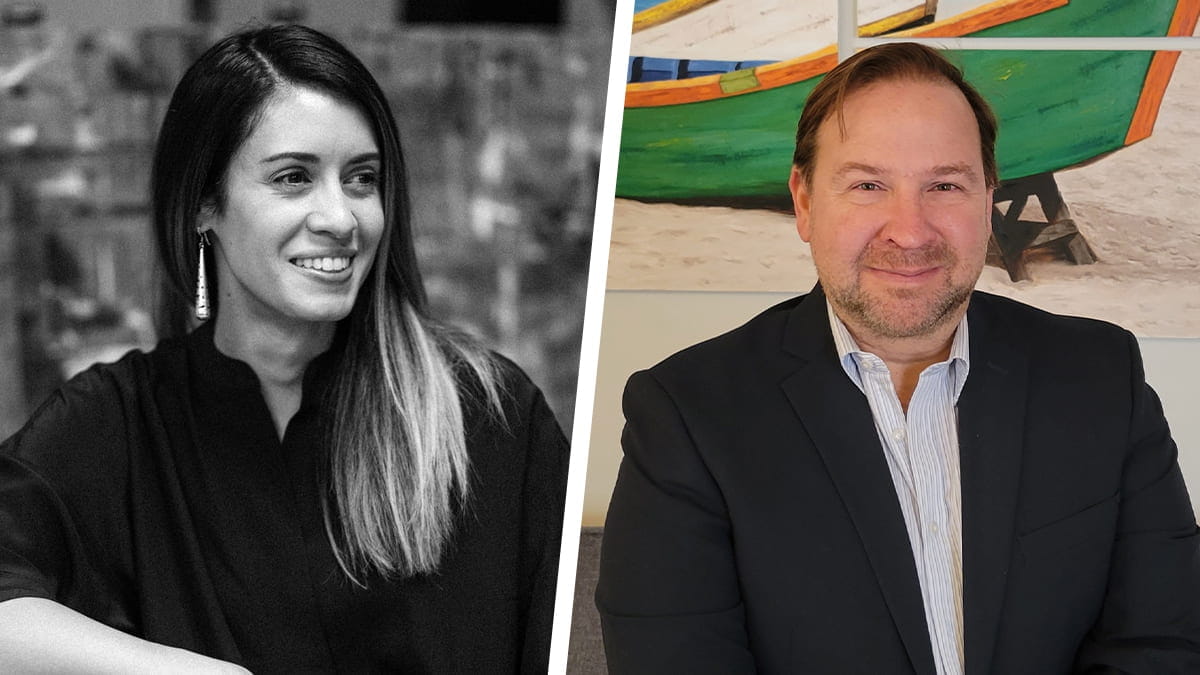 In this series, we celebrate the truly impressive and diverse students who recently joined Kellogg's Executive MBA Program. Today, we're excited to introduce (from left): Ariel Martin (Design Strategy Director, D-Ford Palo Alto, Ford Motor Company) and Jose Pellegrini (District Sales Manager, Eli Lilly and Company).
What are you currently doing from a career perspective?
ARIEL: I currently work at the Ford Motor Company within the Human Centered Design organization called D-Ford. As a design strategy director in the Palo Alto lab, I collaborate with executive-level leaders and multidisciplinary design teams to design products and services across the Ford ecosystem. I have been a design practitioner in various capacities for over 17 years and in the latter half of my career I have focused on leveraging the design thinking process as a means of solving problems. My work is incredibly fulfilling, and I feel lucky to have found a profession that brings me a great sense of enjoyment.
JOSE: I have built my career at Lilly, a pharmaceutical company dedicated to making life better for people around the world. Throughout the years I have been intentional about building depth and breadth in our commercial enterprise. Three months ago, I took an important step in my career by joining the Kellogg EMBA program and starting a new role leading an amazing team of sales professionals in our diabetes business unit.
My purpose has been driven by creating positive impact for colleagues, teams and patients. I am most proud of having served in the Lead Team for Lilly Immunology as their Chief Operating Officer. We cultivated a team culture that challenged the limits of what was possible, increasing employee engagement, helping more patients with our products, and reaching blockbuster status for our top brand. This job also gave me the opportunity to lead through uncertainty as COVID surged, supporting transformation efforts, and finding new ways to serve our customers, promote our brands, while keeping our employees safe during the epidemic.
As an incredibly accomplished and very busy professional, why was now the right time to get your MBA? Why Kellogg and this program?
ARIEL: Design is an emerging ethos in business. Companies of all sizes have begun to adopt a Human Centered Design approach and are reorganizing their companies to incorporate this mindset. A McKinsey & Company research report states, "Design-led companies had 32% more revenue and 56% higher total returns to shareholders compared with other companies" (Schwab, 2018).  I feel there is no better time than now to get my MBA. This degree will position me for the rising number of design-specific executive-level roles.
If you would have asked me 10 years ago, maybe even five(!), I would never have dreamed I would pursue an MBA. It wasn't until after finishing my first master's program in design and innovation that I realized how much my new skillset could impact business for the better.
I set my sights high, knowing that Kellogg is one of the best business schools in the world, and I wanted the name recognition and academic rigor that came with it. So, I did my research and even reached out to Kellogg alumni to get their perspectives. Every alum I spoke with held the school in the highest regard. On top of it all, and maybe most importantly, everyone I interacted with during the admissions processes seemed warm and down to earth. The admissions process was highly personalized and well organized. When I got accepted, I got a phone call from my admissions manager congratulating me — a lovely touch! I greatly appreciate the thoughtfulness that has gone into the design of the entire admissions process.
JOSE: The feeling that I could drive a greater impact on my community, colleagues and career drove me explore Executive MBA programs. I was interested in learning from leaders in other industries, new concepts on leadership and influence, as well as best practices in business administration. I chose Kellogg for its academic rigor, top ranking, and its culture of professionals driven to have high impact with low ego.
Why did you choose your specific campus?
ARIEL: I chose the Evanston Campus because it's the main campus location for Northwestern University, and the classes are held every other weekend. In addition, I felt as though traveling to campus every two weeks may engender closer relationships with my cohort. Building my network and learning from other accomplished professionals are some of my main goals for obtaining this degree.
JOSE: The Miami Campus offered a once-a-month schedule that seem more viable for my work and family responsibilities, and it offered an opportunity to expand my professional network. The Miami campus culture feels like family – you get to know your professors, staff, and colleagues very well in a rigorous yet casual and fun environment.
Any application tips or words of advice?
ARIEL: While going through the application process, make sure that your own unique voice shines through — in your resume review, essays and phone calls.
JOSE: My best advice for prospective Kellogg applicants is to reflect on why you want to pursue the Executive MBA and what are the capabilities, expertise, values and culture that align best with you. If your reflections and assessment lead you to Kellogg, just apply. The process is very straightforward.