Start of Main Content
The MBAi Academic Experience: Turning Purpose into Possibilities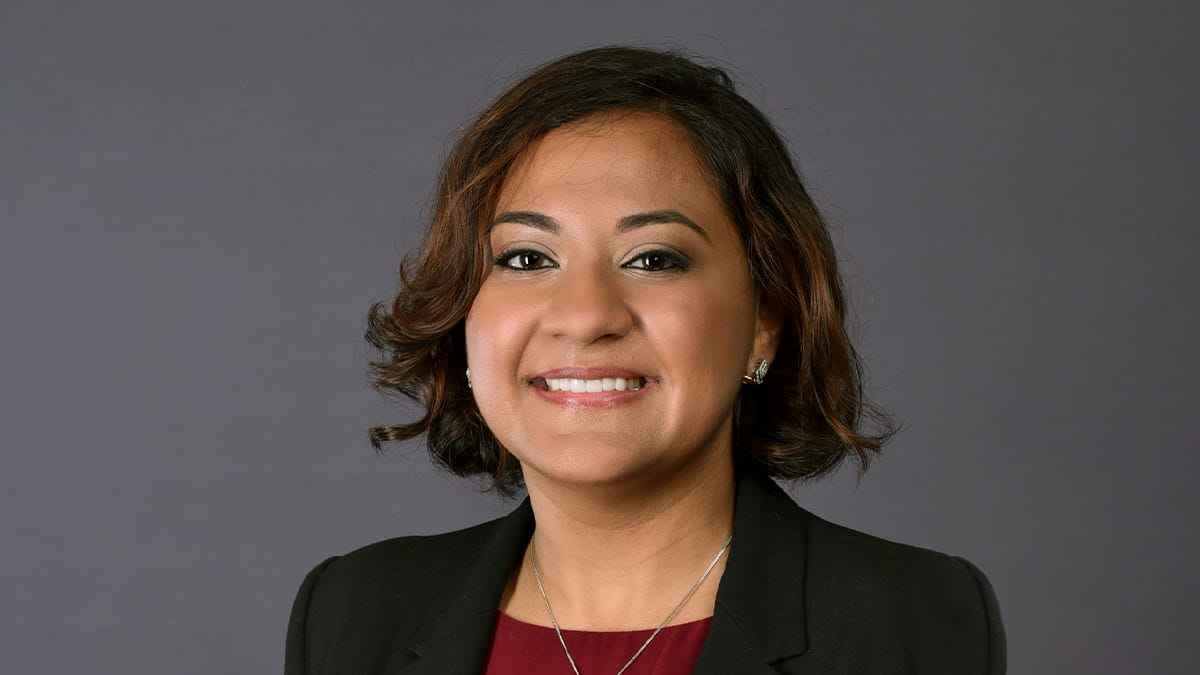 Amna Mahmud (MBAi, '23) remembers Oct. 8, 2005 as the day that gave her drive and purpose. A 7.6-magnitude earthquake struck the northern parts of India and Pakistan, killing 74,000 people and injuring 100,000 more. In her hometown of Islamabad, portions of high-rise apartments collapsed just minutes from her home, leading to more than 70 fatalities. But Amna survived, and in the aftermath, found a new purpose: Help mitigate the destruction caused by future natural disasters. 
She went on to earn her undergraduate degree in civil and environmental engineering from the University of Illinois, Urbana Champaign, then spent seven years at PwC, where she worked in technology consulting, capital projects and infrastructure, and operations transformation. 
Amna discusses her experience in MBAi so far and how the program's cutting-edge curriculum will help her harness the power of artificial intelligence and machine learning to turn her career purpose into future possibilities.
How do you hope MBAi will help you accomplish your professional goals?
While in the MBAi program, I hope to develop an intelligent crisis-support platform that leverages big data and AI to connect people with available aid during and after natural disasters. MBAi gives me the unparalleled opportunity to work at the intersection of business and technology to build a system that I wish I had as a teenager in Pakistan. It also equips me with the technical acumen needed to assist companies as they look to use technology to decide how to transition to clean energy, solve supply chain challenges, and mobilize the workforce of the future.
What specific classes do you think will be most valuable in helping make that happen?
"Computational Thinking for Business Leaders" and "Applied AI and Machine Learning" will increase my technical acumen to unlock successful business outcomes through emerging technologies. From the Bay Area industry immersion, I'll learn from technology industry giants about the challenges of applying complex technologies to real-life business problems. I'll build an end-to-end solution from conception to launch and own a product plan with a go-to-market approach through the capstone experience.
What types of projects have you been working on?
As part of our leadership class, we were tasked with interviewing an executive to learn how they influence teams and build their networks. After conducting our interviews, we came together to distill key insights and takeaways and quickly saw key themes emerge that helped us put together thoughtful research papers. In Computational Thinking, we learned how to write a python program for a chatbot. Writing code together was quite the experience, and it was humbling for me. I'm thankful to Professor Sara Sood and my classmates for providing a safe avenue for learning something completely new.
What is the dynamic like between you and your fellow MBAi students? 
Being an MBAi student means you are part of a supportive and tight-knit cohort of 45 students who will always have your back and go above and beyond to make sure you feel supported at Kellogg. From small group dinners to MBAi ladies' brunches, there are multiple avenues for MBAi students and JVs (Joint Ventures are partners and families of Kellogg students) to get to know each other more intimately.
In what ways do you interact with students in other Kellogg programs?
At Kellogg, there is no shortage of ways to interact with other students. First and foremost, every MBAi student is part of a section, and through that I've participated in small group dinners and built camaraderie with other Kellogg students. Before orientation, I met 20 other non-MBAi students interested in social impact and spent five days in San Francisco as part of Kellogg's KWEST trips. Becoming part of a student club is also a great way to meet other students. As director of speakers for KTech's 2022 Conference, I've met non-MBAi students through the KTech retreat, where we had a scavenger hunt in Evanston.
What are you most looking forward to for the rest of your time in the program?
I am looking forward to creating more opportunities for women and minorities to join Kellogg. I plan to do so by helping launch Kellogg's first women in technology retreat or conference that aims to recruit more underrepresented minorities to consider STEM careers.
What types of lessons have you learned so far that you think you'll apply to your career after graduation?
This may sound cliché, but Kellogg really teaches you how to be a leader and how to deliver high impact with low ego. Kellogg has also taught me how to have a growth mindset and how to stay hungry and humble all at the same time.