Start of Main Content
Full-Time Students Bringing the First Canned Kombucha Cocktail to Market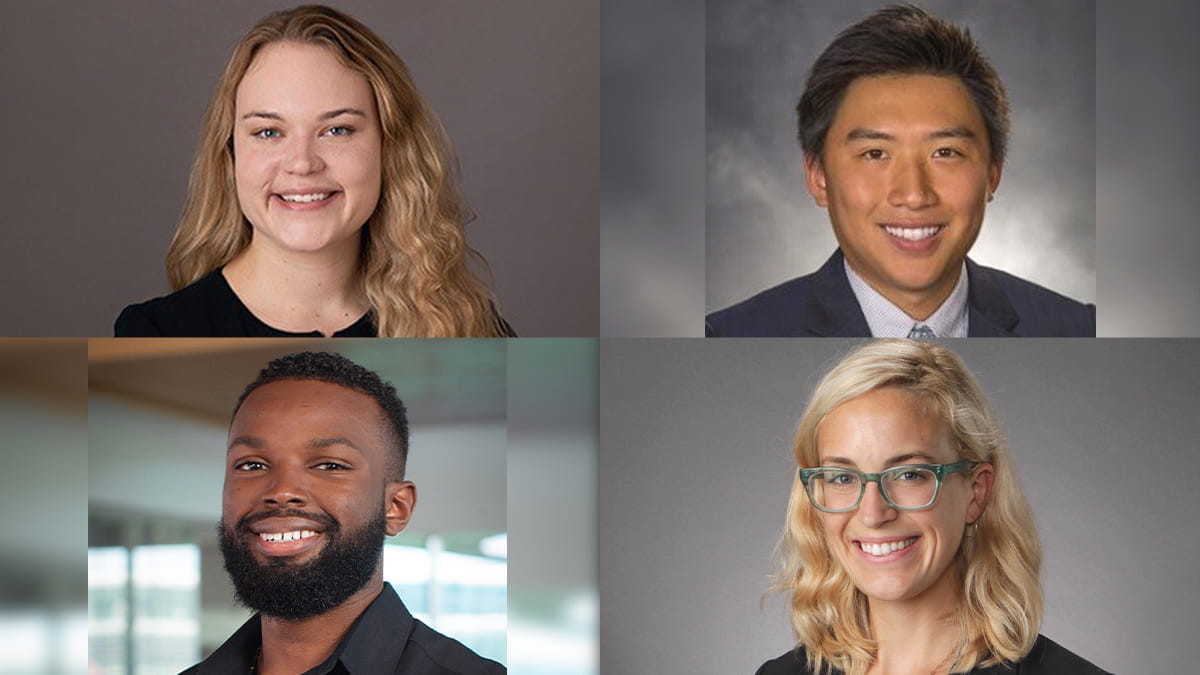 Confidence Fortune Udegbue (2Y 2022) reflects on his entrepreneurship journey in launching Liquid Confidence, the first canned kombucha cocktail. After meeting his co-founders at Kellogg (pictured left from right, top to bottom: Ashley Sherman (2Y 2022), Dennis Wong (2Y 2022) and Catherine Lamb (2Y 2022), together they set out to launch an innovative product.
By Confidence Fortune Udegbue (2Y 2022)
Tell us about you and your co-founders, and how you co-founded Liquid Confidence.
The idea for Liquid Confidence, the first canned kombucha cocktail, came while I (Confidence) was working in tech in the Bay Area and doing personal training on the side. My clients would always ask me: "How do I drink on a diet?" This pushed me to start thinking about a bigger question: "How do I drink mindfully?" Fast forward to a few years later; I am at Kellogg seeking to answer that question.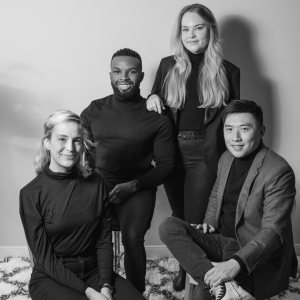 There, I met the team. Ashley Sherman, the CEO, had experience in alcohol strategy & distribution. Catherine Lamb, the COO, was an avid kombucha brewer and had worked in food marketing. Plus, we found Dennis, our resident Finance Guy, who had a passion for food and beverages. With our complementary skills and collective passion for mindful drinking, we founded Liquid Confidence™ in January 2021 and it's been a non-stop rollercoaster ride from there!
We are now preparing for our retail launch this October in our first market: Evanston and Chicago! Keep an eye out on our Instagram (@lqconfidence) to see how you can get your hands on our first flavor: Lemon & Ginger with Bourbon. It's the first of its kind, with 8% ABV, zero added sugar, and functional benefits like probiotics & electrolytes. Most importantly, it's absolutely delicious.
Tell us about Liquid Confidence and how you're hoping to make an impact with this venture.
We wanted to start Liquid Confidence because there wasn't an alcoholic beverage that checked all of our boxes: low calories, low carbohydrates, functional benefits (probiotics, electrolytes, and vitamins) and great taste. We wanted to create a delicious alcoholic beverage tailored to the young multicultural interested in health and fitness but who also liked to let loose and have fun. A party without compromise!
That's the impact we hope to make through Liquid Confidence. Additionally, the alcohol space lacks diversity, with very few female and BIPOC founders. Our brand is founded by a diverse team and speaks to a diverse audience. We want to promote equity in the alcohol industry with our first-of-its-kind kombucha cocktail, made with just real juice, sparkling 'booch, and premium four-year-aged bourbon!
What resources did you leverage to develop Liquid Confidence? Any key moments of growth or validation from those experiences?
We would not be where we are today – about to head into market – without so much help from the Kellogg, Northwestern, and Evanston communities.
The classes at Kellogg – particularly the New Venture Series – were incredibly helpful as we honed our mission, found our target, validated product-market fit, and began the process of actually making our idea a physical reality. We're so grateful to the professors who urged us to go for it and make the product in any way possible. Even if that mean pushing a Craigslist fridge up to a third-floor walkup, brewing hundreds of gallons of kombucha and hand-delivering bottles of the product to eager customers across Chicago. Professors have also been able to connect us to valuable partners, which will help us grow in years to come.
We've also benefitted from the incredible community of fellow entrepreneurs at Kellogg and Northwestern. From the Garage to Propel to the Kellogg Entrepreneur's Organization (KEO), we've been able to lean on other entrepreneurs to share resources and talk through the growing pains of starting a business. Alumni have also offered a helping hand, doing everything from canning to sharing examples of pitch decks.
Finally, the Evanston community has been so supportive. We've been able to do tastings and participate in local festivals, which has generated a ton of buzz for the product before we even launch in retail. We are so grateful!
With the launch coming this fall, how do you hope to grow Liquid Confidence over the next year/few years?
First and foremost, we are SO excited to bring Liquid Confidence – in cans! — to the Evanston and Chicago area. Look out for Lemon Ginger Bourbon at your favorite spot to get drinks (and if they don't have it, request it 😉).
We're planning to slowly scale up over the next few months and years, including introducing new flavors of LqC, growing to be on shelves across the Midwest and positioning ourselves as the go-to option for mindful drinking. We're also working on producing kegs so we can be on tap at your favorite bars and restaurants.
What is our long-term vision? We are committed to creating the kombucha cocktail category and taking Liquid Confidence nationwide, baby! We truly love our product, and so do people who've tasted it, so we hope to share LqC with consumers all over the country who want to "Get Lit and Stay Fit."
To learn more about our product, check out our website.