Start of Main Content
My Summer Internship: Growing a Career in Sustainability & Innovation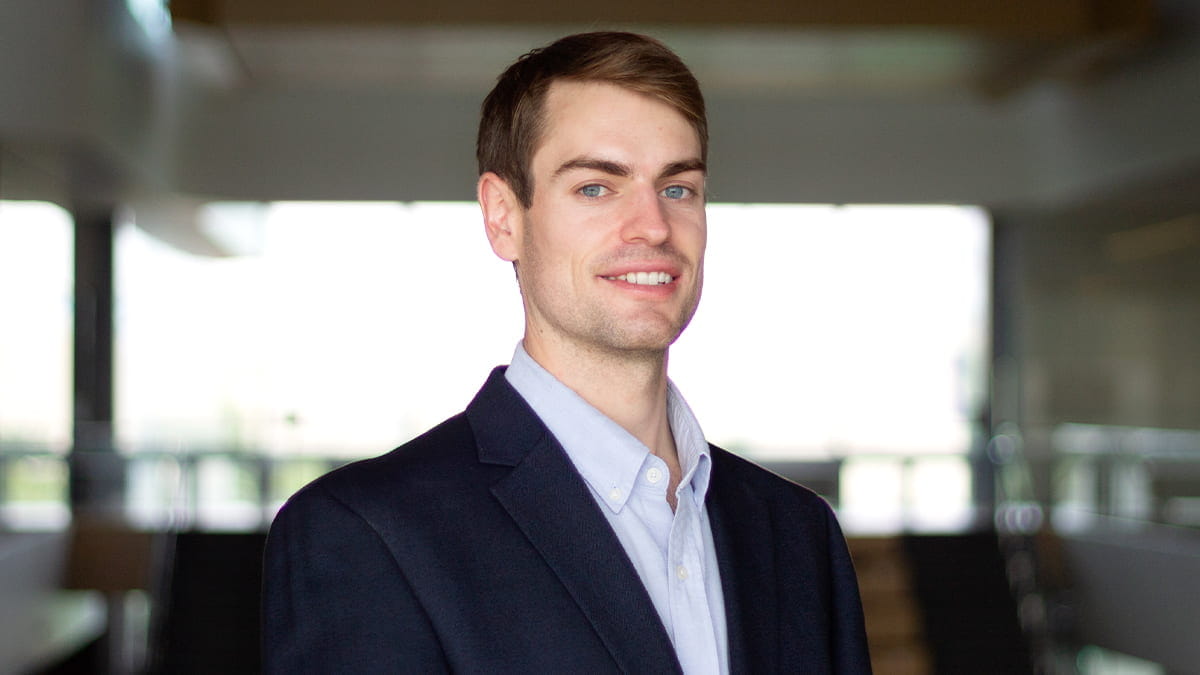 By Chris Gunther (MMM 2022)
Before Kellogg, I worked at a boutique strategy consulting firm focused on telecom, media and technology. I had the opportunity to research emerging technologies like blockchain and IoT and shape the business strategy of Fortune 500 companies. I was most proud of the projects I did with a social, good component, like expanding broadband access to underserved areas or better connecting public safety workers. Coming into business school, I knew I wanted to intern with a mission-driven company that shared my values.
Pursuing sustainability in a summer internship
A few years ago, I listened to Pat Brown, the founder and CEO of Impossible Foods, talk about the environmental impact of animal-based agriculture on the How I Built This podcast. Shortly after, I decided to go vegetarian and have become more acquainted with the Impossible Burger since. Last spring, when I saw the Impossible job posting, I jumped at the opportunity to work on an innovative product and contribute to a mission I cared so much about, replacing animals as a food production technology by 2035 to avoid the worst consequences of climate change.
I was originally interested in the Product Manager role, and only considered applying to the pricing and business management team because of the great experience I had in Professor Anna Tuchman's class, Retail Analytics and Pricing. Pricing and business management works within the product group and is responsible for setting price (a critical component of outcompeting the animal alternatives and achieving the mission) and bringing analytical insights to the overall product strategy. This team has been a terrific fit for me, and I got to work closely with the PM intern on his main project for the summer.
Developing a product for market
Coming into the internship, I wanted to learn more about how data informs product decisions, see a new product I work on in market, and build a network at the company. Through my two main projects, I've been able to check off all three goals. For the first half of the summer, I collaborated with Product Management and Consumer Insights on a go-to-market recommendation for a new product, that we'll hopefully see in stores soon. Simultaneously, I analyzed Impossible's sales performance in restaurants to uncover and share opportunities for growth.
The people I've worked with at Impossible are incredible; they are sophisticated, pragmatic, aspirational, and energized by their role in achieving the mission. The mashup of food and tech backgrounds (my two managers previously worked at Del Monte and Microsoft) blended together to unlock new ideas for the product. The Pricing and Business Management team is a powerhouse group of women, inspiring to see coming from my role as Co-President of Kellogg's Gender Equity Network.
While I'm excited for the second year of business school, I'll be sad to leave my team and hope to rejoin them in the future. It is a truly great organization with a delicious product (seriously if you haven't yet, go try the burger, newly released sausage, and chicken nuggets coming soon) with an even better mission.