Start of Main Content
Kellogg Class of 2023: Setting a New Bar for Academic Excellence & Representation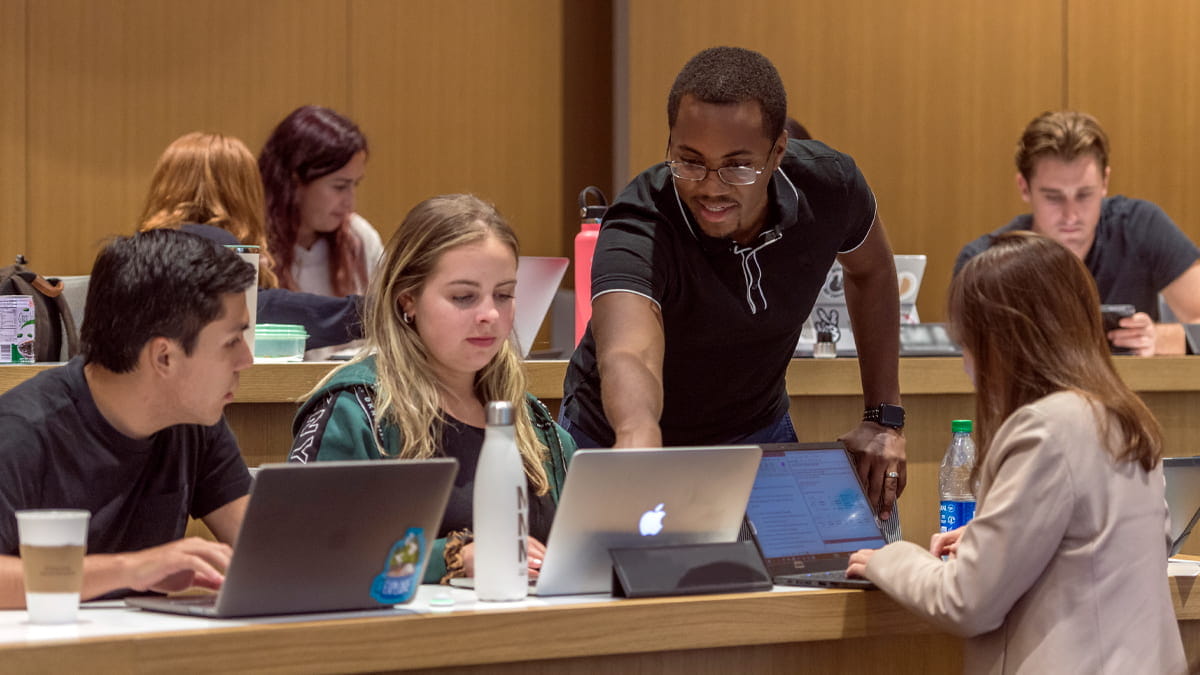 By Kellogg Admissions and Financial Aid
With the start of the academic year, August is always an exciting time at Kellogg. But what is especially exciting for us is welcoming back all of our students and introducing our new, two-year class to the entire Kellogg community. The Class of 2023 exemplifies Kellogg's commitment to excellence both in academics and representation, but also what it means to be a Kellogg leader — a leader who energizes and inspires those around them with their special combination of analytical, creative and social intelligence.
Our admissions team spends time reviewing the details of students' academic performance throughout their college experience to understand their true potential. The Class of 2023 makes Kellogg history, demonstrating the highest ever average GPA (3.7). This year's students also bring to Kellogg a 730 median and 727 mean GMAT.
Additionally, the Class of 2023 has the highest representation of women (49%) Kellogg has ever had. We're also excited to welcome a record high 23% underrepresented minorities (as a percentage of the domestic class), as well as 36% international students.
Attracting academically excellent and diverse students is integral to how we uphold our commitment to foster an environment of exemplary diversity, equity and inclusion. Throughout their Kellogg experience, our students develop their empathetic mindsets and learn to collaborate by leveraging difference to solve complex problems.
Our incoming students bring a wide range of experiences, career paths and pursuits to Kellogg. Our holistic admissions process allows us to get to know each candidate — from seeking to interview every applicant to requiring a video essay question as part of the application. From each touchpoint, we gain a fuller understanding of how candidates will contribute to the Kellogg community and make a lasting impact on the world.
Below are just a few of our students joining the Class of 2023:
Ivy (Mengyao) was the technical lead in developing a unique new red blood cell therapy for cervical cancer patients and she took it from early discovery to clinical trials.
Mbere is not only a successful management consultant, but she is also the owner and co-CEO of a dance company highlighting styles of the African diaspora.
Seung negotiated and strategized against North Korea military system at the National Intelligence Service agency of South Korea
Alex launched electric bike and scooter platforms in Los Angeles with a focus on transportation equity.
Sara summited Mt. Kilimanjaro at age 12 and has since reached the peak of six of the World's Seven Summits.
Eric managed the deal close for Lululemon's 500-million-dollar acquisition of the digital fitness company Mirror.
I encourage you all to view the full breakdown of data on our Class of 2023 here.
For future applicants, remember that Round 1 September 15 deadline is just around the corner! Or, if you're just starting your application, we encourage you to sign up for an upcoming virtual coffee chat or virtual event. These are great ways for you to get to know us – and us to get to know you. You can also take a look at our admissions tip series, library of on-demand events or virtual campus tour.
Have a great start to the fall, everyone!