Start of Main Content
Now open! Kellogg's 2022 Full-Time MBA Application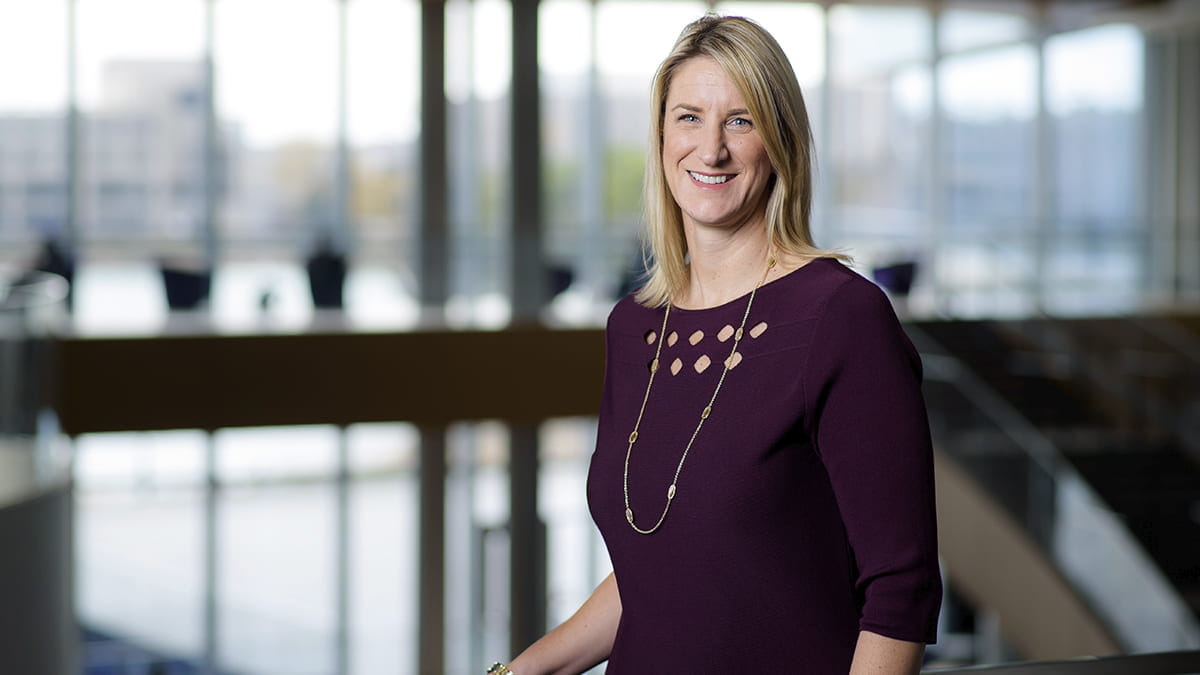 By Kate Smith '98, Assistant Dean of Admissions and Financial Aid 
The Kellogg MBA application is now live!
You can now apply to Kellogg's Full-Time MBA Programs for entry beginning in summer-fall 2022.
In this post, I'll walk through some slight changes to the application, important deadlines, and how for me, the unprecedented nature of last year reinforced the strength of the Kellogg MBA.
And remember: We are not looking for one type of leader. In fact, we need to understand what makes you different in order to understand what strengths you bring to the Kellogg community.
So, show us your authentic self and use the whole application to tell your story.
Good luck, everyone!
A Kellogg MBA, now more than ever
It goes without saying that last year was unprecedented. We stretched and grew in ways we never had before — as I'm sure you did — and ultimately, it made our community that much stronger. One of my biggest takeaways, though, was that Kellogg uniquely prepares the kind of leaders that thrive amidst change and complexity, and drive meaningful impact in that environment.
When I think about Kellogg, it's more than an MBA. We develop leaders who are empathetic, innovative and who harness the power of diverse teams to meet complex challenges. And when I think about the Kellogg leader, I know they are the kind of leader that is needed for this moment, and for the future of business.
As the application season begins, I look forward to learning more about you; how you've faced challenges, how you want to grow, and how you seek to use a Kellogg MBA to make your impact on the world.
Changes to the application
Kellogg's admissions team reviews the Full-Time application every year and made just a few tweaks to this year's application. The majority of the application will stay the same including all of our written essay questions and the first two video essay questions. For an overview of the application and application tips, be sure to visit our admissions page. Additionally, I highly recommend checking out this blog post for application advice from current students!
Find the Kellogg MBA that fits you best
As you know, we have a wide range of Full-Time Program options designed to fit individual student aspirations. However, we also understand that students may have interest in or see a path to their goals via more than one of our programs.
That's why this year, we're offering the option for prospective students to be considered for an alternate program.
As always, during the application you will select one program to apply within our Full-Time portfolio. After your application is submitted, for the first time this year, you will have the option to be considered for one other Full-Time Kellogg MBA Program and/or the Evening and Weekend Program. This selection will need to be made within 96 hours of the application deadline and will include a short, 250-word essay for the applicant to explain interest in the alternate program(s). You may need to provide additional information based on program requirements.
The short essay question is: "Please explain your interest in the program(s) selected."
If we're unable to offer you admission to your program of choice, then we'll consider you for the other program(s) in which you are interested. Because each program is designed to help students achieve specific professional and educational goals, it's important that you remain intentional when choosing multiple programs.
Video essay question #3: Share your resilience with us
In response to the unprecedented challenges of last year, we added a new video essay question detailed in this blog post that invited students to share how they were challenged specifically due to the nature of the world in 2020 and how they responded to those challenges.
However, the world is only growing in complexity and it's increasingly important for leaders to be able to navigate that complexity and meet challenges. With this in mind, we will be including a version of this question that focuses on a challenge you have encountered in this past year and how you navigated it.
Application deadlines
Towards the beginning of July, you will be able to begin your application! The deadlines for applications are as follows:
Application deadlines
Round 1: September 15, 2021
Round 2: January 5, 2022
Round 3: April 6, 2022
Decision deadlines
Round 1: December 8, 2021
Round 2: March 23, 2022
Round 3: May 11, 2022
Get to know us better
A great place to start is watching a video tour of the Global Hub, our Full-Time students' home away from home, on the campus visits page. We're also hosting virtual events around the clock, so no matter where you are based around the world, you can check in with Kellogg at an hour that is convenient to you.
Keep an eye on this blog
Keep checking back here for more stories on the student experience and from recent alumni that will help you picture yourself within the Kellogg community.
We're here to help
If you have any questions, please reach out to our team at MBAadmissions@kellogg.northwestern.edu or (847) 491-3308. We're here to support you throughout the process.
The entire Kellogg Admissions Team wishes you good luck as you start your application!