Start of Main Content
Special K! Revue 2021: A Glass-Half-Full Mindset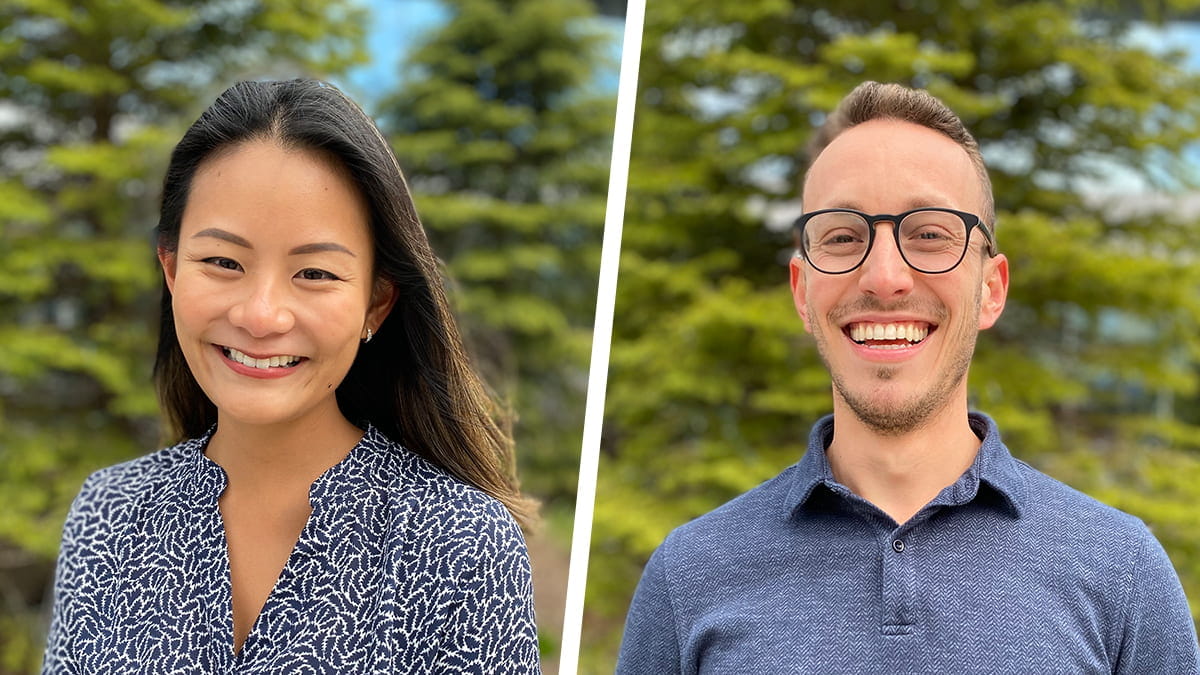 By Jessica Hung (2Y 2021) and David Riche (MMM 2021)
A note from Inside Kellogg: Special K! 42nd Revue: Klass Half Full will be on Friday, April 30, 2021 at 7pm CT! Get your tickets here!
In late August 2020, David Riche (Executive Director) and I (Jessica Hung, Executive Producer) logged onto Zoom at  9:00p CST / 7:00a HKT to discuss the Special K! Board structure and organizational values. The pandemic had sent me home to Hong Kong, and from opposite ends of the planet, we aligned on what we hoped to achieve after inheriting stewardship of Special K!, the longest-standing tradition at Kellogg.
Pivoting, and pivoting again
As we began to flesh out the mission, vision and values of this year's Revue, we reflected on what brought us to this moment. Just a few months earlier, as cast members of the 41st Revue, David and I pivoted the on-stage performance we spent hundreds of hours rehearsing to a primarily Zoom-based show within just a few short weeks. While it was heartbreaking not to have been able to do a live show, we both agreed that being part of the Special K! Revue was one of the most rewarding experiences we had had to date — and something worth doubling down on in the coming year.
As we discussed our aspirations for the year ahead, we knew we had the opportunity to create something from scratch — to build upon what we had learned from the in-person to virtual transition, and decide what we would keep and what we would change.
Our first big decision was if and how to put on the traditional Special K! Fall Show. In past Octobers, alumni would fly back to Evanston from all over the world to perform a one-night-only reprise of the Spring Show. However, we had never done an on-stage performance, and the COVID-19 pandemic meant it was unlikely that the past show's cast and band would be able to return. We decided to re-stream a 'Director's Cut' of the past year's show, and focus our time and efforts on organizing a series of COVID-safe, small group screenings on campus. However, due to a change in Covid-19 protocols a week prior to our Fall show, in-person viewing was canceled. We had to pivot once again.
Creating a virtual musical at Kellogg
Our next challenge was a significant one. We were faced with the decision to either pursue a fully in-person show (hoping for an accelerated track to normalcy), a hybrid show, or something entirely virtual and independently recorded. With all of the uncertainty surrounding in-person elements, we ultimately decided to focus on video production and post-production, with the goal of creating Special K!'s first-ever, full-length musical in a cinematic format.
Because of this decision, almost every aspect of creating the show has looked different. Auditions and casting moved to being virtual, as did rehearsals. Filming brought on a series of new challenges, from securing filming venues and locations, to cast and crew scheduling. We even created our own industry-grade COVID filming protocol to ensure the safety of our cast, band and crew (often exceeding NU and IL standards). And among other things, we invested in professional-grade microphones, cameras, and audio recording devices as well as professionals, as needed, to supplement the skills of our team.
Every step of the way, we have had to adapt and adjust our long-standing processes while keeping our Special K! traditions alive.
One of the most heartwarming moments for us as a leadership team was organizing a surprise Zoom visit from Bill Jerome '80, Special K! Revue's co-founder, the night of our first, All-Cast rehearsal. Hearing about the story of Special K! connected the past to the present for us, a sentiment especially salient given the difficulties of community-building when we couldn't be in person.
A glass-half-full mindset
Now, just weeks away from the premiere, as we reflect back on the experience of making the show, it's humbling to recall all that the team has overcome and accomplished together these past eight months. Nearly 10,000 hours and a 100 different Kellogg students, faculty, and community members have made this show possible.
So, in true Spring-Quarter-early-onset-nostalgia fashion, we now ask ourselves: why did we do it?
Was it the leadership challenge of creating something unbelievably technical amidst the complexities of managing and motivating a group of amazingly-talented, high-achieving Kellogg students? Or was it because, in a time of separation and solitude, we sought the opportunity to build community and create something to make us all feel closer just as last year's Board had for us?
Perhaps, it was a bit of both, but either way, we are beyond proud and delighted to bring to you this year's 42nd Revue: Klass Half Full.
Special K! 42nd Revue: Klass Half Full will be on Friday, April 30, 2021 at 7pm CT! Get your tickets here!