Start of Main Content
Entrepreneurship Series, Part One: Where Are They Now?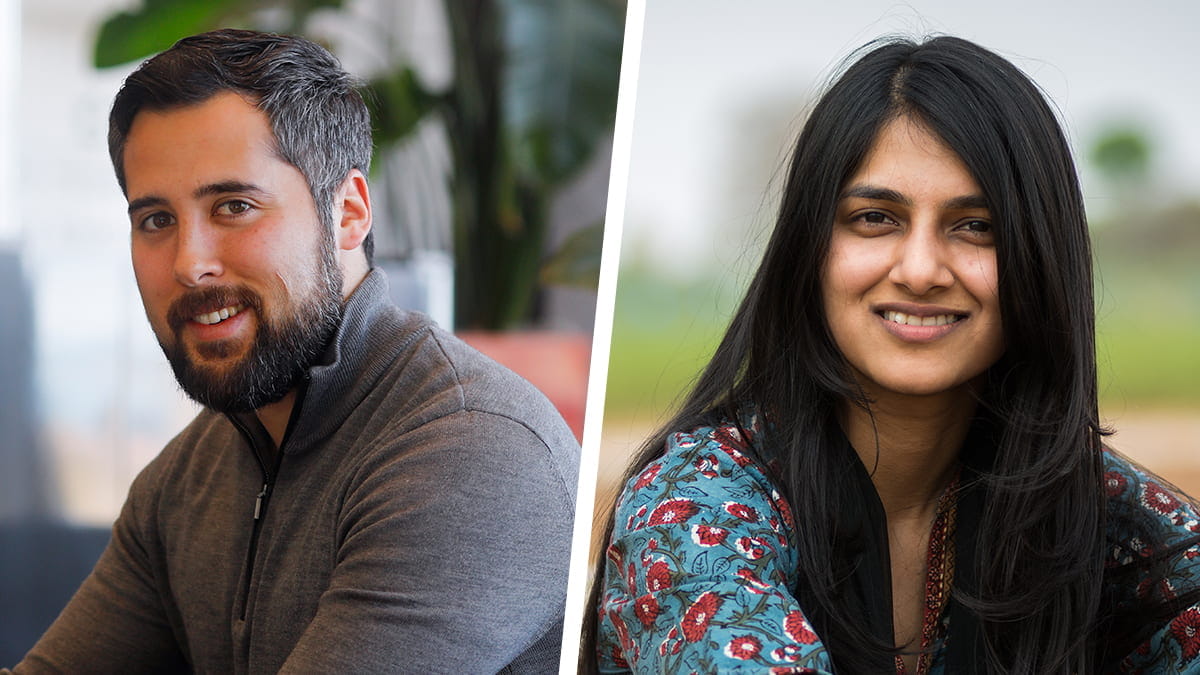 In this series, we'll be checking in with some of our amazing alumni entrepreneurs to see how their ventures have developed over the years and how they've grown as entrepreneurs. We're exciting to kick off the series with Benjamin Hernandez (JD-MBA 2013, Founder & CEO of NuMat Technologies) and Saumya (2Y 2017, Zell Fellow Alumna, Co-Founder of Kheyti).
Tell us a little about yourself and your company.
Benjamin Hernandez: I was born in Chicago (Albany Park area) and raised primarily in Maryland. After studying engineering at Northwestern, I spent several years working at a leading strategy consulting firm and then at a global, private equity firm before returning to Northwestern to pursue my JD-MBA. As a graduate student, I founded NuMat Technologies. Simply put, NuMat designs, builds and sells chemical architectures to leading customers in the semiconductor, defense and life-science sectors. Founded as a software company developing state of the art computational discovery platforms, we've since vertically integrated to actually produce the materials we computationally discover and then actually make products out of them. We're applying our technology and platform to solving generational challenges that matter — from water scarcity to hydrogen storage.
Saumya: I have been a social entrepreneur in India for the past eight years. I'm currently the co-founder and Chief Program Officer of Kheyti, a social enterprise helping smallholder farmers in India battle climate change and overcome income variability through affordable, modular greenhouses bundled with services. Designed for smallholders, Kheyti's greenhouse costs 90% lower than regular greenhouses, protects farmers' crops from environmental risks, and grows 7x more food using 90% less water, creating a seamless path towards steady incomes of upto $1,000/year, a 2x increase in farm incomes.
I've won various awards, such as the CommonBond Social Impact Award, Kellogg Social Entrepreneurship Award and was also selected as a Forbes 30 Under 30 Social Entrepreneur in 2019. Prior to Kheyti, I spent three years in the vocational training sector in India.
It's been a year like no other. What skills and/or principles have helped you navigate this year?
BH: In times of crises, an organization's "Resiliency DNA" is tested. That is to say, does a company have the operational, human capital and financial bench strength to survive and thrive. What's less discussed is an organization's "Empathy DNA" – does it reflexively do the right thing by its team, customer and partners when the going gets tough. We can debate the role of companies in addressing the holistic need of individuals or communities – but empathy, and seeing the humanity in individuals, goes a long way when it matters most. Balancing this with the commercial imperatives of a business can create conflict (i.e. how do I stay open if people are afraid to come in, and remote work is not an option?). This year offered an opportunity for leaders to do the right thing by their people and their communities. Those that did it well will come out of this pandemic with employees, customers and partners who are more loyalty, engaged and committed to the success of the business.
S: There are primarily two things that have helped me and Kheyti survive this crazy crazy year:
Having a sense of humor — Entrepreneurship is a tough and lonely journey. It is important to surround yourself with people who you can have fun with. We have managed to survive 5 years of ups and many many downs by not taking ourselves too seriously. Laughing about seemingly insurmountable challenges is absolutely necessary.
Putting one foot in front of the other — While navigating uncertainty, a philosophy that has helped me a lot is thinking about the here and the now majority of the time. Back in March 2020, when India was under a complete lockdown, we had no clue where Kheyti would be. The only thing we knew is we had to keep delivering services to our farmers and protect our employees. That's exactly what we did instead of worrying about what would happen. This helped us focus on what is really important to us.
What specifically from your Kellogg experience has gotten you to where you are today?
BH: Leadership in a commercial organization is fundamentally about managing complexity towards successful outcomes. People are foundational to an enterprise, and arguably the source of both the greatest complexity and value. Leadership involves harnessing the strengths, managing the frailties, and addressing the needs of individuals and collectives towards something that just might be great.
Kellogg was an early advocate in embracing the power of people and teams for competitive advantage, and embedding it culturally and academically in shaping the leaders of tomorrow. I'm part of this legacy, and the "Kellogg Way" has influenced my worldview around the sacred responsibility a leader has to do right by the people who commit their talents and passion to do something that just might truly matter.
S: Kellogg was tremendously helpful in the early days of Kheyti — we got connected with a lot of funders and sector experts during my time there. I was also able to use the business school competition network to raise a substantial amount of our seed money. Being at Kellogg made me realize how important the art of asking is. So many things that I never thought would be possible happened just because I asked someone at Kellogg.
Any advice to Kellogg entrepreneurs just starting out?
BH: Be authentic to who you are and to what you're not. People, customers, partners and investors are attracted to authenticity (at least the right ones) – and sharing what you don't know is sometimes more powerful than sharing what you do.
S: There's no substitute for being on the ground amongst your customers. The biggest learnings come from listening to your users. At Kheyti, whenever we have really heard our farmers, we have got amazing insights and feedback on our work.