Start of Main Content
Choosing Finance, Motherhood & a Kellogg MBA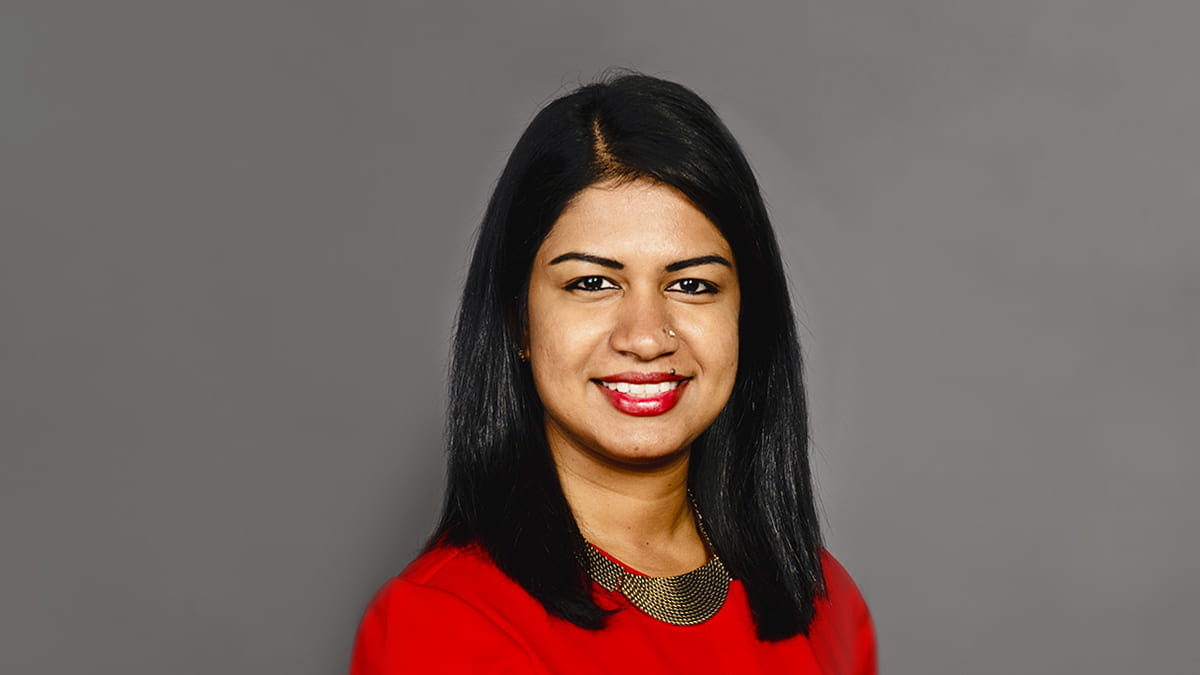 By Varsha Nagaraj (E&W 2023)
This content was originally published in Poets & Quants.
My journey in finance began early, and very quickly, it expanded to working across global markets. I always knew that a career in this industry would mean that I would want to pursue an MBA, but the question remained, when would be the right time.
Getting a global experience
Following my undergraduate major in finance, I initially focused on gaining as much experience as possible. I landed my first job offer from Goldman Sachs when I was 19 years old as a Sophomore in college, which led to a full-time job offer, and a consistent career in finance ever since. After working for a year on Goldman's risk and control team, I was asked to relocate to London to work on a global project that involved the automation of financial transactions. My experience in London was an eye-opener. It inspired me to continue to pursue projects in different countries and gain work experiences with various business cultures and diverse perspectives.
Within a couple of years, I was relocated to Goldman Sachs offices in Singapore. While there, I spent four years working with multiple Asian markets, understanding their different work cultures and business ethics, and meeting face-to-face with my international clients. After Singapore, I moved to Chicago, where I managed a team of eight after pivoting from Equities to Alternative Assets. Then came Tempe, Arizona, where I managed a large team of 26 people at Northern Trust, handling clients across North America and Canada. Finally, in 2019, I moved to Houston and took on my current role at Northern Trust  in change management, leading the global data strategy for alternative assets.
Living and working in Europe, Southeast Asia, and North America has forced me to step outside my comfort zone and opened up opportunities to gain new experiences and develop new skills. I gained a deeper understanding across cultures and learned how to apply adaptive thinking. Managing diverse teams became easier as I became exposed to different ideas and thought processes. As a result, I became a more resilient individual and team member.
Choosing a Kellogg MBA
My goal was always to pursue an MBA, but the timing never felt just right. I was either moving for new roles, excelling in my career or busy with life experiences, such as my marriage and building a family. After settling down in Texas in 2019, we had at least a few years of stability in one location. This seemed like a perfect time to commit to pursuing an MBA. Since I really liked my job, leaving the workforce was not an option for me. Therefore, I decided to look at the Evening & Weekend Program at Northwestern University's Kellogg School of Management.
I chose Kellogg because it's a school built on the value of collaboration. It develops leaders who are not focused on their own growth, but leaders who will work hard to incite growth in other people, their teams and their communities. Each course at Kellogg is designed with a team-oriented, learning approach, demanding students to work together in order to achieve our goals. Naturally, this builds leadership skills along with the tools needed to collaborate and foster team success. All of which I've been able to bring back to my own role, and teams, every day!
World-renowned faculty at Kellogg and the variety of course offerings in the program also played an important role in my decision. It is simply amazing how many courses and pathways there are to choose from. In my journey at Kellogg so far, I have been most influenced by Professor Michelle Buck, who has taught me how to maximize my impact as a brave leader, and given me the confidence to [as a leader] change the "status quo" if I feel it's necessary. She taught us a ritual of reflection, which has helped me a lot in my current job.
A week before getting the acceptance call from Kellogg, I found out I was pregnant with our second child. That did not stop me from saying yes — all thanks to my husband, who played an important role in the decision-making, and who has been my partner since day one of my MBA journey! Even though business school involved traveling to Chicago every weekend, we knew the value I would get out of the Kellogg MBA would be priceless. My coworkers and managers were supportive as well, some of them Kellogg alumni themselves. Their first-hand experience with Kellogg helped tremendously in gaining their support and encouragement to start my MBA, especially when considering the balance that is motherhood, too.
Choosing a Kellogg MBA during COVID-19
Covid-19 has been a life-changer for most of us. We shifted to remote work almost immediately and changed our usual ways of interaction. However, this new challenge turned into an opportunity for me, as I was able to utilize my morning hours in a more constructive manner by getting up early and studying. After work in the evenings, I was able to join classes, webinars and events with a click of a button. While I haven't been able to meet my classmates in person, there have been many opportunities to connect virtually. This includes opportunities as light-hearted as Zoom happy hours or as meaningful as Kellogg Connect (networking sessions organized by the school where we can talk tocourse mates across cohorts about majors, pathways, course experience, labs, and professional careers).  I also participated in "Being and Becoming a Working Mom" by Professor Suzanne Muchin, and Kellogg's Super Bowl Ad Review by Professors Tim Calkins and Derek Rucker.
Kellogg Connect, for example, has helped me to understand the variety of student journeys of students and alumni at Kellogg, providing an insight into various career paths and new roles accepted post-MBA.
Joining these sessions has allowed me to carefully construct my Kellogg journey, choosing classes and electives that will provide me the boost of skills I'm looking to learn. Kellogg's pay-it-forward culture has been invaluable to my experience.
Discovering Kellogg's community of women
From the experiences of these events, I've found women at Kellogg to be extremely motivated, inspiring and goal oriented. There is a strong sense of support among the women here, who further provide additional support and encouragement to those who are also mothers.
During the last trimester of pregnancy, when I thought I was the only one in such a situation in a class, I got a message from another student who was, in fact, in her last trimester as well. We connected, spoke about our MBA courses, our plans for our careers, and our pregnancies! Additionally, these events such as "Being and Becoming a Working Mom" as mentioned, and Timeless and Timely: Living a Life of Leadership with Professor Michelle Buck,have allowed me to connect with other women in finance who have shared their stories, especially by reflecting on the male-dominated nature of the industry and the approach they took to be successful. These stories have allowed me to think differently about my career and have inspired me to be even more brave and confident moving forward.
In my short time at Kellogg, I've learned there's no such thing as a "right" time. Learn as much as you can, understand your opportunities, be strategic, create a plan for your career, and don't be afraid.
And, for working mothers, remember that we cannot be perfect, but we can do our best to multi-task: work, care for our children and spouse, as well as pursue an MBA. Throw that guilt outside the window and work passionately towards your vision. Be brave!