Start of Main Content
Part Three: The New Talent in Kellogg's E&W Program, Winter 2021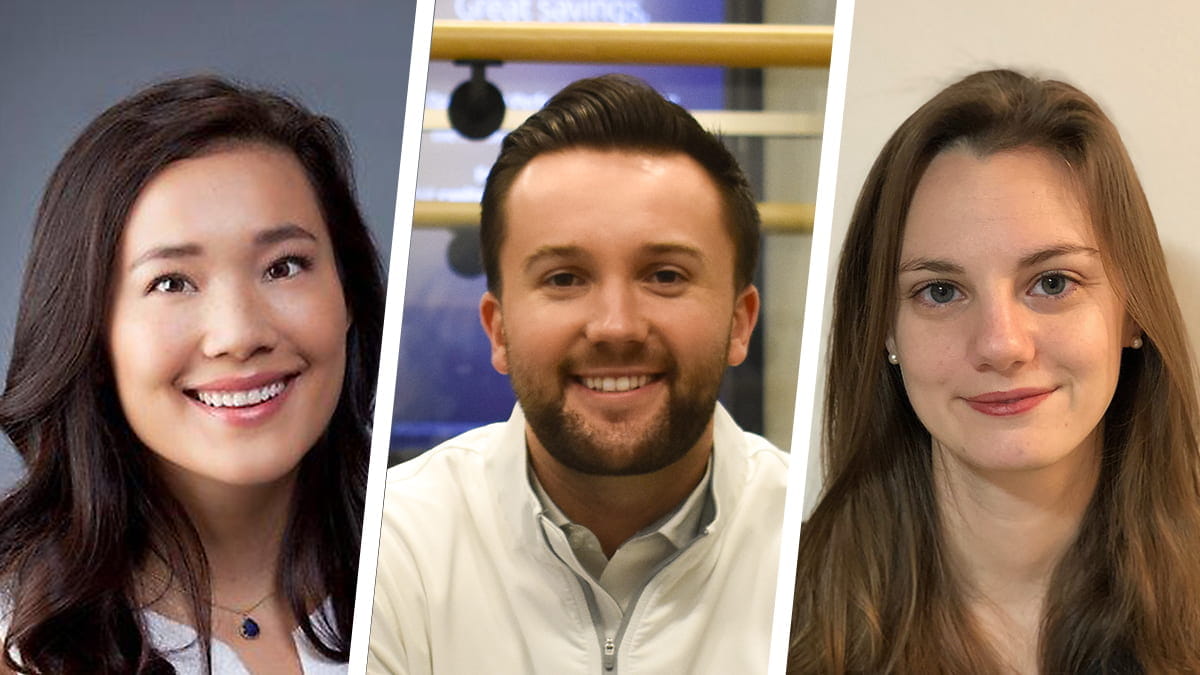 In this series, we celebrate the truly impressive and diverse students who recently joined Kellogg's Evening & Weekend Program. Today, we're excited to introduce (from left): Auna Harvey (Medicare Business Consultant, Aetna), Andrew Henry (Consulting Manager, FactSet Research Systems) and Emily Wessling, M.D. (Resident Physician, Emergency Medicine, McGaw Medical Center and Feinberg School of Medicine).
What are you most proud of in your professional journey? How did it shape who you are as a leader?
AUNA: I am most proud of starting my career in the healthcare industry, where the work is about improving consumer healthcare experiences in America. Too many people have stories about our healthcare systems failing them. We see today rising healthcare costs burdening families and an overall confusion in the marketplace about how best to utilize healthcare services. The industry is challenged to come up with better solutions, and I believe work can be done to ensure more Americans feel supported and empowered to participate in our health systems. My experiences in healthcare shaped my view on leadership to be about serving others. Kent Keith says of servant leadership, "It is this daily quest that lifts communities and societies for the benefit of all." Within healthcare, leadership should be angry on behalf of those feeling frustrated and confused with our business models. Because getting angry on behalf of others is what will unite players in the market to work together on solving such member pain points. Leadership in healthcare looks like helping shape the industry to become more approachable, more personal and more local!  
ANDREW: In May of 2017, I graduated from Saint Louis University's Richard A. Chaifetz School of Business. During the commencement, I was presented with the Outstanding Senior Intern Excellence Award. The Outstanding Senior Intern Excellence Award is a faculty-selected award presented to one graduating senior who demonstrates a high level of academic achievement in the classroom while achieving professional success in an internship. At the time, as a student and professional, I learned the importance of prioritization, time management and communication. In addition, I developed a significant appreciation for the opportunity to apply what I learned in academics in my internship and vice versa. Developing these skills early on in my professional career allowed me to excel in my current profession and encouraged me to continue my education at Kellogg.
EMILY: A year ago, my proudest accomplishments would have involved my work in quality improvement. I would have talked about how working on diverse teams helped to show me different styles of leadership which I could then apply in a broad range of situations. However, as this pandemic has challenged us all in the past year, I am proudest of the people I work with and the direct care that we provide. Working as an emergency medicine resident throughout the COVID-19 pandemic at Northwestern McGaw Medical Center has been an honor. A true leader supports her or his team, but also draws support from them. Despite the trying circumstances of this past year, the adaptability and resilience of all members of the clinical teams I have been a part of have shaped me more as a leader than any prior experience.
As an incredibly accomplished and very busy professional, why was now the right time to get your MBA?
AUNA: 2020 was an unprecedented year for so many reasons, and I experienced a lot of emotions through the events that unfolded personally and around the world. So, while business school was always in my periphery, last year's events put into sharp focus my sense of motivation to do something with my time at home. The pandemic was an extremely reflective time and put back into perspective the value of life. An MBA now was the best target to channel my energy in response to how helpless I felt at home watching the developments of a health crisis, economic crisis and social crisis unfold in my home country.  
ANDREW: My interest in an MBA came about in April 2019, when I was promoted to a consulting manager at FactSet Research Systems, where I am responsible for managing a team of eight consultants. We, as a team, are responsible for partnering with investment professionals in the financial industry to develop ways to streamline research and analysis. This promotion provided me with my first real exposure to management, a position whose primary responsibility focused on leadership. Soon enough, I found that my undergraduate degree in finance and information technology management was not all encompassing of the skillset needed to be a high-performing manager and leader.
EMILY: As a child, people ask what you want to be when you grow up. As you get older, that question evolves into what path you want your career to take. As my career begins to take shape, I realized that my interests in quality improvement and department operations were going to be key drivers in defining my post-residency career. As I became more involved in interdisciplinary projects, I realized just how much the knowledge I would gain from an MBA could further those projects and round out my career aspirations. Many of these projects require cross-disciplinary understanding in order to bridge members with various areas of expertise and backgrounds. An MBA equips professionals with the tools needed to achieve this. So, when the opportunity presented itself to improve my skillset, I jumped for it.
Why was Kellogg the right school?
AUNA: Kellogg is the third best business school in the United States, with the most brilliant minds coming together to collaborate on world issues and move industry solutions forward. I look around and personally feel so inspired by my classmates and faculty. The community at Kellogg is simply unparalleled and you can't help but become a better version of yourself engaging with such a community. So, why Kellogg? Because this is where you start the journey of a lifetime and completely transform your abilities to impact the world as a future business leader!  
ANDREW: I began my Kellogg journey in December of 2020, when I finished Complete Immersion in Management (CIM), an orientation program that introduces students to the rigors and culture of Kellogg. During CIM, I learned the Kellogg purpose. "To educate, equip and inspire brave leaders who build strong organizations and wisely leverage the power of markets to create lasting value." In my first month of classes, I have personally seen the Kellogg purpose through intense engagement with faculty, peers and renowned business professionals. This inclusive, yet diverse, academically-driven culture reaffirms why Kellogg remains as one of the most esteemed MBA programs.
EMILY: Kellogg's Evening and Weekend Program is designed to fit with a busy professional's work schedule, while expanding your abilities. Moreover, the variety of course work offered, and the depth and breadth of experience its professors bring to the classroom, truly creates a unique learning atmosphere, which I knew would allow me to tailor my education to my interests and background.
If you've made a recent pivot in your career, can you share what drove you to make this pivot? Any advice for those looking to make a pivot or significant change in their career?
ANDREW: Though I have not made a pivot in my career recently, I wanted to share some advice as a consulting manager who conducts interviews for new employees at FactSet Research Systems. Regardless of whether you meet the qualifications or prerequisites listed in a job description, I would encourage you to apply. In the end, companies will hire the right candidate even if that candidate might be slightly underqualified. Be proud of what you accomplished and open to sharing those accomplishments when interviewed.
In your short time at Kellogg, how has your experience so far impacted your professional and/or personal growth?
ANDREW: In my first month as a student at Kellogg it has become apparent to me how much I will learn on both a professional and personal level. I have been intrigued with the diversity of my cohort's professional backgrounds and the unique experiences each student brings to conversations. From a professional standpoint, I have been able to network with peers, professors and alumni even in a virtual environment. Specifically, I have been able to participate in Kellogg Konnections, a small group conversation before class, facilitated by different Kellogg staff members. Kellogg Konnections provides students and faculty the opportunity to meet new people outside of class in a more hallway type conversation. From a personal standpoint, I am enthused with the amount of knowledge I have obtained in only a few short weeks. The dedication and true interest demonstrated by professors each day in the classroom transmits to students, providing each of us an equal opportunity to excel.
COVID-19 has changed how we learn, engage and grow. What have you learned or gained – that you might not have otherwise – during this time?
ANDREW: As Steve Jobs said, "Great things in business are never done by one person. They're done by a team of people." Personally, COVID-19 has demonstrated how much we rely on teams to accomplish tasks on a day-to-day basis. This is made evermore apparent when isolated working from home. Even when separated, we are naturally inclined to schedule a meeting to discuss progress, questions or ideas. Whether remote or in person, a team shares various skills in complementary roles that are deemed critical when working toward a shared purpose. Understanding this, Zoom and Microsoft Teams have become the new norm, as I am sure many of your Microsoft Outlook calendars can attest to.
EMILY: COVID has changed almost every aspect of a typical day. This past year has been a time of growth for many of us, as we learn how to balance our prior way of life with a new reality. Perhaps one of the most valuable things that has come out of this pandemic is a higher value placed on the small interactions. The value of a simple, "Hi, how are you?" has soared. Over the past year, as we have retreated to our homes, moved our conferences to our computer screens and lost the casual conversations that happen in hallways, we have come to realize how important those small social interactions were and how much we value one another. This past year, with all of its trials, has trumpeted the importance of these familiar things and given me a better appreciation of their value.
What is your #1 application advice for students looking to apply to Kellogg?
AUNA: Go for it! Go all in and put forth the best representation of what you stand for and why you get out of bed each morning. Friends of mine hesitate to hit the "submit" button or to start that GMAT study plan. I can relate to that nerve-wracking feeling because I was also scared of the potential letdown. We all ask ourselves at some point in the application process, "Am I good enough?" The answer is Yes. Just remember it's a process. Change the mindset to when Kellogg, not if Kellogg, because no dream should have a timetable. Become clear on your purpose and confident in your potential. Then, commit to the process whole-heartedly and be willing to adapt along the way. Your hard work will be worth it!  
ANDREW: Prior to applying to Kellogg, I attended ten evening information sessions, four coffee meet and greets, two professor lectures and one resume review. Even though my attendance at these events may have been excessive, each event provided me with a unique opportunity to meet current students, professors, admissions staff or even other applicants. Kellogg has developed a wide variety of events for you to learn more about the different programs they offer. I would highly encourage anyone looking to apply to Kellogg to connect with the admissions team to see which program would be the right fit at this point in your professional career.
Why did you choose your particular pace/programs?
ANDREW: Currently, I am an Evening and Weekend accelerated student at Kellogg. Kellogg's Evening & Weekend MBA Program allows me to develop my professional leadership without putting my career on hold. After reviewing my undergraduate requisite business courses, I qualified for the accelerated pace. At the accelerated pace I am provided with the opportunity to dive into advanced electives sooner, graduate within a reasonable timeframe and reduce tuition. In addition to being an evening and weekend accelerated student, I am also part of the Emerging Leaders Program. The Emerging Leaders Program provides young professionals with three years or less years of work experience the opportunity to earn an MBA earlier in their careers, while continuing to build upon their work experience. In the Emerging Leaders Program, I am exposed to small-group career coaching sessions, tailored leadership examples to identify and develop my personal leadership style and a plethora of mentors from a diverse array of industries.
EMILY: With a full emergency medicine residency schedule, flexibility is key. Few, if any, programs are as well-tailored and easily-adaptable to an unpredictable, full-time work schedule as is the Kellogg-McGaw Program. Moreover, this program has a wealth of experience providing further leadership training to individuals with healthcare experience. The program itself is built to enhance the capabilities of individuals already involved in their prechosen careers or pivot to a related domain. Courses are designed to build on the foundation that you have already established to reinforce key concepts by linking them to your past and current endeavors.