Start of Main Content
Kellogg's MBAi Program and the Future of Work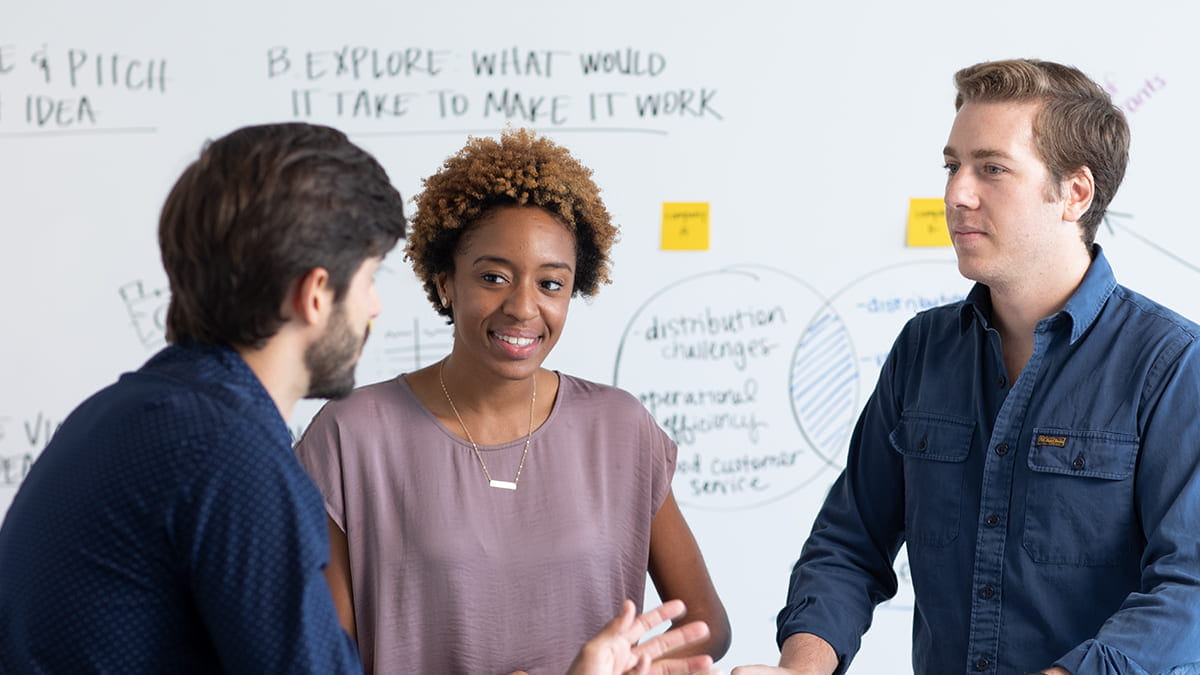 By Eric Anderson, Faculty Director for the Kellogg-McCormick MBAi Program
Students often begin their Kellogg journey with their post-MBA goals in mind. In addition to how the MBAi curriculum can help to prepare you for your career goals, I'd like to dive deeper into what post-MBAi opportunities actually look like, and how we see this program benefitting not only students, but an ever-evolving workforce, too. 
We created the MBAi due to the essential need for leaders who are able to connect business management and leadership with emerging technologies of all kinds — it's simple supply and demand. 
With this goal in mind, the program was intentionally designed for graduates to be prepared for careers across an enterprise. This includes careers not only in existing technical roles, but in leadership positions in consulting, operations and strategy, as well as in some of the most exciting opportunities — the emerging positions of the future in which you lead with systems and technologies that right now, may not even exist yet. 
Careers at the intersection of business strategy and tech today 
As a student of the MBAi Program, you'll have already demonstrated a passion for technology through undergraduate coursework or post-undergraduate job placement. Building upon your past experiences, you may be considering MBAi as a career accelerator to help you advance along the career track you're already on. Here are just a few examples of current positions for which the MBAi Program has been designed:
Machine Learning Manager: Artificial Intelligence and machine learning may be the future of the workforce, however, they simply do not account for the creativity and critical distinction that a human can bring to the job. MBAi will prepare you to put the intelligence behind AI by teaching you how to make high-level implementation decisions, lead product-to-market strategies, manage technical teams (software engineers, product managers, etc.) and understand how to scale robust research findings. Courses like MBAi Business Analytics, Practicum in Software Engineering, and Data Science in Practice will prepare graduates with the necessary skills to excel in this role. As I write this, companies spanning industries – like Zillow, JPMorgan Chase Bank, Blackrock, and of course your more expected Amazon, Google and Apple – are all hiring for this role right now. You might have an engineering or technology background, but the MBAi will teach you how to transform those skills to make business-altering decisions. 
Technical Product Manager: This job might require technical program experience or data infrastructure interest, but simply understanding product management, or how to launch a software, might not be enough to successfully address business challenges you will face. Now more than ever before, companies  are seeking to launch products and tools that are specifically enabled by analytics, machine learning and artificial intelligence. Through courses like Applied Artificial Intelligence and Machine Learning and Technical Product Management, MBAi graduates will learn how to scale these product roadmaps, while eliminating barriers to their team's success, use data and necessary insights to rally their organization around a vision and take ownership of end-to-end business scenarios and technical strategies. You'll be prepared to integrate the tools you build across any business and industry, especially after putting your learnings to the test  through the Software Practicum, and the MBAi capstone.
Consultant or Business Insights Lead: With organizations constantly adopting new technologies, there isn't always a plan in place to integrate, deploy and measure the return! As a consultant who has participated in the MBAi Program, you'll be able to approach a business within any sector and provide recommendations on how to make the connection between a new technology solution and the health of the business, especially by identifying where analytics, machine learning and artificial intelligence can add value.  In courses such as Data Science in Practice, Applied AI and Machine Learning, and Human Computer Interaction & Design Thinking, you'll build a basis for understanding how to utilize the tools of the future to better inform solutions and strategies for a variety of functions within a business, ranging from supply chain, to human capital. The analytical expertise that an MBAi provides, paired with general leadership and business knowledge creates the perfect recipe to offer trusted recommendations, catalyzing positive change within an organization. 
Careers at the intersection of business strategy and tech tomorrow
It's often true that technologies advance more quickly than the businesses they support. And as a result, businesses are struggling. When I speak to executives around the globe — whether they're CEOs, CMOs, CFOs — they tell me they need people who can more effectively connect their work, people and goals with emerging technologies. As the business landscape continues to evolve, organizations increasingly need new decision-making processes, new culture and new organizational structures. As an MBAi graduate, you will be uniquely prepared to take on novel, emerging roles to tackle challenges organizations may not yet be able to articulate but are imperative to address in order to succeed.
A program immersed in the Kellogg MBA experience
Along with preparing you to lead at the forefront of business and technology, the structure of the MBAi Program will allow you to experience the best of what Kellogg can offer right now: a tight-knit network  of peers with whom you'll grow, develop and strengthen your skill sets, as well as a range of curricular and co-curricular benefits enjoyed by the all of our programs, including the Career Management Center — which further supports your professional development through its 1:1 career coaching, career programming and career library resources with over 80+ business databases.
I encourage you to visit our website, explore the full MBAi curriculum in more detail and request more information as questions arise.