Start of Main Content
Miami or Evanston? Evanston or Miami?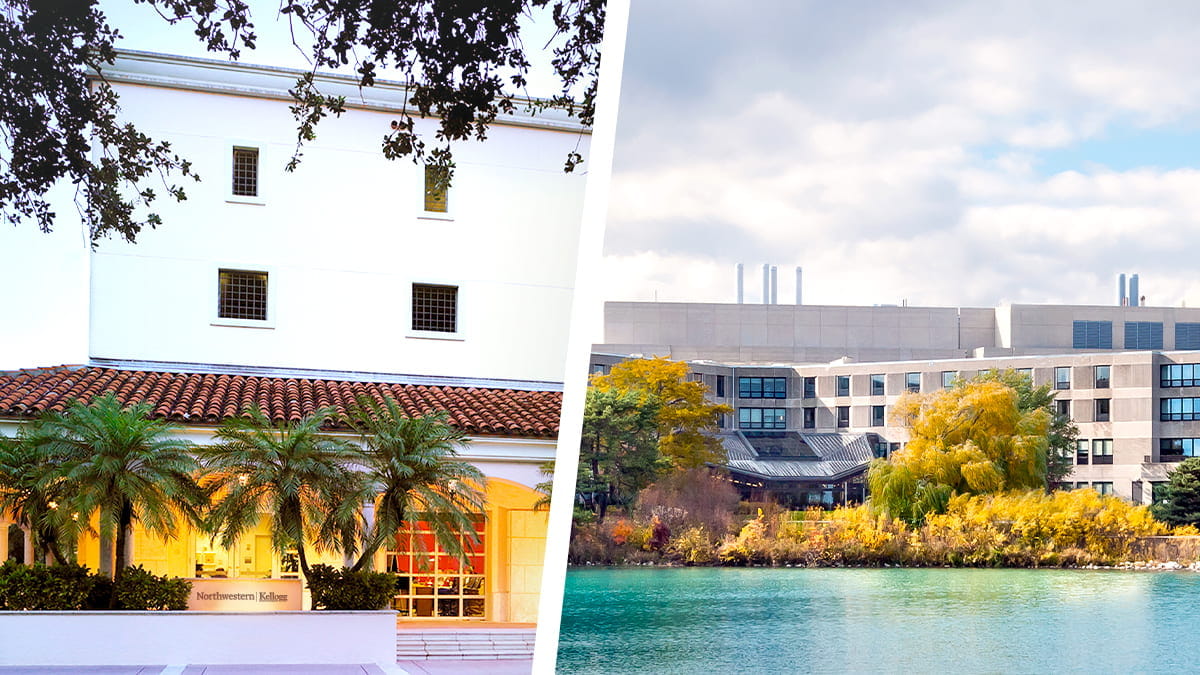 Inside Kellogg recently connected with new students in the Executive MBA Program on why they chose either the Miami or Evanston campus. Here's what they had to say!
Why I chose Kellogg's Miami Campus
"This was a hard decision for me, but I chose the Miami Campus because I was really drawn to the vibrant culture and diversity of Miami. I think our cohort absolutely reflects that diversity and I'm excited to see how the city, and all that it has to offer, shapes our experience. I also really appreciated the schedule that the Miami campus offered. We generally have class one long weekend each month and that really seems to work well with my other work and personal commitments. Fortunately, we have the same great Kellogg professors and faculty no matter which campus you choose."
–Chris Hardeman (EMBA 2023)
Regional Operations Director, DaVita Kidney Care
"I chose Miami for two reasons: the AWESOME weather and I didn't want to be traveling too often. Miami's once-a-month format allowed me to spend more time with my family, rather than being out every other week."
–Praveen Singalla (EMBA 2023)
Founder & CEO, Diaconia
 "I chose the Miami campus to mainly fit my weekend on-call schedule and, of course, the weather. Before choosing the campus, I interacted with alumni from both the Evanston and Miami campuses and was surprised to learn the great opportunities at both places, with the same distinguished faculty. After participating in the program for over a month, I can still affirm I made the best choice of business school I can invest in."
– Vasu Appalaneni (EMBA 2023)
Physician, Dayton Gastroenterology, Inc.
"I was very tempted by the beautiful sunshine and beaches that Miami offers; however, what truly convinced me to choose the Miami program was the average amount of international students in the Miami cohorts and the class schedule. Working full-time in NYC, the Miami schedule offered the most flexibility."
–Danielle Neveles (EMBA 2023)
Director of Racial Justice and Equity Social Impact Initiatives, Eli Lilly and Company
Why I chose Kellogg's Evanston Campus
"I live in suburban Chicago. It's a privilege to have one of the best programs in the world in your backyard."
–Jordan Hanson (EMBA 2023)
General Counsel, Southfield Corporation
"I chose Evanston for two primary reasons. First, it's the home campus for NU, home to the hub and the Allen center, and I wanted to build a network in the broader NU community. Also, the every-two-weeks format felt like it would keep me on my toes and keep the momentum of classwork at a manageable pace."
–Mayank Sharma (EMBA 2023)
Director of Product Management, Verizon Connect
"My decision came down to understanding my exact needs and expectations of what I wanted out of this program. A major part of the reason I chose Kellogg was for the culture and the type of leaders that it attracts; being able to meet bi-weekly versus monthly gave me the level of support, interaction and engagement I was seeking from a program at this point of my career. In addition, the opportunity that presents itself in Evanston is part of my longer-term goal of relocating to the mid-west hub where the business climate is both healthy and diverse in its offerings. While the bi-weekly sessions may seem daunting to some, I am thrilled with my decision. I have left each weekend session feeling energized and ready to apply the lessons learned immediately into my role at work, therefore giving me the stamina to stay the course and become even more committed to my studies and fellow classmates."
–Dominique Lee (EMBA 2023)
Chief Operating Officer, Planned Parenthood Mar Monte

"Living in Chicago near arguably the best EMBA program in the world has it perks!"
–Joshua Davis (EMBA 2023)
President, The Will Group
"As an Experian consulting director for the financial services industry, I live in D.C. but travel 50% of the time to visit clients in my existing book of business of banks and FinTechs in the north. I was also attracted to the opportunity to study Social Impact at Kellogg's Evanston campus and contribute to the thought leadership at Northwestern as we collectively respond to the racial awakening of inequality happening in the city of Chicago. (i.e., housing, health, jobs, education, incarceration, etc.).
–Perry Levon Flemming (EMBA 2023)
Consulting Director, Experian