Start of Main Content
Social Impact Week: Galvanizing the Community to Make Progress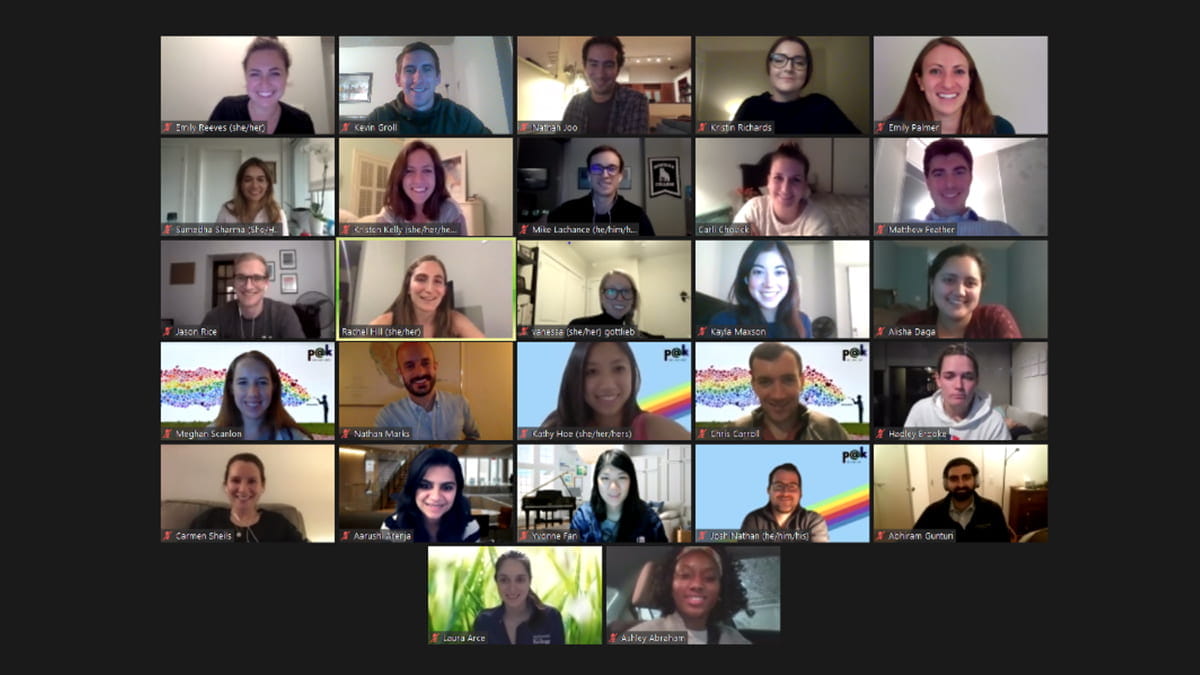 By Kristen Kelly (2Y 2021) and Carli Chovick (2Y 2022)
Every year, as the weather starts to turn cold in Evanston, Kellogg's assortment of social impact clubs join together to host the annual Social Impact Week.  As leaders of Net Impact, we came to Kellogg for its social impact curriculum and community, as well as the opportunity to explore impact-focused careers. As such, we were thrilled to develop and partake in this year's  programming, which — while mostly virtual — was filled with thought-provoking lectures, impactful volunteer events and insightful conversations with fellow classmates and community leaders.
Changing the narrative
Social Impact Week is all about convening spaces for the greater Kellogg community to engage in different facets of social impact, especially opportunities to get involved here on campus and pathways to drive impact after graduation.  A common misconception we notice is that people think you need to be in a specific role to drive impact, typically working for a non-profit or the government.  However, this year, we aimed to change this narrative by collaborating with 10+ industry clubs across Kellogg to enable the study body to experience social impact across industries. Additionally, through various talks like Creating Impact in a Non-Impact Industry, we showcased how every Kellogg student, regardless of career path, can make a difference. We also explored businesses' roles in making a difference, recognizing that some of the most successful social impact initiatives are driven through public private partnerships. Together, we learned and emphasized the need to continue to listen and learn from social scientists, community leaders, and the people who are most afflicted by the issues we are trying to solve.
My impact, our impact
This year, the theme for Social Impact Week was "My Impact. Our Impact," and it was all about recognizing our individual and collective power to create the kind of sustainable and more equitable world we hope to inhabit. This week focused on collaboration and showing how much can be accomplished when we all work together to achieve big goals.
There was such a diverse set of events to attend this year, but our favorites had to be the keynote with Jacqueline Novograts (check out the event recording link here!) and a "Hear My Story" event from Kellogg students focused on social impact. In a conversation on moral leadership in imperfect times, Jacqueline empowered us to imagine what our world could become if we placed people and planet first, rather than profits. She encouraged us to practice hard skills like "real love" every day, which starts by listening and understanding those around us. After hearing Jacqueline speak, we were further inspired by the Hear My Story event, where Kellogg students shared deep and vulnerable stories about their social impact paths. We are always so amazed by how much impact our fellow students have already generated. Hearing from our peers really showed us our collective potential for creating a lasting impact on the world.
A challenge for the community
As we head into the holiday season, we challenge you all to harness the momentum of Social Impact Week and think of small (or large!) ways that you can start to make an impact. Whether that be buying recyclable wrapping paper or practicing real love with family and friends, there are a million ways to make an impact. If we all individually commit to making a difference and working together to envision the world we want to inhabit, we are confident we will see big impact.